20 Views
2010 Arctic Cat Lineup Unveiled
June 17th, 2015 4:17 PM
Share
We're committed to finding, researching, and recommending the best products. We earn commissions from purchases you make using links in our articles. Learn more here
Mud Pro line expanded and new engines revealed
Much likes its Minnesota-based neighbor Polaris; Arctic Cat is not using the slumping economy as an excuse to stop pushing forward.
After showing off six early release models in June, Arctic Cat has finally revealed the rest of its 2010 lineup. While we didn't really see a lot of groundbreaking changes in the early release models – it was mostly paint and feature updates – this time around we've got three brand new ATVs, as well as two brand new engines. Also, every full sized ATV in the Arctic Cat family now features a new all-encompassed differential 4×4 lock switch on the right-side of the handlebar.
Ridin' Dirty
Thanks to the success of the Mud Pro 700 H1 released last year, Arctic Cat upped the ante in 2010 with two new mud-specific ATVs – the entry-level Mud Pro 650 H1 and the powerful Mud Pro 1000 H2.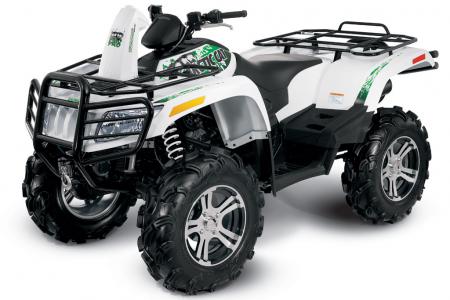 The Mud Pro 1000 features a massive 58" stretched chassis.
The Mud Pro 650 ($8,599) is designed to offer durability and fun in the mud that's a little easier on the wallet. It's powered by the Arctic Cat built 650H1 engine and shares the 50" chassis of the Mud Pro 700 ($9,899).
The 951cc Mud Pro 1000 ($12,999) is already the darling of Arctic Cat's mud racers and they were instrumental in its design. You can think Team Arctic racers for the massive 58" stretched chassis, which they ran in near stock form to take commanding wins at Mud Nationals in the Premier Open and Pro Classes of the Mudda Cross and Mud Bog events.
For fun in the mud at a more affordable price, consider the Mud Pro 650.
Like the Mud Pro 700, the 650 and 1000 feature 28" Maxxis Zilla tires to go along with an industry leading 14-inches of ground clearance. Five-way spring preload adjustment is available on the front and rear shocks to help you tailor your ride. Also standard on all three models is a rear differential spike load dampener tuned differently for each machine. Both the 700 and 1000 feature a standard 2,500-pound winch.
This Isn't Sparta! Arctic Cat Unleashes New 300
Last year, the 300 DVX was introduced with a larger 300 motor, now the popular 4×2 gets a boost in engine performance with the same power plant. Both are designed to give you a whole lot of bang for your dollar.
Powering both models is a 270cc, SOHC, liquid cooled, single-cylinder mill. Power is fed through a fully automatic CVT transmission with Hi, Low (4×2), Forward and Reverse. Single hand and foot operated hydraulic disc brakes provide positive, self-cleaning stopping power in all conditions with zero adjustment.
Cat's entry-level 4×2 has been given a modest power boost for 2010.
The 4×2 ($3,999) has "Cat Eye" headlights and bold grille bodywork engineered to resemble a big bore ATV. A digital instrument pod displays speedometer, odometer, trip meter, digital clock, coolant temperature, fuel gauge and indicator lights for neutral, reverse and high beam lights. Functional racks have a 50 lb. front capacity and 100 lb. rear rack capacity.
DVX headlights and sport bodywork adorn the DVX 300 ($3,999) while removable fenders add customizing options or quick removal for racing. Aluminum wheels wrapped in 21×7-10 front and 20×11-9 rear tires with 7.25″ of ground clearance round this potent little package.
New 450 and Revised Bodywork
Starting with thee 650 H1 in 2006, Arctic Cat has building its own performance engines. For 2010 the H1 evolution continues with the new 450 H1, featuring a powerful 443cc, SOHC, single cylinder, liquid-cooled engine, designed for a wide torque curve with power delivered via electronic fuel injection.
The brand new 450 H1 features a new Arctic Cat-built engine.
Consumers can now choose between the 450 H1 ($6,899), the 550 H1 ($7,599) introduced last year, and the torque-laden carbureted 650 H1 ($7,199). New narrower, sculpted bodywork adorns this trio while the seat has been lowered over an inch. Arctic Cat claims these changes give you the feeling of riding "In" the machine instead of "On" it.
Ride-in suspension claims 11" of ground clearance and 10" of suspension travel. Front and rear shocks are five-way preload adjustable.
"The combination of the narrow bodywork, lower ride height and center of gravity, inspire the utmost in rider confidence for aggressive cornering and high speed handling," claims Arctic Cat.
Arctic Cat introduced narrower bodywork for its H1 lineup.
To top off the H1 package, a 2″ receiver allows the consumer to remove the hitch from their 2″ automotive receiver and install it into the ATV's receiver hitch.
X Marks the Spot
2010 marks the return (not seen since 2006) of the work-friendly TBX with the brand new 700 TBX ($8,799).
This is Arctic Cat's version of a pickup truck and it aims to "deliver the goods no matter how big the job." It's powered by the Arctic Cat designed 700 H1, a 695cc, SOHC, single-cylinder, liquid-cooled, fuel injected engine.
After a four-year absence, Arctic Cat brought back the utility-minded TBX platform with the brand new 700 TBX.
The rear dump box offers a 300-lb. capacity and has a "pickup style" tailgate latch, plus box tilt latches on both sides of the machine. Tie-down attachment points are built directly into the cargo box and TBX frame, and integrated rails accept accessory clampdown fixtures.
The rugged TBX is all about work with a 1,050-lb. towing capacity (with a standard 2-in. automotive-style rear receiver hitch), 100-lb. front rack capacity, 12 inches of ground clearance and a standard 2,500 lb. Warn winch.
Complete 2010 Arctic Cat Lineup:
Model
Price
Youth
150
$3,349
DVX 90
$2,599
90
$2,599
Recreation
Thundercat 1000H2
$11,299
700 H1 EFI
$8,499
650 H1
$7,199
550 H1 EFI
$7,599
450 H1 EFI
$6,899
366 SE
$5,999
300 DVX
$3,999
300
$3,999
Thundercat 1000 H2 LE
$11,699
700 H1 EFI LE
$9,399
550 H1 EFI LE
$8,499
Competition
MudPro 1000 H2 EFI
$12,999
MudPro 700 H1 EFI
$9,899
MudPro 650 H1
$8,599
Utility
Super Duty Diesel
$9,699
TBX 700 H1 EFI
$8,799
2-Up
TRV 1000 H2 EFI Cruiser
$12,699
TRV 700 H1 EFI Cruiser
$10,199
TRV 1000 H2 EFI
$11,699
TRV 700 H1 EFI
$9,199
TRV 550 H1 EFI
$8,399
TRV 400 H1
$7,299
Prowler
Prowler XTZ 1000 H2 EFI
$14,999
Prowler XTX 700 H1 EFI
$11,999
Prowler XT 550 H1 EFI
$10,999
Related Reading
2010 Arctic Cat Early Release Models
2009 Arctic Cat Prowler Lineup Review
2009 Arctic Cat ATV Lineup Review Published August 17th, 2009 10:40 AM
Top Brands
Popular Articles