31 Views
2011 Arctic Cat XC 450i 4X4 Review
June 17th, 2015 4:08 PM
Share
We're committed to finding, researching, and recommending the best products. We earn commissions from purchases you make using links in our articles. Learn more here
A crossover between utility and sport
Reining in the fleet is not something that Arctic Cat is concerned with during today's economic standing. The engineers and marketing staff of the Minnesota-based company has found a new demographic to "share its passion" and nothing is going to stop it. Arriving in Dallas, Texas we found that not only would we be looking at a new machine, but three totally new Cats! So after breakfast and a short briefing off into the wilds of Texas we clambered and into the stony gate of Rocky Ridge ATV park where the fun began.
Having three new ATVs to show, the guys at Arctic Cat quickly gathered us under a large professional-style race rig tent and with just a few words, like don't ride in the lake and don't climb Bubba's biggest baddest hill on the back of the block, we had been given the go ahead to steal away into the hills for a couple day's of testing and discovery.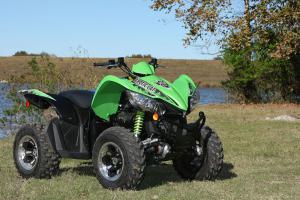 Arctic Cat's new XC 450i blends a sporty look with utility performance.
The digital dash provides a host of easy-to-see information.
So here we were with a choice, do we take the smallest displacement utility style quad out first? No way man, it was the biggest of the new that made our morning agenda fire into existence. We chose the new XC 450i 4X4 that was decked out in traditional Arctic Cat lime green. This machine was sitting beside the lake and sparkled like a new penny. A sporty looking lime green with some mild black accents and semi-pro cast aluminum wheels. The trick-looking ride was way too clean and with the range of terrain all we could think was, where's the rough side of this ATV park!
Our first impression was that the machine was eerily similar to another unit we reviewed last year but with a clear mind we decided to let this machine work for itself. The stance of this "crossover" ride is that of a stealthy sport ATV, but looking in a little closer reveals the front differential and that tells us we have a bit more in this package.
The 443cc four-stroke has a single overhead cam and 4 valves in that tight little cylinder head. The electronic fuel injection will assist this machine to life and the fan-assisted liquid cooling should keep temps under control. The punch from this power plant makes its way to the ground through a CVT or belt driven transmission and of course four half-shafts. Selection of high or low is about as simple as you can get and for those who have eyes in the back of your head, just seem to go the wrong way all the time or maybe just like getting out of what your pride and a dare gets you into, there is a reverse.
The fully automatic ability of this machine means that you just need to hold on and steer this bottle rocket into the trailhead. With the digital speedometer clicking off the MPH and the odometer keeping up with mileage you have a well rounded digital dash. Add in 4.3 gallons of gas, because that's all it'll hold, and you have a fun day of riding provided the person attached to the bars is up to it! We did mention that this machine was 4WD and with the flip of a handlebar-mounted switch you can try and tackle the really tough parts of your local ORV trail. The four-wheel drive of this machine is what makes it a cross over sport-utility.
Independent front and rear suspension is coupled with preload adjustable shocks at all four corners.
Moving into the suspension of this sport-utility the level playing field has been discovered. With almost a foot of ground clearance (10 inches to be exact) front to rear and seven inches of travel at each of the four sets of independent A-arms we know this machine will be able to traverse many types of terrain. The independent rear suspension on this machine will add a bit of stability on off-camber trails and with the Maxxis tires holding onto the earth there's plenty of grip. The shocks that suspend the ride are single rate sprung and gas charged with a preload adjustment for basic tuning. Nothing fancy here – just keeping it simple.
With all the big items out of our way there are a couple special features on the machine that stand out, one of which is its tow-ability. This machine can pull 1,050 pounds via a two-inch receiver mount. This will take your receiver hitch right out of the truck and into the quad for towing. Getting enough traction to do this heavy towing could be another story though and stopping that massive weight could be interesting in itself so try and take it easy, OK!
So we made it to the part you've all been waiting for, how does this machine ride? Getting the XC 450i started on that very crisp November morning wasn't really a chore with the fuel injection. We turned the key and headed out the trail.
We noticed when sitting on the machine that it is indeed comfortable and there is ample room for a larger rider. The controls are comfortably placed and easy to use. The engine roars to life with a flip of the throttle and the power, although meek considering other 450s in today's market, was usable and smooth.
Unlike many sport-specific ATVs, the XC 450i offers plenty of room for larger riders.
We had our tenuous moments with the suspension, but it should be pointed out that this machine wasn't brought to the table as a pro caliber racer. We're sure most go-fast trail riders would find the ride acceptable. We also noticed the XC 450i had nagging bump steer in the handlebar quite often and that could be a problem at speed. On the positive site, launching this machine was easy – it flies like a champ and the stock suspension seemed to soak up the landings with pride.
What would we change if we could, you ask? We would put this thing on a diet. Weighing in at 600 pounds DRY is just too much. The competition in this same displacement class is almost 50 pounds lighter. Those numbers speak for themselves. Published December 28th, 2010 2:19 PM
Top Brands
Popular Articles