8 Views
2010 Kymco Maxxer 375 IRS 4×4 Review
June 17th, 2015 4:32 PM
Share
We're committed to finding, researching, and recommending the best products. We earn commissions from purchases you make using links in our articles. Learn more here
Sport + Utility = Fun!
While most ATV manufacturers have been playing it fairly safe recently as the economy attempts to right itself, we haven't seen too many brand spankin' new four-wheelers of late. As avid ATV testers and industry followers, we've been itching to try out something fresh. Fortunately for us, Kymco has a solution to our problem – the Maxxer 375 IRS 4×4.
We got our first look at the Maxxer at Kymco's 2010 product intro in scenic Asheville, NC. Kymco hadn't told us anything about its new quad before we first laid eyes on it, so it was a surprise to us to see a hybrid sport/utility ATV. The folks at Kymco are very excited about the Maxxer, the company's first foray into this segment.
After taking a quick look at the Maxxer, it's tough to compare it to anything else in the Kymco lineup. Despite being built on the same platform as the MXU 375 IRS 4×4, the Maxxer strikes a far sportier pose. Visually, the Maxxer more closely resembles a Yamaha Wolverine than any other Kymco ATV. It carries no front or rear racks, the plastics are aggressive looking, and the colors (red, blue, black, or white) are deep and bright. When it comes to looks, the sport outweighs the utility in the Maxxer.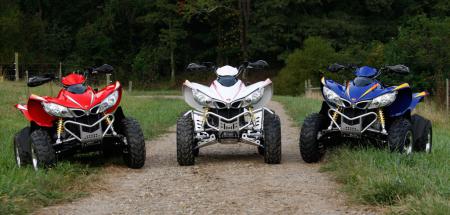 The Maxxer is available in a variety of colors and Kymco has a number of accessories already available.
Helping further set the Maxxer apart, Kymco appointed its crossover with quality Maxxis tires wrapped around Kymco's own striking alloy wheels. Alloy wheels are none too common on a vehicle in this class and we were excited to see them. We didn't spend enough time on the Maxxer to gauge how strong they are and how long they might last, but they're certainly nice to look at. Kymco could have easily thrown on a set of basic steel wheels and some no-name tires and called it a day. Spending a little extra money in this area is likely to save owners time and money down the road.
Kymco's own aluminum wheels help the Maxxer stand out.
In addition, the Maxxer comes standard with hand guards, a very sporty looking front bumper and rear grab bar. All those extras do come at a cost as the Maxxer has an MSRP of $5,999. That's $700 more than the base MXU 375, but it is still $400 less than the Yamaha Wolverine. For those who would like to further distinguish the Maxxer, Kymco offers optional nerf bars, as well as aluminum A-arm guards and skid plates.
While it may not share much with the MXU 375 on the exterior, underneath the plastic the Maxxer tells a different story. Power comes from the MXU-derived 366.9cc, air cooled, single-cylinder engine with shift-on-demand 2WD and 4WD, producing a claimed 26hp. Other similarities include front and rear independent dual A-arm suspension with seven inches of travel, dual hydraulic disc brakes up front, single disc brake in rear, and dimensions (L/W/H) of 83 in./43.4 in./46.9 in.
When it comes to on-trail performance, however, the Maxxer behaves like a different machine entirely. Throttle response is probably what most sets it apart from the MXU 375 once you turn the key. The engine comes to life much quicker and feels significantly snappier. Kymco says that's because it's been tuned differently with a focus on getting up to speed in a hurry. If you put the Maxxer in a head-to-head drag race with Kymco's bigger MXU 500, the Maxxer will pull away early. It doesn't have the top end to hold off its big brother indefinitely, but you get surprising power on the takeoff. You could say the Maxxer is a sprinter rather than a long-distance runner.
Thanks to a surprisingly peppy engine, the Maxxer can take off in a hurry and leave you with a smile on your face.
If you just stepped onto the Maxxer without knowing anything about it, we think you'd be surprised to learn you're riding a sub-400cc engine. By no means does it feel like you're riding a true sport quad (far from it), but the Maxxer hits a pretty sweet spot for engine performance. That said, there's always room for more power and if the Maxxer has some success in dealerships don't be surprised to see Kymco offer a 500cc version in he next couple of years. Our fingers are crossed!
We found the Maxxer's performance somewhat surprising considering it tips the scales at a hefty 590 pounds – not exactly a lightweight. Its overall ability really belies its heaviness – even when it comes to handling.
Despite its heft, the Maxxer is unexpectedly easy to slide around corners.
Nimble may be the wrong word, but the Maxxer seems to love sliding around corners. That can sometimes be a problem with sporty quads outfitted with independent rear suspension. We never got the feeling that the rear tires wanted to dig in, which is an issue we've had with some other IRS-equipped models. Kymco says the suspension is "sport-tuned," and though we're not entirely sure what that means, it did feel a little stiffer than the MXU 375 and more suitable for aggressive riding.
Independent rear suspension helps the Maxxer achieve 10-inches of ground clearance.
With IRS comes ground clearance and the Maxxer has a claimed 10 inches of room underneath the chassis. We're not sure how much of that 10 inches is left once you climb aboard, but most rocks and other small trail debris should slide safely underneath the unit if you line it up just right. If not … well perhaps you should invest in those aluminum A-arm guards.
While the Maxxer is a sport/utility in name, if you're looking for a machine to handle a lot of rugged, gnarly terrain this is probably not the ATV for you. The Maxxer can certainly handle most trails, smaller rocks, and even a little mud, but you should probably leave the black diamond trails to a more utility-minded machine. Also, we found really rutted out trails to be a challenge. It seems the Maxxer's wheels like to find those deep ruts and at times you have to work hard to keep all four wheels on terra firma.
So, who should consider buying the Maxxer? Our best guess is somebody who just wants to have some fun on the weekends with his friends. This is not an ATV for the avid racer, mud bogger or rock crawler – it's for the guy or girl who wants to open up the throttle on an old fireroad or curvy trail. It's unintimidating, very easy to ride, surprisingly quick, and comfortable enough for a long day in the saddle.
It may not win you any races, but the Maxxer is undeniably fun to ride.
Comparable Vehicles: Yamaha Wolverine 450 Auto 4×4, Polaris Scrambler 500 4×4, Polaris Trail Blazer 330
2010 Kymco Maxxer 375 Specs
2010 Kymco ATV/UTV Lineup Intro




2009 Kymco Mongoose 300 Review Lucas Cooney
I have been working exclusively in digital media since 1997. I started out with TSN.ca, spending nearly nine years creating and editing content on Canada's leading sports website. I left to join VerticalScope, Inc., one of the world's largest online publishers, to start a number of powersports publications. While at VerticalScope, I've helped create and oversee content for a wide variety of different publications, including ATV.com, Off-Road.com, ArcheryTalk.com, Tractor.com, RVGuide.com, and many more.
More by Lucas Cooney
Published November 11th, 2009 12:46 PM
Top Brands
Popular Articles
You may also be interested in