78 Views
2009 Kymco Mongoose 300 Review
June 17th, 2015 4:34 PM
Share
We're committed to finding, researching, and recommending the best products. We earn commissions from purchases you make using links in our articles. Learn more here
Everything you need in a beginner level ATV
Heading into its 10th year of U.S. sales, Kymco has built itself into a respected ATV brand – separating itself from a sea of would be knock-off importers.
Since 2003 Kymco's ATV line has expanded from one to 10 models. The Taiwan-based manufacturer has a reputation for building reliable vehicles which is no surprise considering the company has produced a number of parts for Honda ATVs. Other major brands have recognized its manufacturing quality as well – Kymco currently builds Kawasaki's youth ATVs as well as several models for Arctic Cat.
Kymco's beginner-friendly Mongoose 300 got its start back in 2004 as the Mongoose 250. In 2006 Kymco raised the 250's displacement from 249cc to 270cc and added the Mongoose 300 to the lineup.
Based on what it learned from testing with magazines, racing, and working with various aftermarket companies the 300 received a number of changes in 2008 to improve its engine and handling performance. These changes included larger valves and new head porting along with a new intake and larger carburetor. The Mongoose was also widened four inches, lengthened one inch, and complemented by suspension settings.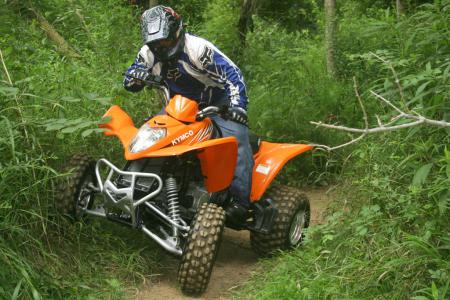 Kymco gave the Mongoose 300 a significant facelift in 2008. The result is an impressive entry level sport quad.
The Technical Stuff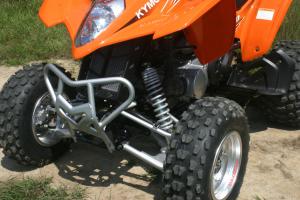 Aluminum rims and Kenda Klaw tires are unexpected luxuries for a vehicle in this class.
Front and rear suspension is pre-load adjustable.
As you would expect for a machine in the entry level adult sport quad ranks the Mongoose has a pretty straight forward engine design. Putting out a claimed 18.3 hp, the 270cc water cooled 4-stroke mill features two valves and a single overhead cam. The engine is fed its air and fuel mixture via a 34mm carburetor. The airbox is large and can be easily accessed with no tools. The fully automatic CVT transmission features forward neutral and reverse gears and selecting between them is handled by a low profile gated shifter located on the right hand side of the machine.
A tubular steel frame mates up to dual A-arm front suspension delivering 6.1 inches of travel. The rear suspension features a linkage equipped swingarm with 6.5 inches of suspension travel. Suspension at both ends is pre-load adjustable for different rider weights. Progressively wound springs are designed to provide a smoother ride over small bumps while offering more bottoming resistance.
The Mongoose 300 uses hydraulic disc brakes front and rear. As with most sport machines the right handlebar mounted lever operates the front brakes and is where the parking brake is located. The rear brake can be engaged with either the right side mounted foot pedal or left side handlebar mounted hand lever.
A premium wheel and tire package utilizing aluminum DID Dirt Star rims add strength and help reduce weight. Kenda Klaw tires, (20×10-9 rear and 21×7-10 front) are known for their longevity. The rear's tread is designed to provide better performance for soft or hard terrain depending on which direction the tread is rotating.
The Mongoose 300 is 41 inches wide and is 76 inches long. With a claimed dry weight of 392 pounds the Kymco is notably lighter than its other CVT competitors; the Can Am DS 250 weighs in at 429 pounds and the Polaris Trail Blazer 330 tips the scales at 492 pounds.
The Test Ride
The Mongoose starts easily although it does take a few minutes to warm up completely in cold weather. The choke is mounted on the lower side of the left body panel, but it is easily reached. The gated shifter moves smoothly between ranges and can be operated without the brake being pulled in.
Punch the gas and the Kymco gets rolling with some authority. The engine has good low end and decent midrange power along with a CVT clutch which locks in low in the RPM range. This makes it easy to get moving without having to wring the engine out, which should make the Mongoose less intimidating for beginners. It also makes the 300 easier to ride in slow technical situations making this machine a viable choice for the rider who tags along with utility riders but wants something lighter then a typical 4×4.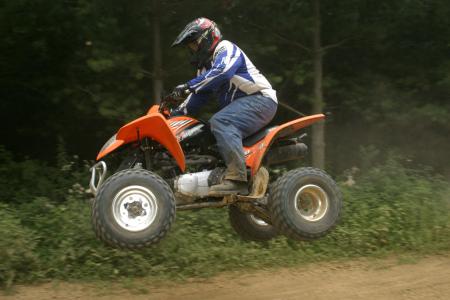 The peppy 270cc mill provides enough power to get all four wheels off the ground.
We found tight woods are where the Mongoose's engine and transmission work best. Engine performance is less impressive in wide open spaces although the machine is still fun to rip around on.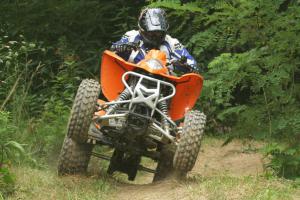 Lifting up the front wheels is possible, but it's not easy.
Climbing is surprisingly good on the 300 thanks to its meaty low end torque. If the incline can be clawed up by a two-wheel drive ATV the Mongoose can most likely conquer it. However, climbs that require a lot of momentum to clear the top can prove challenging.
Our test riders felt comfortable on the Mongoose and the machine fits riders of various sizes pretty well. The wide, firm seat is comfortable and allows you to move side-to-side for counterbalancing. One issue with the seat is that it ramps up toward the front, which makes it difficult to slide up to the tank. Vibration is not a problem and our only real complaint with the feel of the machine is a bulge in the left side of the transmission which really isn't that hard to deal with.
A heavy front end adds to the 300's climbing prowess. It takes a steep hill to make the 300's front end lose contact with the ground and recovering is easy. Our only drawback with the beefy front end is that the Mongoose isn't the easiest machine on the market to wheelie.
Despite the weighted front end even our smaller test riders felt the machine was easy to maneuver. Stability through turns and on off-camber trails is good, adding to the Mongoose's fun and easy-to-use feel.
As you begin hitting obstacles at speed the ride gets a bit bumpy. The Mongoose 300's shocks bottom less on jumps then they did on the pre-2008 model but they feel somewhat unresponsive on small impacts and feel harsh reacting to medium size hits. Unfortunately removing preload from the springs won't help much. Not to worry, though, as there are affordable high-quality aftermarket shocks out available that will bring the 300's suspension in line with the rest of its well-balanced package
Slowing the Mongoose is easy thanks to its triple hydraulic disc brakes. The brakes are more than a match for the machine and offer very good stopping power and feel.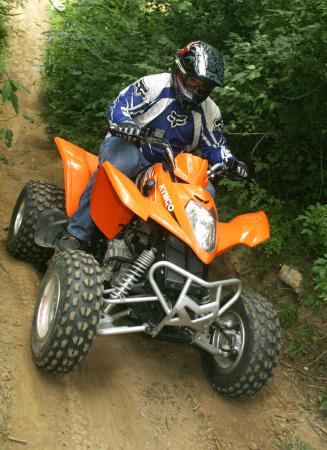 The Mongoose 300's disc brakes are plenty powerful and the Kenda Klaw tires will provide many hours of enjoyment.
The Kenda tires will last forever and work well in hard packed to intermediate soil conditions. They will get around in loose sand, but they don't clean out well in thick mud. Chain adjustment and air filter maintenance are easy enough, but we'd like to see grease fittings for easily lubricating moving chassis parts.
The Verdict
The Mongoose 300 has nearly everything you could ask for in a beginner level ATV. It has a well-balanced engine, good stability, strong braking performance, and it's reliable enough that you may wind up towing one of your friends back to the truck with it. If Kymco would dial in the suspension a bit it would be a stand out choice.
At $3,799 the Mongoose is a few hundred dollars less then most of its competitors and it's significantly lighter. If you are looking for a small bore fully automatic sport machine the Kymco Mongoose 300 is definitely a viable option.