1 View
Ockerman Wins IXCR Round 2
April 23rd, 2008 10:36 AM
Share
Tops field of 185 riders in Indiana
Donald Ockerman bested the 185-rider field in the second round of the Indiana Cross Country Racing (IXCR) series on April 20.
Lawrence County Recreational Park, which is just south of Bloomington, Ind., provided riders with a very tough 9.8-mile course that included a creek jump.
Jonathan Fugate was the first A class rider to cross the finish line, followed by Scott Graham and Wayne Tharp. In the 16-25 B class, Jake Stonebraker picked up the win, ahead of Justin Lewicki, Travis Mader and Tyler Moore. Matt Sillery took home top honors in the 26+ B class, while Seth Irwin claimed second and Mike Goss was third.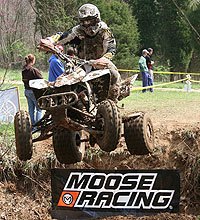 Justin Kirchhoff finished ahead of Zach and Jay Humphrey in the 16-21 C class, while Garry Stallard won the 22-29 C class. Russell Keck and Jonathan Benham finished second and third. Meanwhile, Mike Muskoff showed a Kawisaki can finish up front in the 30+ C Class and Jake Humphrey bested rookie Ryan Edmonson and Chad Wiggins in the D class.
Other winners included John East (Sport), Brad Morrison (Sport Lites), Bruce Marshall (Vet 30+), Dan Bradford (senior 40+) and John Kissinger (Utility).
In the youth race, Matthew Harris won the Super Mini class, Charlie Welch finished just ahead of Vincent Harris in the 90cc Production class and Travis Pettit was tops in the 90cc Stock class. Sadie Welch also won her class and is hoping to carry the momentum over to the nationals.
Demaree Farms in southern Indiana will host the second round of the IXCR on May 18.
Published April 23rd, 2008 10:36 AM