1 View
FRE/KTM GNCC race report – round 8
June 7th, 2010 2:28 PM
Share
Two podiums for KTM at John Penton GNCC
The FRE/KTM ATV GNCC Team had a great weekend at the John Penton GNCC finishing with two podiums and a top five.
Angel Atwell was up first in the Women's class. Atwell got a great jump off the line sitting in third as they headed to the motocross section behind Kristen Atwell and Traci Cecco. Atwell passed Cecco for second position at the end of the first lap. Kristen Atwell hung on to take the win while Angel Atwell finished second.
As the quads made their way to the starting area for the afternoon race heavy rain began to fall. The rain, thunder and lightning were so strong that the race was postponed for one hour. It was obvious it was going to be an extremely challenging course. When the green flag dropped FRE/KTM rider Bryan Cook rounded the first turn in seventh at the start of the XC1 class. Around the third lap Cook put on an impressive charge. He passed three riders to move into fourth and at the end of the lap was sitting in second. With only a few miles left, Cook took an alternative line which turned out to be impassable. He had to turn around and head back as Adam McGill, Donald Ockerman and Taylor Kiser got around. Cook eventually finished the race in fifth.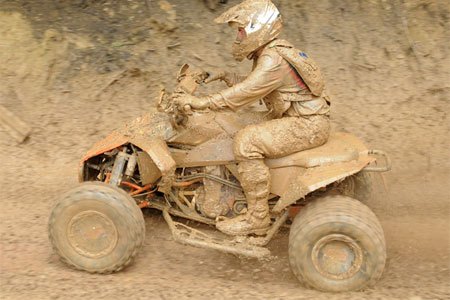 In the XC2 class Josh Kirkland grabbed the holeshot and checked out. He soon found himself running amongst the top ten XC1 riders and after the time adjustment was leading the overall heading into the third lap. The course officials decided to cut the track short on lap three due to the poor track conditions and bottlenecks. Kirkland did not get to take advantage of the shortened lap and lost his overall lead as well as the XC2 lead to Corbin Knox and Brian Wolf. Kirkland gained some ground back on the leaders but time ran out. Kirkland was disappointed at the turn of events but certainly turned a lot of heads and showed why he is the reigning XC2 champion.
Next Event: Snowshoe, WV – June 26, 2010
Published June 7th, 2010 2:28 PM
Top Brands
Popular Articles