1 View
FRE/KTM GNCC Race Report – Round 10
September 15th, 2010 3:21 PM
Share
Bad luck for KTM riders at Unadilla
The FRE/KTM ATV GNCC Team had a spell of bad luck at the 10th round of the ATV GNCC Series held at Unadilla Raceway.
Women's rider, Angel Atwell, was up first in the morning Women's ATV race. She got a great start and was sitting in second position around the first turn. She remained in second place close to the leader for the first lap. On the second lap, Atwell lost control on a section and ran off course into a tree. The crash set her back a few positions and by the time she recovered she was sitting in fifth place. She rode hard to try and catch the pack but it was too late and she was forced to settle for a fifth place finish.
In the XC1 class, FRE/KTM rider Bryan Cook was hoping to land on the podium. Unfortunately, he encountered a fluke mechanical problem on the first lap that he rode with through the entirety of the race. He eventually finished in 13th position.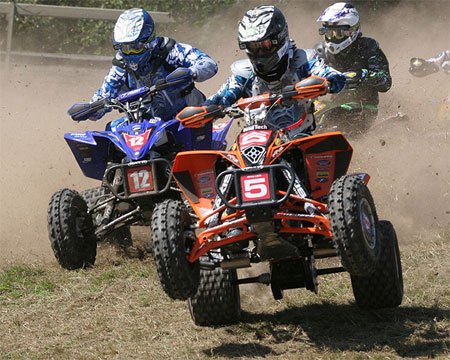 The XC2 class missed the presence of FRE/KTM rider Josh Kirkland who was seriously injured in a practice wreck at the end of July resulting in loss of movement from the chest down. Kirkland is currently at a top rehabilitation facility with his family and is fighting hard to make progress and regain movement each day. For further information on Josh and how you can help his battle please visit: http://www.caringbridge.org/visit/joshkirkland11.
Next Event: The Titan – Lafayette, Tenn. – September 25, 2010
Published September 15th, 2010 3:21 PM