1 View
FRE/KTM GNCC race report – round 9
June 29th, 2010 3:10 PM
Share
Two podiums for KTM at Snowshoe
The ninth round of the ATV GNCC Series saw two of the three FRE/KTM riders land on the podium. Reigning Women's Champion Angel Atwell pulled a third place result in the Women's class while XC2 rider Josh Kirkland followed suit with a third place finish in his class.
In the morning Women's race Atwell was able to get off to a decent start rounding the first turn in third place. On the third lap, Atwell found herself stuck at the bottom of a rocky downhill behind a huge bottleneck. This section cost her twenty minutes before she was able to finally get to the top of the hill. Atwell worked her way back through the pack to land on the podium before the race end.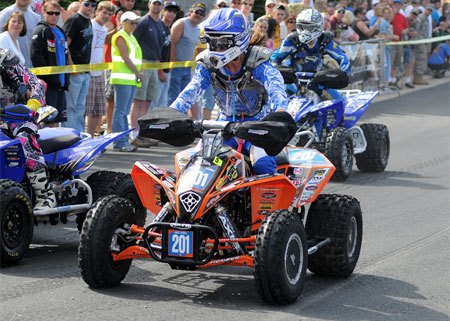 In the afternoon race, XC2 rider Josh Kirkland rounded the first turn of the asphalt start section in second place behind Brian Wolf. Kirkland and Walker Fowler followed close behind Wolf for the majority of the race. Kirkland allowed Fowler to get by near the end of the race. He remained close to his competitor to finish third overall in his class and sixth overall for the day.
The unique starting procedure for the Snowshoe event had four riders launch off the line every five seconds. The XC1 class saw FRE/KTM rider Bryan Cook take off to a third place start from the second row which physically put him in seventh position since one row of riders had already taken off ahead of him. Cook moved up to fifth position at the end of the first lap. One quick mistake landed him back in sixth place where he battled for the remainder of the day through the checkered flag. Published June 29th, 2010 3:10 PM