1 View
KTM Extends Partnership With FRE Racing
November 11th, 2009 11:15 AM
Share
Bryan Cook joins KTM GNCC team
KTM Motorsports will extend its relationship with Farr Racing Enterprises (FRE) and its three-rider ATV GNCC Team for the 2010 season. The FRE/KTM ATV GNCC Team will consist of defending XC2 champion Josh Kirkland, defending Women's Champion Angel Atwell and the newest member signing on to compete in the XC1 class Bryan Cook.
The FRE/KTM Team will be led by multi-time ATV champion Tim Farr.
"Tim's experience and expertise racing ATVs led to the development of the current KTM ATV and has helped KTM ATV Team riders win many races, including two championships last year," says KTM Off-Road Team Manager Antti Kallonen. "Needless to say, we are very happy to extend our relationship with such a well decorated and knowledgeable team leader and look forward to a successful year with Tim and his FRE/KTM team for 2010."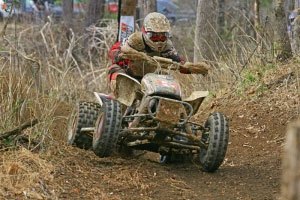 While Josh Kirkland and Angel Atwell will return to the team for their second year on the orange brand, the biggest news comes with the addition of former privateer rider, hailing from North Carolina, Bryan Cook. The top privateer award winner of 2009 joins the FRE/KTM Team to compete in the highly competitive XC1 class.
"I am grateful for this opportunity and excited that my racing has finally paid off and I will have a great machine and team structure for the 2010 season," says Cook.
We have been looking at Bryan for quite some time," says Farr. "He is a talented rider that has placed consistently within the top five. Since he has been on his own budget as a privateer for some time, we know with the KTM product and the support of a team behind him his results will improve on the track. We expect to see many podiums from Bryan this next season."
With the signing of Cook, it looks like KTM has cut ties with XC1 rider Adam McGill. McGill raced the last two seasons with the FRE KTM team and finished third overall in both seasons. ATV.com will keep you posted when we find out where McGill will be racing in 2010.
Published November 11th, 2009 11:15 AM
Top Brands
Popular Articles