1 View
Kymco, Kolpin Powersports Sign Deal
July 16th, 2008 11:41 AM
Share
Partnership will expand accessories options for ATVs and UTVs
Kymco USA has announced an agreement with Kolpin Powersports that will expand the accessories options available for Kymco ATVs and UTVs.
According to Kymco, this agreement will give Kymco dealers the ability to sell Kolpin's line of accessories. It also calls for the two companies to develop a line of co-branded items exclusive to Kymco.
Kymco says the program will be rolled out in three phases over the next 12-18 months. Initially Kymco will distribute the full line of Kolpin ATV/UTV accessories through its dealer network. In phase two Kolpin will develop specialized packages specific to Kymco models, specifically the new MXU 375 4×4 and UXV 500 side-by-side vehicles. Kymco and Kolpin will then go on to jointly develop proprietary accessories which will be co-branded by the two companies.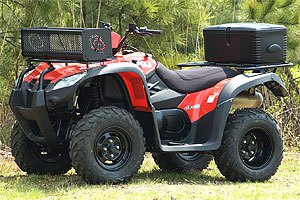 "We are very pleased to partner with an industry leader like Kolpin," says Kymco USA president and CEO Eric Bondy. "We've been developing a strategy to offer our dealers best-in-class products and Kolpin is clearly a great choice to assist us in solidifying this strategy."
"When we decided to strategically go after an import brand as an additional avenue in the market, Kymco was the only one we considered," says Tom Lutes, president and CEO of Kolpin Powersports. "That's a testament to what they have achieved as far as credibility. They were our first target and our only target."
Bondy and Lutes announced the joint agreement at the Kymco USA national dealer meeting. Kymco also unveiled its new UXV 500 side x side and the all-new MXU 375 at that meeting.
Founded in 1943, Kolpin Powersports has developed ATV and UTV accessories like Gun Boot cases and brackets, Stealth Exhaust and DirtWorks System.
Kymco was founded in 1963 as Kwang Yang Motor Company, Ltd., with its headquarters in Taiwan. Today Kymco manufactures motor scooters, motorcycles, ATVs and UTVs at five plants in Asia. Kymco is the largest scooter manufacturer in Taiwan, and currently exports to 88 countries worldwide.
Related Reading:
KYMCO introduces two new ATVs for 2009
Published July 16th, 2008 11:41 AM
Top Brands
Popular Articles