1 View
Motowoz Racers Claim Seven National Motocross Championships
August 30th, 2010 1:07 PM
Share
Motowoz riders earn 64 overall wins in 2010
Six amateur racers using Motowoz Performance Systems Products shocks have won national titles in seven classes in the 2010 ITP Tires/Moose Racing AMA ATV Motocross Championship Series.
Five of the six riders competed in the youth ranks and the other raced in the Women's C class. Nineteen riders earned at least a top-five positions in their class and recorded an impressive 64 overall wins this year on their Motowoz-equipped ATVs. The 11-round amateur AMA ATV motocross series concluded August 15 at Loretta's Lynn's Dude Ranch in Hurricane Mills, Tenn.
"I'm extremely thrilled with our season results and tallying 64 overall class wins this year," says Motowoz CEO Jim Jaworski. "Competition is all about winning and earning championships and our racers did an outstanding job in 2010. To have 19 riders finish in the top five of their class and get seven championships is wonderful. I congratulate all the racers and thank them for choosing Motowoz suspension."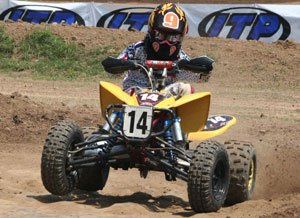 The 2010 season was impressive on a statistical front for racers who used Motowoz shocks. They recorded the fastest lap time in their class 147 times and earned 111 moto victories. In 2010, Chase Horton, on his Motowoz-equipped Cobra, scored 15 podiums in three classes. His 14 double-moto sweeps helped him win the 90 Automatic Sr. (12-15) class and repeat as champion in the 90 Production (8-15) class.
Kelsey Dyer posted nine victories in the Women's C class on her Motowoz-backed Honda. She earned a total of 11 podiums in two classes and won both motos in the Women's C class at nine events in 2010.
"Winning one championship is hard enough, but earning two in one season is remarkable. Chase Horton was downright impressive to watch this year. I congratulate him and all the national champions for their successful season," says Jaworski. "I can't say enough about Kelsey's effort. She won her class, but also earned two third-place finishes in the male-dominated Production C class, too."
Samuel Rowe won the highly competitive 90 Mod (8-15) class by 28 points with seven victories and eight podiums. He also took second in the Super-Mini (13-15) class, recording eight podiums and four wins. On the year, he recorded 17 trips to the podium in three classes.
Another Motowoz-supported racer who had a successful 2010 season was Jordan Digby. He tallied eight wins this year, won the 70 SS (6-11) class championship and finished second in the 90 Automatic Jr. (8-11) class.
Tyler Mack earned the 90 CVT (8-15) title by earning six wins and seven podiums in the first eight rounds. He started hot in 2010 by winning the first five races of the year. The youngest Motowoz rider to win a title was DJ Bassani. He competed in four classes and had 20 podiums, including eight consecutive to start the season in the 50 CVT (6-8) class. Bassani also finished second in the 70 CVT (6-11) class, where he earned five wins and 10 podiums.
2010 Motowoz AMA ATV MX Class Champions
Class
Name
Hometown
2010 Stats
Women's C
Kelsey Dyer
Quincy, Ill.
9 wins and 9 podiums
90 Mod (8-15)
Sam Rowe
Menasha, Wis.
7 wins and 8 podiums
90 Automatic Sr. (12-15)
Chase Horton
Arcadia, S.C.
7 wins and 7 podiums
90 Production (8-15)
Chase Horton
Arcadia, S.C.
7 wins and 7 podiums
70 SS (6-11)
Jordan Digby
Fulton, Miss.
6 wins and 7 podiums
90 CVT (8-15)
Tyler Mack
New Ulm, Minn.
6 wins and 7 podiums
50 CVT (6-8)
DJ Bassani
Sussex, N.J.
8 wins and 8 podiums
"We're fortunate enough to have a great group of riders who run our product and we work well together," says Jaworski. "Setup and customized shock building is critical for racing, especially at the youth level. This was a banner year for us, but we know we missed out on a few more titles. While that may get some people down, it only says to me that we need to work even harder. Real-world research and valuable feedback from our racers has resulted in new innovations and I'm in the process of changing up our product in terms of adjustments and looks."
To see the complete Motowoz Performance Systems offerings, visit http://www.motowoz.com/ or to inquire about custom orders, call (763) 390-9549. For tech questions, contact jim@motowoz.com or to apply for racing sponsorship, contact suzi@motowoz.com.
Published August 30th, 2010 1:07 PM
Top Brands
Popular Articles