1 View
New ITP QuadCross XC Has Strong Debut
September 30th, 2009 1:25 PM
Share
New ITP QuadCross XC has strong debut
ITP's brand new QuadCross XC tires proved their potential in a big way at the Moose Racing Yadkin Valley Stomp, round 11 of the 2009 Can-Am Grand National Cross Country Series.
Angel Atwell chose the new QuadCross XC for the rear of her FRE KTM and rode to a strong second place in the Women's class on a very wet, slick and demanding red clay course. With that, Atwell clinched her first Women's GNCC Championship. Atwell has won seven events in 2009 on ITP tires, helping her to take the title with two rounds to go.
FRE KTM's Adam McGill took his front and rear QuadCross XCs to an extremely close second overall in the XC1 Pro division. McGill, now holding third in the point standings, says he was able to control his slides perfectly.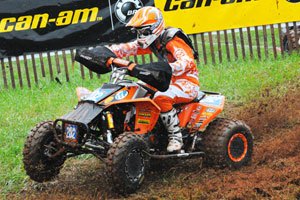 Rounding out a great weekend for this team, Josh Kirkland claimed his fourth victory of the season in the XC2 Pro Am class. In his case ITP Holeshot SRs front and rear were the hot setup. Kirkland holds second in the point standings with two events remaining.
The all-new QuadCross XC has been designed specifically for high-performance trail riding and racing, using many of the design features that have made the QuadCross MX PRO Lite a four-time AMA ATV Pro National winner this past summer.
The QuadCross XC adds the extra strength and larger sizing required for cross country use and incorporates a tough 6-ply carcass for higher puncture resistance and improved durability. This advanced carcass design has been designed to stiffen the sidewall during side loads without compromising ride quality. Along with reducing the bounce that's common on most cross country knobbies, this design benefits acceleration, braking, cornering and overall balance.
Visit ITPTires.com for more information.
Related Reading
ITP releases new QuadCross XC tires
Published September 30th, 2009 1:25 PM
Top Brands
Popular Articles