1 View
ITP Releases New QuadCross XC Tires
September 24th, 2009 1:22 PM
Share
New tires bring MX technology to cross country world
Hot on the heels of the QuadCross MX PRO Lite — a tire that has captured four AMA ATV Pro National wins since its debut last spring — ITP now announces the release of the all-new QuadCross XC, designed specifically for high-performance trail riding and racing.
According to ITP, the QuadCross XC utilizes all of the design features that have made the MX PRO Lite so successful, but adds the extra strength and larger sizing required for cross country use.
The QuadCross XC incorporates a tough 6-ply carcass for higher puncture resistance and exceptional overall durability. This advanced carcass design has been proven to stiffen the sidewall during side loads without compromising ride quality.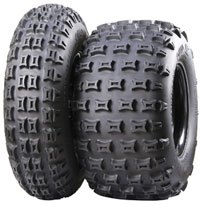 Along with reducing the bounce that's common on most cross country knobbies, ITP says this design benefits acceleration, braking, cornering and overall balance as well as reducing fatigue and lap times. An aggressive, dimpled tread pattern using a high-tech, long-wearing tread compound further enhances traction, feel and trail handling characteristics, says ITP. Sizing is 20×11-9 for the rear (P/N 560547) and 22×7-10 in front (P/N 560546).
The QuadCross XC has already shown its winning capabilities under ITP development rider and factory Yamaha team member Dustin Nelson. Fresh out of the tire molds, Nelson rode the first QuadCross XCs to a victory at the mid-August WORCS X event in Straddleline Park, Wash.
Since 1982, ITP claims it has grown into the world's #1 ATV/UTV aftermarket tire and wheel source, and continues to provide a complete line of innovative tires and wheels for virtually all ATVs and UTVs. For a copy of ITP's full-color product catalog, call toll-free: 1-800-859-4740. Visit ITPTires.com for more information.
Related Reading
ITP releases new QuadCross MX Pro Lite tires
ITP adds new sizes for UTV dune tires Published September 24th, 2009 1:22 PM
Top Brands
Popular Articles