1 View
Polaris Ranger RZR Wins Baja 500
July 2nd, 2008 12:58 PM
Share
First side-by-side to ever finish the race
The team of Mark Lindsay, Phil Holdsworth and Michael King won the UTV class of the Baja 500 on June 1, a 500-mile race that begins and ends in Ensenada, Mexico.
Their modified Polaris Ranger RZR is the first side-by-side to ever finish the historic race. After being the last vehicle to start, Lindsay's team raced the sole Ranger RZR entry in the field to the finish line in 19 hours, 49 minutes and 30 seconds.
Thirty-three miles into the race, the challenge of a loose, rocky incline brought the vehicles in front of Lindsay to a stand-still. When it was finally his turn, he blew through the obstacle with ease.
"Being the first side-by-side to finish and win the Baja 500 UTV Class is a true testament to the quality and ability of the Ranger RZR," says Craig Scanlon, product line sales manager for the Polaris Side x Side division. "We congratulate Mark Lindsay and his team for continuing to show the Ranger RZR can dominate even in the most extreme conditions."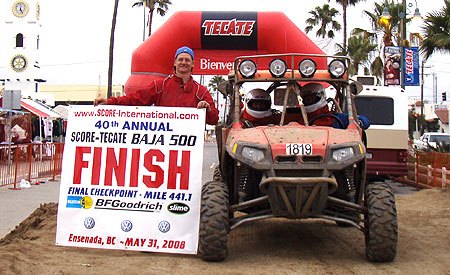 According to Lindsay, the RZR was the right vehicle for the job.
"For the Baja? This isn't farm work, you need a real machine out here," says Lindsay.
Lindsay's team was sponsored by Afraidium Racing, FST, BS Sand, Iron City Polaris, Bronco Clutch, F2 Racing, HMF Exhaust, The Lindsay Group RE/MAX, MAXXIS tires, TireBalls, OMF Wheels and King shocks.
Related Reading:
Matlock, Spaeth and Miller win Baja 500
Published July 2nd, 2008 12:58 PM