1 View
Weller on Top of the Podium at LOORRS Speedworld
April 20th, 2010 3:41 PM
Share
We're committed to finding, researching, and recommending the best products. We earn commissions from purchases you make using links in our articles. Learn more here
Big weekend for R1-equipped Rhino
With a brand new Tilted Kilt/Weller Racing color scheme on her SR1, and a few new features such as Unisteer power steering and a new Walker Evans/Maxxis wheel and tire combo, Corry Weller came out swinging at rounds three and four of the Lucas Oil Off Road Race Series this past weekend, which was held in her own backyard at Speedworld Offroad Park in Surprise, Ariz.
Determined to be a familiar face on the podium for 2010, Weller's weekend was not without incident as she lost power during Friday's qualifying session due to a faulty fuel pressure regulator, putting her in the back for Saturday's main race. With a few laps behind her to adjust to her new steering set-up and a new fuel rail to solve her power issues, Weller layered on the tear offs and prepared to do battle with the thick mud and very fast competition.
"I have started in the back lots of times, unfortunately," Weller says. "I knew I had to really hustle to get to the front before the end of the race, especially when our race was only eight laps. It's tricky coming up through traffic, but I seem to be able to anticipate people's reactions pretty well, and was hoping to get through pretty clean."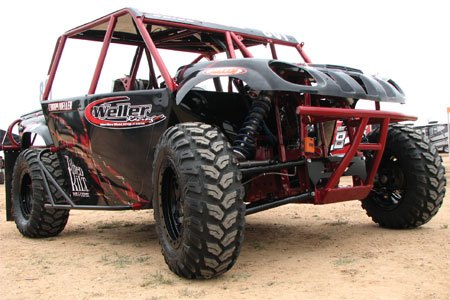 When the green flag dropped, the field rocketed forward and everyone but the leader was immediately showered in a flying wall of roost and mud. Fighting to steer, shift and pull tear-offs, Weller battled her way up through the field, working past the Modified UTV class as well as her own SR1 racers. At the mandatory yellow, Weller was already in second place for the SR1 class and looking for a way to get to the front.
When the second green flag dropped for the remainder of the race, Weller wasn't quite quick enough on the draw and allowed fellow SR1 racer Gary Thompson to slide past her on the restart, making it a three way battle between Herzog in the lead, Thompson in second and Weller raging in third. When the checkers were thrown, it was an SR1 domination, as the top four finishers in the UTV classes would be SR1s, with Herzog, Thompson and Weller rounding out the podium.
Boosted by the fact that she earned the fastest lap of the day in Saturday's race, Weller was even more determined to get on top of the LOORRS podium on Sunday, and was looking to set a good qualifying time in order to start closer to the front.
"When it's muddy like that, starting in the front is crucial," says Weller. "I picked up 180lbs of mud on Saturday – my car was working so hard by the end of the race to make up ground on everyone, and it was very difficult. For Sunday, I wanted to be up front on the start. I knew if I could start up front and stay clean, I could win it."
Setting the fastest pace in qualifying on Sunday for the SR1class earned Weller a front row starting position for Sunday's main event, and put her in prime position to get out front early. When the green flag dropped, Weller shot forward and into the first turn ahead of the entire field. Setting a blistering pace, Weller stayed out front and drove her heart out, only being challenged once when Herzog gained ground partway through the eight lap race. When Herzog fell back due to complications, Weller checked out and wouldn't release her grip on the lead until the checkered flag flew, signaling her first win ever in her LOORRS racing career. Not only did she win, but she once again set the fastest lap time overall.
"I can't even explain how good this win feels," says Weller. "My husband and our crew and our friends worked so hard to be sure my car was freshened up and finished before this race. My sponsors were so excited to have my car redone and everyone has been so supportive. It feels good to just have been on the podium twice this weekend – but to actually have won first overall – it makes all the late nights and hard work worth it! I can't wait 'till Vegas!"
Weller Racing would like to recognize those who made this weekend possible: The Tilted Kilt Pub, Walker Evans Racing, Xtreme Machine and Fabrication, Maxxis Tires, MagnaFlow, LOORRS, our fellow SR1 racers and friends, our fans, and our families who sacrifice so much so that we can do what we love to do.
Related Reading
R1 Powered Rhino at LOORRS Published April 20th, 2010 3:41 PM
Top Brands
Popular Articles