1 View
Yamaha Sponsoring National Hunting and Fishing Day
August 25th, 2008 1:01 PM
Share
New 2009 Grizzly 550 FI ATV donated for sweepstakes
Yamaha Motor Corp., USA of Cypress, Calif. is sponsoring the 2008 National Hunting and Fishing Day (NHFD).
As part of the partnership, Yamaha is donating an all-new 2009 Grizzly 550 FI ATV to the NHFD sweepstakes. The sweepstakes is being promoted at NHFD events nationwide, and anyone can register online through the end of October.
"As a strong supporter of hunting, fishing and conservation in the outdoors, Yamaha is proud to be a sponsor of National Hunting and Fishing Day," says Steve Nessl, marketing manager for Yamaha's ATV/SxS group. "We believe NHFD stands for the same strong values of outdoor conservation and ethical hunting and fishing that Yamaha supports, and we are excited to be a part of delivering that message on such a grand scale."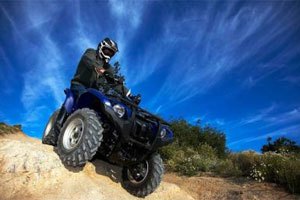 Scheduled annually on the fourth Saturday of September, this year's celebration of hunting, fishing and conservation is set for Sept. 27. Yamaha also has relationships with conservations and outdoor recreational enthusiast organizations such as Ducks Unlimited, Safari Club International and Buckmasters.
"We're thrilled to have Yamaha support our efforts to remind the public that hunters, anglers and shooters are America's premier conservation supporters," says Denise Wagner of Wonders of Wildlife museum in Springfield, Mo. – the official home of National Hunting and Fishing Day. "Yamaha is a welcomed addition to the National Hunting and Fishing Day festivities."
The sweepstakes is open to all hosts, volunteers and attendees of any of the hundreds of nationwide events celebrating NHFD. The contest is also open to all outdoor recreational sports participants. One lucky entrant, 18 years-of-age or older, will win a 2009 Yamaha Grizzly 550 FI, which has an approximate retail value of $7,099. The sweepstakes begins at 12:01 a.m. Pacific Time on Aug. 18, 2008, and ends at 11:59 p.m. Pacific Time on Oct. 31, 2008. The winner will be determined by random drawing.
More information on NHFD is available at www.nhfday.org. For complete rules and entry information, visit www.yamahaoutdoors.com/nhfday.
Published August 25th, 2008 1:01 PM
Top Brands
Popular Articles