8 Views
10 Items To Bring On Your Next UTV Adventure
September 29th, 2017 4:47 PM
Share
We're committed to finding, researching, and recommending the best products. We earn commissions from purchases you make using links in our articles. Learn more here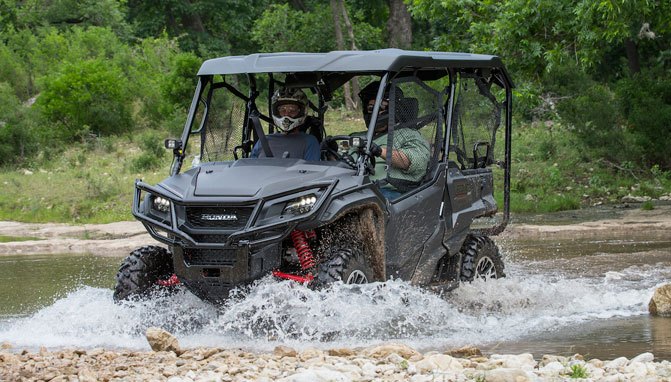 With new machines being developed for the adventure market, and as we transition into the autumn season, it's time to gear up your for your next UTV adventure and go explore the wild places.
Does this mean you have to run out and spend thousands of dollars on new accessories? Not at all. The most important thing to have with you on a UTV adventure is an adventurous spirit. The rest will just make things a little easier if you run into some trouble.
Winch
You've got to have a winch, especially if you're by yourself. Winches are a very common accessory and we've included them on a number of lists, so if you don't already have one, it's well past time to fix that.
Get yourself a good winch here.
Jump Starter
A short time ago, a friend called begging for me to come find him in the deep woods. His battery had died and he had no way to get his UTV out. It took a while to come to his aid. A small, compact jump starter is a vital piece of gear for those who venture way off the beaten path. Don't get stranded.
Get your own jump starter here.
Rope
I used to tease my father-in-law for always having rope around; that is until I needed some rope. Luckily he had some. Since then, I always have rope handy. I carry 50 feet in the storage compartment in my UTV for situations I have yet to think of. It helps.
Get yourself some good, heavy-duty rope.
Cooler
Of course you're going to want to bring some cool drinks and food along for the adventure. For this you need a cooler. The newer roto-molded coolers are more expensive, but worth it when they can withstand the abuse we give them and still keep your stuff cold.
Get one of the best on the market here.
Tire Patch Kit
If I have to explain why you need a patch kit for your tires, then you probably don't need to adventure very much.
Fire Starter
You should always have the ability to make fire, just in case you need to warm up after a cold creek crossing, or have to spend the night under the cold night sky. I keep a lighter in the glove box, just in case.
Knife
Having a good knife is more important that you might think. When the ride takes you off the beaten path, a knife can make the difference when you are forced to pull over for food, emergencies and more. When the pioneers first trekked across the continent, they carried many things, but always a knife.
First Aid Kit
Always be prepared. It works for the Boy Scouts, and it also works for the UTV adventurer. A first aid kit is another one of those "must-have" items you carry when you're going where few have gone before.
Protection
If it is legal where you're going, and you're proficient in its use, a handgun for personal protection is a must-have item. It's not the things you can think of that warrants carrying one, it's the situations you can't think of. Keep it secure and out of sight until you need it, and hope you never do.
GPS
Know where you're going, where you are and how to get back home again with a GPS unit. After all, the most important thing is getting back home at the end of the trip. Today's GPS units are more accurate, durable and dependable than ever. Derrek Sigler
Derrek's love for all things ATV started when he was a mere 11 years old, growing up on his family farm. His mom gave him and his sister a choice - get a horse, or a three-wheeler. The sister wanted the horse, and Derrek wanted the ATV. Luckily he won out, and was soon burning up the trails on a Yamaha Tri-Moto 200. By the time he was 14, he had saved enough of his own money by working on the farm and in his folks restaurant to buy a new 4-wheeler. That happened the day he and his mom were driving past the dealership and saw 1987 Banshee. His mom had no idea what he was buying, and he never looked back. He's been riding ever since, and been writing professionally for many years. He has ridden all over North America and been behind the controls of just about every machine out there. And yes, he still has his 1987 Yamaha Banshee.
More by Derrek Sigler
Published September 7th, 2017 11:24 AM
Top Brands
Popular Articles