1 View
NOCO Genius Boost Sport Jump Starter - Everything You Need To Know
July 27th, 2021 6:33 PM
Share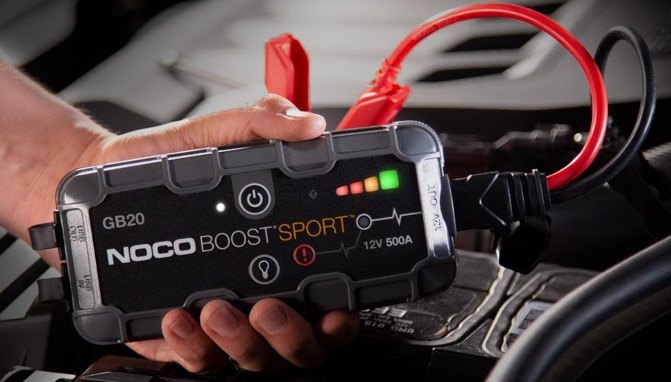 We look at the features, specs, user reviews, and alternatives for this powersports jump starter
The NOCO Genius Boost Sport jump starter is one of the most popular in the industry, so we figured it made sense to do a deep dive on this product so you have plenty of information before you drop your hard earned money.
Everyone experiences a flat battery now and again, and in those moments, a good jump starter is a godsend. Without one, a dead battery in your ATV means either bringing another vehicle around to jump it, or removing the battery and throwing it on a plug-in charger – options that, depending on the circumstances, can mean a long wait and an even longer walk back to camp. The portability of a jump starter puts all the power you need to get going again within arm's reach, so you can get going again with less downtime and less fiddling around. Of course, there's a range of different portable jump starters on the market, and some are better than others.
To help take some of the guesswork out of your jump starter purchase, we've put together this handy "Everything You Need To Know" article about one of the most popular genius jump starter options on the market: the NOCO Genius Boost Sport jump starter. Here, we'll take a look at the NOCO Genius's features, specs, possible alternatives, and real owner reviews, all with the aim of arming you with enough knowledge to make an informed purchase.
Table of Contents
1. NOCO Genius Boost Sport Jump Starter Features
The NOCO Genius Boost Sport is one of a newer crop of "smart" jump starters with circuitry specially designed to prevent sparking and reverse-polarity connections. Realistically, sparks are of little concern, although they can become a hazard if, say, there are any combustible fluids or fumes in the vicinity. But the reverse-polarity protection is a hugely significant safeguard; otherwise, hooking the positive cable up to a lead-acid battery's negative terminal, and vice versa, creates a huge surge of current that can melt battery components and cause the rapid release of hydrogen gas within the battery. That hydrogen can create enough internal pressure that it splits the case, and as we all know, hydrogen is remarkably explosive. Even if you stop short of running into that worst-case scenario, the high amperage can still melt the cables or cause irreparable damage to your ATV's electrical components.
Beside those features, the NOCO Genius Boost Sport also boasts supreme portability, measuring less than eight inches in length and weighing in at just under two pounds, and yet it's rated to deliver up to 500 peak Amps of current – more than enough for your average depleted ATV or UTV, and enough for gasoline car engines up to 4.0 liters in displacement, NOCO says. Its 24-Watt-hour lithium-ion battery packs enough juice for up to 20 jump starts, housed within an IP65 dust- and water-resistant housing, and a "manual override" feature allows users to deactivate the unit's automatic safety and detection features to recharge batteries that are too low in charge to be detected. As an added plus, the Boost Sport incorporates a built-in 100-lumen flashlight with seven operating modes, and a USB port for recharging mobile devices.
Included with each NOCO Genius Boost Sport jump starter purchase is the GB20 jump starter unit, a pair of powersports battery clamps, a Micro-USB cable, and a convenient microfiber storage bag.
The NOCO Genius Boost Sport jump starter is aimed primarily at 12-volt powersports use, but it's powerful enough to jumpstart cars with gas engines up to 4.0 liters in displacement, too. The specs are as follows:
| | |
| --- | --- |
| Battery Type | Lithium-Ion – 12-volt |
| Starting Current | 500 Amps (peak) |
| Battery Capacity | 24 Watt-hours |
| Jump Starts Per Charge | 20 |
| USB Input/Output Current | 2.1 Amps |
| LED Flashlight Output | 100 lumens |
| Dust-/Water-Resistance Rating | IP65 |
| Dimensions | 7.7" x 3.2" x 1.7" |
3. Best Alternatives: GooLoo Car Battery Jump Starter
One alternative to the NOCO Genius jump starter lineup is the GooLoo Car Battery Jump Starter – a similarly small, highly portable jump starter that's powerful enough for automotive use. The GooLoo packs even more jumping power, with up to 1,200 peak Amps to restart gas engines up to 7.0 liters in displacement. Like the NOCO, it too features a built-in LED flashlight and supports USB charging, and it has the capacity to support even more jump starts than the NOCO. It even features a small LED display to show charge status.
4. Micro-Start XP-3 Portable Jump Starter
Another alternative to the NOCO Genius jump starter is the Antigravity Batteries XP-3 Micro-Start. It's a bit more expensive than the NOCO Genius, but it's positively microscopic, measuring just six inches in length and one inch in thickness. A 400-Amp peak output rating makes it a bit less potent, but the manufacturer claims it's good for gas engines up to 5.7 liters in displacement. It, too, can be used as a personal power source for mobile device recharging, and it features a built-in 110-lumen flashlight.
To get a sense of how well the NOCO Genius Boost Sport jump starter performs in the real world, we took a look at candid reviews from real-life owners, searching out owners' most-liked features and biggest grievances.
Many people who left a NOCO Genius boost review agreed that they are well-liked for their portability and effectiveness, mostly in jump starting cars. Owners have been pleasantly surprised by how long the jump starter manages to hold onto a charge – an important data point, as rechargeable batteries tend to lose charge gradually with non-use.
Owners also praised the NOCO's simplicity and ease-of-use – something that's only made better by its reverse-polarity protection – but knocked it for its short cables, which can make it difficult to hook up.
But the biggest trend we saw from negative reviews was from a number of buyers who said their NOCO Genius Boost Sport arrived defective and unable to be charged. No matter what the product, some number of units will always arrive defective, but the volume of similar complaints make that a point worth repeating.
All-in-all, the vast majority of owners can all agree that the NOCO Genius Boost Sport is portable, convenient, versatile, and dependable when you need it the most.
How do you use a portable jump starter?
First things first, we assume that your portable jump starter is fully charged. When you confirm that, plug the large cables/clamps that came with your jump starter into the battery pack. You first connect the red/positive cable to the positive terminal of the battery or on some vehicles they'll have you use a terminal by the alternator. Once that is secure, connect the black/negative cable to a body or engine ground, or if accessible the negative terminal on the battery. If things aren't hooked up properly, you'll likely get a warning sign in the way of sparks.
Once you know everything is properly connected, make sure all cables and jumper are clear of fan belts and your fan, and give the key a turn. If all is good, your jumper should fire your vehicle up instantly.
How do you recharge jump starter packs?
This is even easier than jump starting your car. Unless your new jump starter pack is missing cables, you should have a cable that plugs into the jump starter pack itself. It may look like a charging cable for your smartphone. You can plug it into a wall adapter, that is normally supplied, and let it sit to recharge. Most jump starter packs can reach full charge within a few hours. You can usually find this information in your owners manual.
We are committed to finding, researching, and recommending the best products. We earn commissions from purchases you make using the retail links in our product reviews. Learn more about how this works.
Published November 25th, 2020 1:13 PM
Top Brands
Popular Articles