1 View
Getting Plowed: Snow Removal Tools From Moose Utility Division
January 28th, 2022 3:08 PM
Share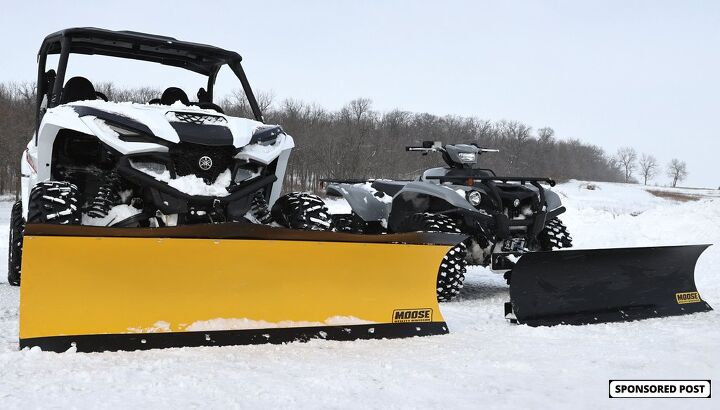 Find the right plow blade for your needs
Winter is a fact of life for a lot of people in wide swaths of the country. While a good dumping of the white stuff can be annoying, there's no shortage of tools to help make clean up a little bit easier. For those of us with an ATV or side-by-side in the shed – and, for obvious reasons, we'll wager a solid chunk of our readers do – bolting a plow onto the machine's front is a sure-fire way to make quick work of a snow filled driveway.
But which one? There are several different types of snow plow design, all with their advantages. Thankfully, the team at Moose Utility Division are a bunch of serious gearheads, able to pick through a list contenders and select the ones which work best. No matter which blade you choose, it will work with the push tubes from Moose, including the RM4 and RM5 units.
Straight Blades
First up are the Moose Utility Division Matte Finish Straight Blades. No, we're not talking about the type of razor your grandfather used to shave his whiskers. These things are whip straight on their leading edge, making them a great choice for clearing driveways and other wide-open areas where snow has piled up higher than you'd like. When angled properly, the blade will flick snow in the direction you wish.
While the blade itself is straight from side to side, it has a forward-facing concave curve which permits the snow to 'roll' ahead of your rig instead of piling up like those household tasks you've promised to do but never have. Specifically speaking, this design guides snow up and away from the surface you're clearing.
It is available in numerous sizes – big and bigger. To be precise, the Straight Blades can be had in lengths ranging all the way up to 72 inches. When used properly, the wing will permit users to push snow aside while making multiple same-direction passes, eliminating those annoying residue lines on the surface you're trying to clear.
County Blades
Next up are the Moose Utility Division Matte Finish County Blades. Yes, spellcheck – that's 'county', not 'country'. If you live in the type of wide-open area that is susceptible to drifting snow, this type of blade can save you a lot of headaches. See that strip of rubber along its top edge? That's designed to keep snow from blowing up and over the blade, snow which inevitably ends up on your rig's windshield or – if you're on an ATV – right in your face. We enjoy winter as much as the next enthusiast, but that type of behavior is just a whole lot of unnecessary misery.
Other than that addition, this blade is markedly similar to the Straight Blade described earlier in this post. It's available in two different sizes, 50 inches or 60 inches, and has the same wing-style taper to help shove snow in the direction it is tilted. The specially designed forward-facing curve guides snow up and away from the surface being cleared, while its powder coated finish should stand up to even the toughest jobs. Its matte yellow appearance looks good, too.
Poly Blades
For those of you with really big snow-clearing jobs (or simply want to intimidate the neighbors by clearing your suburban driveway in just two passes), the Moose Utility Division Poly Plow Blades could be just the ticket. Made of 1/8-inch thick poly, it is available in a couple of different sizes all the way up to a brutish 72 inches.
A thick plow flap on top of the blade's edge gives protection against snow flying up and over the plow into your face, while also doing a decent impression of the units found on large scale commercial snow removal tools. A black poly face with Moose branding, the latter of which will surely be covered up after the first plowing pass, provides a good look. As anyone who lives in the Snow Belt will tell you, a black plow contrasts well with snow and makes it easy to place the blade exactly where you want it (no more excuses for scraping that retaining wall, okay?).
As an extra, be sure to check out the optional plow side shields. They attach to the forward end of your angled blade to greatly reduce the amount of overflowing snow (or dirt in the summer). In other words, it'll help contain the plowed material so you don't have to make extra passes cleaning up small lines of debris left over from your original work. Moose Utility Division also offers plastic replacement lower wear bars, meaning it is simple to swap out the standard-equipment metal one if you're trying to take it easy on a driveway made of stone pavers.
Turns out, winter's not so bad if you have the right tools. Visit Moose Utility Division to learn more.
Published January 21st, 2022 1:49 PM
Top Brands
Popular Articles