50 Views
Snow Problem: Conquer Winter with a Snow Plow from Moose Utility Division
September 18th, 2020 5:42 PM
Share
We're committed to finding, researching, and recommending the best products. We earn commissions from purchases you make using links in our articles. Learn more here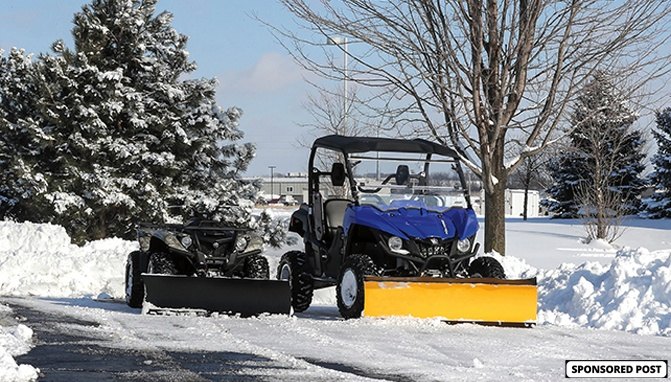 Let your machine do the heavy lifting this winter
Despite the prospect of snowy conditions and temperatures cold enough to make Jack Frost wince, winter doesn't have to be a dreaded time of the year. Having the right equipment ready to go in your shed or garage can make those frigid months much more bearable – enjoyable, even – which is why Moose Utility Division offers a line of snow plows for ATVs and UTVs to help make those winter chores a lot easier.
Those brutally cold days are a lot more enjoyable when you've got an actual snow plow, instead of trudging back and forth across the driveway or dealing with the backbreaking weight of that infernal yellow Garant Alpine snow scoop. Thankfully, MUD offers a variety of snow plowing options for both ATV and UTVs, allowing your off-road machine to help with the hard work. Moose has actually been producing plows longer than just about anyone else in the market, meaning they've got the expertise to match you up with a perfect blade.
The company's RM5 system is a great choice for newbies considering making their first snow plow purchase. Made in the USA, the mounting system is constructed of heavy duty 2-inch square steel tubing and has been powder-coated matte black for durability. Its front-mount design permits 30 inches of lift depending on the blade you select, so there should be no excuse for failing to clear that hard-to-reach far end of the driveway.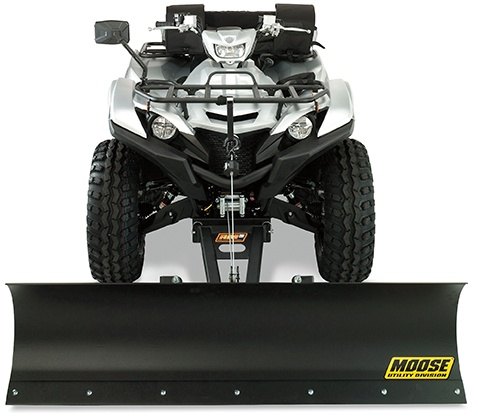 Plus, for those days when you simply want to use your ATV/UTV on the trail, the RM5 mount features an easy-to-use pull pin attachment system, meaning it safely secures plow to machine, but is simple to disconnect when the blade isn't needed.
Kitting out your rig with Moose Utility to take on winter's worst couldn't be easier. The RM5 frame is designed to work with a wide array of mounts that fit popular quads and side-by-sides. Gone are the days of buying a generic product that requires cutting and drilling before being bashed into place on the front of your rig. The pros at MUD have even designed some mounts specifically for particular engine displacements on a specific model, given the unique cooling requirements of some of these machines.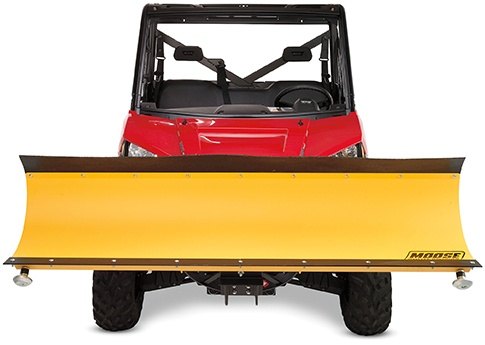 Moose also offers the V-Plow system, recommended for any ATV or UTV 700 cc and up. Available in 72" and 82" sizes, the V-Plow features two blades – hence the "V" moniker, with blade heights that taper up from the center of the blade. This increases plow capacity, while the adjustable blades allow for a number of different plowing positions to suit your driveway configuration. Pair the V-Plow system with leftside and rightside V-Blades that come with rubber flaps standard.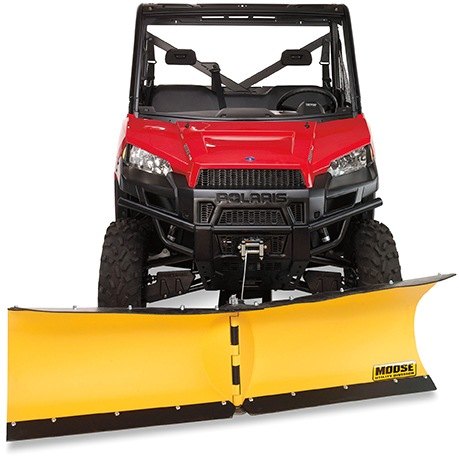 Meanwhile, an array of blades are available to round out the RM5 package. Formed from 11-gauge steel, MUD's standard plow blade has a curved design that provides better snow roll-off at a variety of angles. The standard-size 50-inch blade clears a path nearly four feet wide when angled, while the 60-inch blade adds about ten inches to that measure. A jumbo 72-inch blade is designed for utility vehicles or ATVs with engines larger than 500cc of displacement.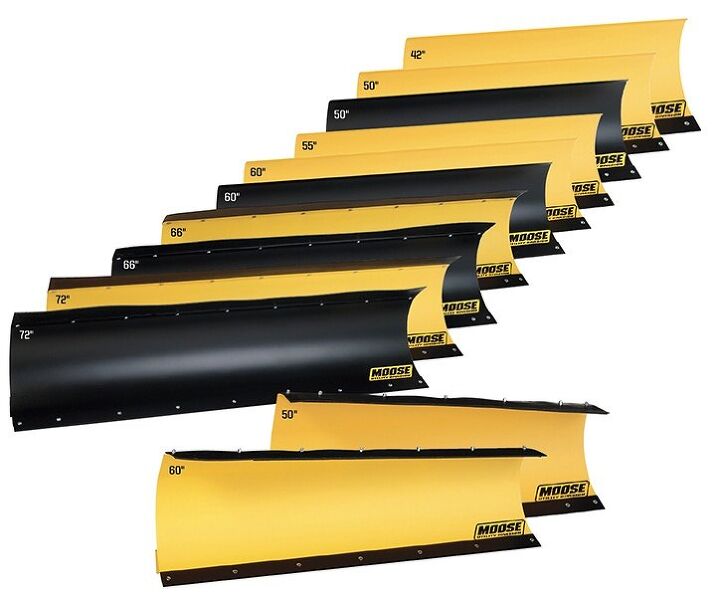 The company's completely redesigned county plow blades, on the other hand, feature a wing-type design and blade curve that guides snow up and away from the surface you're clearing. The height of this wing on a 60-inch blade measures just over two feet tall with the plow tapering down to about 16 inches at the end, while a handy rubber flap along the top edge helps keep snow from blowing up and over into your face.
Ready to bin that shovel and take on this year's snow clearing with ease? Visit Moose Utility Division to learn more. Published September 18th, 2020 5:42 PM
Top Brands
Popular Articles