1 View
June 19th, 2015 4:27 PM
Share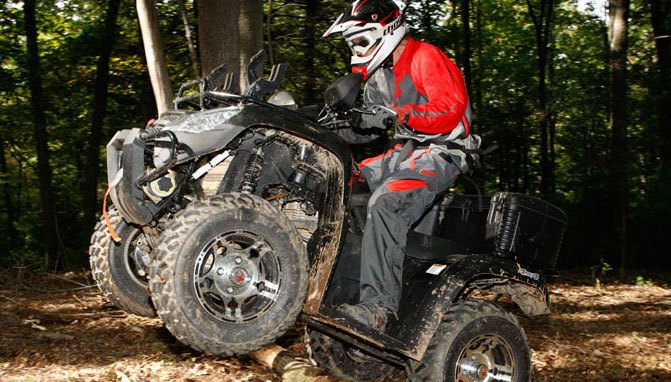 Just try to find a better boot at this price
I love these boots! Let's get that out of the way at the start and I'll try to tell you why.
Thor shipped me a pair of size 12 50/50 boots (black), along with a set of Thor Ride gear (jersey, pants, gloves) in the spring. Much to my wife's chagrin, it seems like they've hardly been off my feet since. I've worn them on utility quads, sport quads, UTVs … even scooters. Hell, I might throw on a pair of thick wool socks and wear them when I shovel the driveway this winter.
Comfort
The first thing I noticed when I slipped on the boots was that they didn't feel like ATV boots at all. They're noticeably stiffer than typical hiking or work boots, but they're actually comfortable to stand around in and since each boot weighs just 27 ounces they don't seem to drag you down or get in the way when you're walking around.

These look and feel a lot more like comfortable hiking boots than any other ATV boots we've tried.
Better yet, after a long day of riding under the hot summer sun I don't rush to peel them off my feet. If they're not too muddy, most of the time I'll just keep them on until I get back home instead of changing into a pair of sneakers.
Performance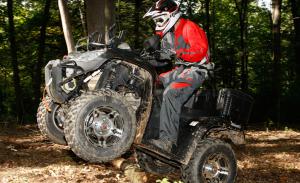 Though they're quite versatile, we find the 50/50 boots are just about perfect for utility quads.
As much as the manufacturers would like you to think otherwise, a pair of boots really isn't going to make you ride any faster or better. However, you'd be surprised at how much of a difference having comfortable feet makes during a long day. For me, it means I may be inclined to go for a few more miles before calling it a day. If I'm comfortable, I'm probably enjoying myself a little more and that's really what riding ATVs is all about.
As for actual riding feedback, I think the highest compliment I can pay Thor is that I really never thought about the boots while I was wearing them. That's a good thing.
They're probably about the perfect boot for 4×4 riding. The boot is small enough that it always feels like there's room enough to move around on the floorboards. As for sport quads, the boots work fine for the most part. They've got an integrated toe cap for shifting and a plastic shank insert for footpeg support.
If you're looking for a waterproof boot, you won't find it here. If you plan to play in the wet stuff – and we all do from time to time – you're going to get wet socks. However, we didn't have any trouble keeping our feet dry riding around in light rain.
A little bit of rain won't soak through these boots, but if you're playing in the deep stuff you might want to keep your feet above sea level.
Protection
According to Thor, the 50/50 boot was designed to provide the right amount coverage for situations that don't demand the extensive coverage of a standard boot. To me that says if you plan on riding motocross or even aggressive woods riding on a sport quad you may want to consider a full motocross boot for its added protection. Still, for most riding conditions the 50/50 boot will work out great.
With nearly half a year of wear and tear my 50/50 boots are holding up exceptionally well. There are a few scratches here and there, but no rips or tears. The aluminum buckles have performed just fine, but lately some of them do require a good bit of effort to properly close.
Conclusion
As I'm sure you've gathered by now, I think pretty highly of Thor's 50/50 boots, but I haven't even got to the best part yet – they retail for just $109.95. Compare that with similar boots from other manufacturers.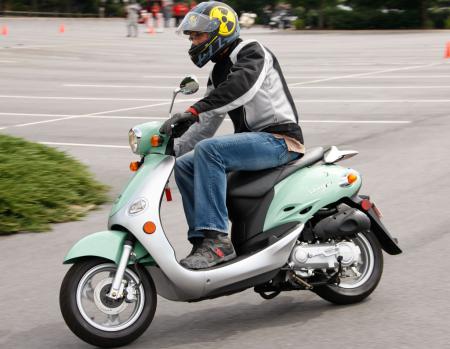 I don't care what anybody says…riding scooters is fun. Plus, the 50/50 boots make me look rugged…right?
As much as I like them, these probably aren't the best or fully featured ATV boots in the world, but I sure haven't found a better value.
Thor 50/50 boots are available in black (as tested), white, and brown. Visit ThorMX.com for more information.
Related Reading
Thor Ride Gear Review
Published October 28th, 2009 10:33 AM