1 View
Who Wants a 102 Horsepower 500cc Two-Stroke Kit Engine + Video
May 22nd, 2018 3:55 PM
Share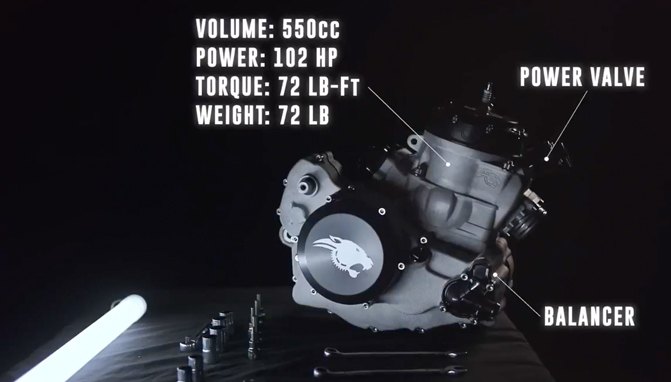 When can we try it?!
For all the die heard Honda fans who are still bitter that the OEM never put it's potent CR500 two-stroke engine in an ATV chassis, your day of jubilee has come. Panthera Motorsports, a Canadian engineering and manufacturing firm, has developed an electric start, 500cc two stroke engine capable of producing 102 horsepower that will bolt directly into a Honda TRX450R chassis. The PM07-18 will set you back $6080 for a version with either electric start or a kick start or an option with both electric and a kickstart can be had for $6400.
Check out a promo video for the engine below as well as a clip of an ATV on the dyno.
Specifications
Volume/Bore/Stroke: 548cc / 94mm / 79 mm
Power : 102 HP / 76 KW
Torque: 72 lb-ft / 98 Nm
Weight: 72lb / 32.7 kg
Transmission: 6 speeds
Exhaust control: Piston power valve
Intake system: Carbon fiber reed valve
{ "id": "8843132", "alt": "", "title": "", "video_link": "https://www.youtube.com/embed/J2UEF5khzt8", "youtube_video_id": "J2UEF5khzt8" }
{ "width": 634, "height": 357, "showRelated": true }
Published May 23rd, 2018 8:54 AM