1 View
5 Awesome UTV Hauling Setups
May 20th, 2016 10:12 AM
Share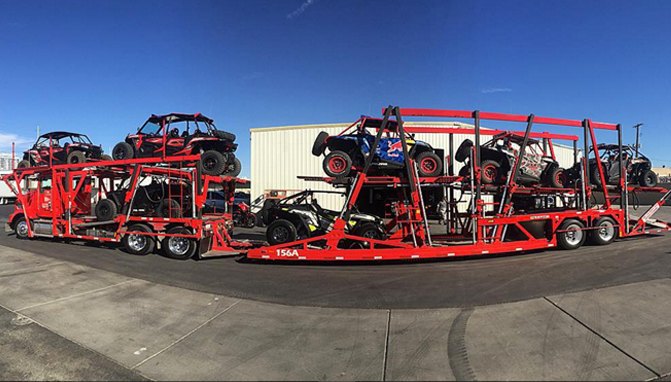 Save those precious inches!
When it comes to hauling your machine out to your favorite riding location, sometimes form beats function. Then again, we've found some pretty creative hauling systems that make the most of limited space. Here are five unique hauling setups that find interesting, creative or just plan awesome.
Can you say top heavy?
A photo posted by Kombustion Motorsports (@kombustionutv) on Apr 17, 2016 at 8:42pm PDT
Nothing outlandish about the trailer, but that's one awesome tow rig!
to last week when my buddy, @alexbmfwatkins drove down with us to the
A photo posted by Jordan Unternaher (@unternaher) on Apr 14, 2016 at 6:27am PDT
We definitely want to be friends with this guy!
Now this is how you haul all your toys to one place trailer
A photo posted by Davin Gothard (@dgoffroad) on May 18, 2016 at 8:01am PDT
If they had loaded them sideways, they could have doubled their capacity.
Heading out to Moab Utah for !! ranger 2016
A photo posted by Joey Allison (@allisoneprize) on May 9, 2016 at 9:29am PDT
This is one crew we definitely want to hang with!
Ten @polarisrzr loaded and heading to Cabo. Looking forward to next weeks adventures with family and friends.. Doesn't get much better then driving my RZR around Baja? @utvunderground @muzzysperformance @assaultutv @bfgoodrichtires @rigidindustriesofficial @kmcwheels @nelsonracingproducts @magnumoffroad
A photo posted by Bryce Menzies (@brycemenzies7) on Sep 30, 2015 at 4:32pm PDT
Published May 20th, 2016 1:11 PM