7 Views
KIOTI Tractor Unveils New All-Weather Model
June 15th, 2023 6:19 PM
Share
KIOTI Tractor, a subsidiary of Daedong-USA, Inc., has expanded its utility vehicle (UTV) lineup with the introduction of the K9 2400 Cab model. This new addition builds on the features of the existing K9 2400 UTV, presenting a vehicle designed for durability and versatility in various weather conditions.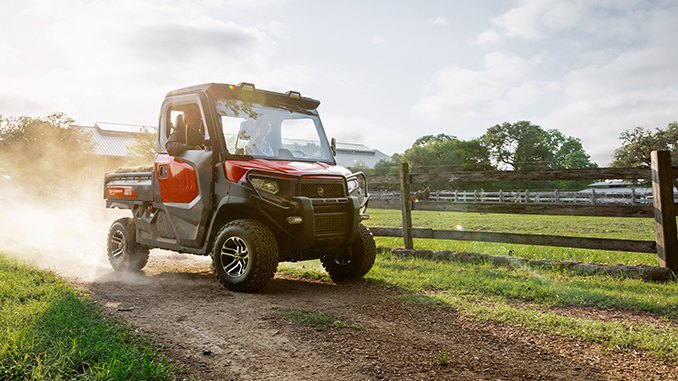 The K9 2400 Cab model is equipped with a factory-installed, climate-controlled cab, providing operators with protection and comfort in different weather conditions. The vehicle's design continues the K9 Series' tradition of contemporary styling, with a focus on enhanced ergonomics and ample storage space.
Powering the K9 2400 Cab is a 24-horsepower, three-cylinder, KIOTI diesel engine. The vehicle offers selectable two- or four-wheel-drive options, complemented by a limited slip front axle and a mechanically actuated locking rear differential. These features allow operators to modify the vehicle's performance according to the terrain. Furthermore, the K9 2400 Cab comes with speed-sensitive, electric power steering and a re-engineered continuously variable transmission (CVT) that employs engine braking. These improvements are aimed at providing a superior driving experience.
The K9 2400 Cab is capable of reaching ground speeds up to 31 mph. It offers a payload capacity of 1,750 pounds and a towing capacity of 1,300 pounds. Other notable features include an all-steel cargo bed with a spray-in bed liner, a dump bed capacity of 1,102 pounds, and a ground clearance of 12.5 inches. These features contribute to the vehicle's ruggedness and reliability, enabling it to navigate challenging terrains and accomplish demanding tasks.
For over three decades, KIOTI Tractor has been supplying tractors ranging from 22 to 110 horsepower to the U.S. and Canadian markets. Today, the company offers a variety of compact tractors, utility vehicles, and zero-turn-radius mowers for both residential and commercial use. KIOTI Tractor continues to be committed to providing equipment that is durable, reliable, and easy to use. The company has an extensive and growing dealer network across North America dedicated to delivering superior customer service.
The new K9 2400 Cab model is part of KIOTI Tractor's ongoing efforts to expand and improve their product offerings to meet the diverse needs of their customers. For more information about the K9 2400 Cab and the rest of the KIOTI UTV lineup, interested parties can contact an authorized KIOTI Tractor dealer or visit the company's website​.
Published June 15th, 2023 6:19 PM
Top Brands
Popular Articles