49 Views
Moose Racing Builds an Outrageous Polaris RZR XP 1000
January 12th, 2023 4:31 PM
Share
We're committed to finding, researching, and recommending the best products. We earn commissions from purchases you make using links in our articles. Learn more here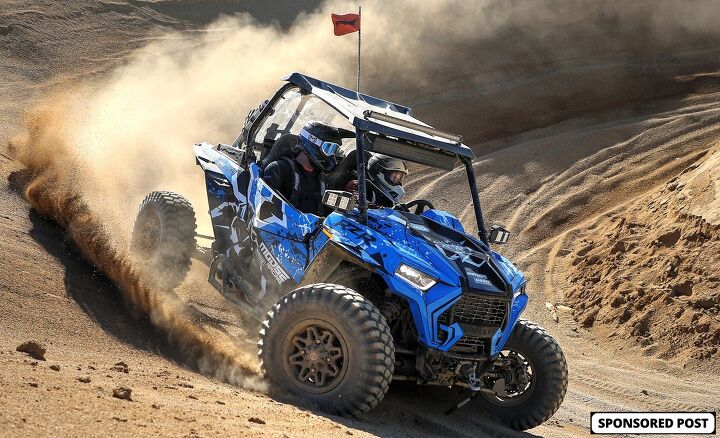 Let's get one thing clear from the start – we like modifying our off-roaders around here. Even machines which are well-built with ample suspension travel and plenty of power right from the factory can do with a bit of aftermarket tweaking. Call it a need for speed, call it a desire to have a different rig than our buddies, call it whatever you want – upgrading our rigs is a fact of life.
Which is one of the reasons we're taken with what's been created by the speed freaks at Moose Utility Division and Moose Racing. They decided to wrangle one of the best side-by-sides on today's market (Polaris RZR XP 1000) and crank its Fun Meter squarely to eleven. The only reason they didn't amp it up to twelve is because the dial doesn't go that far.
With decades of experience in the off-road industry, Moose has a deep well of experience from which to draw. Also helping matters is the fact they have access to a huge warehouse of parts and aftermarket equipment; after all, they sell this stuff on the daily. We'll also point out that creating a wheeling beast entirely out of their own gear is a huge statement on how much confidence they have in the products hawked on their website.
As with most good builds, Moose started with a stout set of wheels and tires. After fitting aluminum spacers for a bit of extra clearance and a mean stance, they racked up a set of Insurgent brand tires mounted on aggressive 416 X wheels which are sized 14x7 and good for a 700-pound load capacity. These tires have a flatter tread profile than most, meaning they'll get wide ground contact, especially if they air down for the tough stuff. And, naturally, Moose mounted up a spare on their own carrier designed specifically for the RZR XP 1000 which comes complete with a couple of hinge points at the rear for better stability.
Masochists in the audience will claim they don't need a roof or windshield – but the rest of us know better, right? MUD's RZR roof is made from quarter-inch high molecular weight poly, attached with clamps bolted to the ROPS for maximum strength. The polycarbonate windshield is hinged in the middle for ventilation and comes with a couple of rubber pucks to keep the thing off your hood when folded.
Moose also went to town with lighting accessories, adding a set of rock lights (controllable with your smartphone) plus LED lighted mirrors, which are perfect for seeing around the next corner or simply scaring the tar out of your buddy who isn't expecting them. LED headlights and taillights are also part of the build, though Polaris does a decent job with the stock units. Toss in radio frequency LED whips and a single-row LED light bar atop the roof to round out a RZR XP 1000 that emits nearly as many lumens as a collapsed sun.
Continuing with the theme of comfort – and showing off, if we're honest – is the marine-grade sound bar capable of pumping out your favorite tunes with aplomb. Along with Bluetooth audio streaming, it also includes a 3.5mm stereo auxiliary input jack for running audio from a portable media player or headphone output jack. There are large center-mounted controls for power and volume, the latter of which will likely always be cranked to the max, at least when there's a crowd at hand. The bar is compatible with surface or roll cage mounting surfaces; the Moose crew decided on an up-top solution, located just behind the trick rear-view mirror they also added. Lower door inserts, storage bags, and nerf bars also help make the space more livable than when it rolled out of the Polaris factory.
With all this gear, there's a solid chance that whoever's at the wheel will be called upon to drag a lesser machine out of the mire at some point or another. Speaking to this is a 4,500-pound winch installed by MUD, one with a dandy black powdercoat finish and IP67 rated for protection against the elements. Go ahead and use the dash-mounted rocker switch or stick with the corded operator's remote if you wish to get a better look at just how that other guy got his rig so impossibly stuck. A winch mount and winch cushion round out this part of the build.
Guarding against the same thing happening to their build, Moose wisely upgraded some of the RZR XP 1000 suspension components. At the corners are MUD's own sway bar end links which can be fully adjusted for length, along with a new rear radius rod plate. Don't sleep on the benefits of the latter – this part of the rig takes a lot of stress and this replacement unit, crafted from five-eighths inch thick billet machined plate, eliminates flex yet installs with absolutely no modification.
So what are you waiting for? Hit up the Moose Utility Division and Moose Racing websites and grab some – or better yet, all – of these parts to upgrade your own RZR XP 1000. The engineers at Polaris have laid down a solid base in their sport-focused side-by-side, these upgrades will let the thing roll with just about anything thrown its way. Published January 12th, 2023 4:31 PM
Top Brands
Popular Articles