1 View
Dustin Wimmer Part of New ATV Film [video]
May 10th, 2010 11:11 AM
Share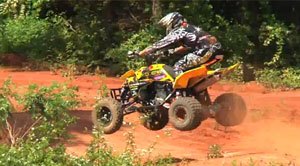 Blake Shipman, one of the premiere ATV/freestyle filmmakers, spent some time with ATV motocross champion Dustin Wimmer to shoot for "Revolutionary," his new ATV film that will be released this fall.
Shipman loaded a three-and-a-half minute teaser of Wimmer footage on YouTube to whet your appetites for the upcoming main course. Check out the video below the jump
As is always the case with Shipman's videos, production quality is awesome and Wimmer provides him with plenty of nice ATV MX action. It's always good to see a pro like Wimmer in action, even if it does make us feel inadequate. Consider us hungry for the final cut!
Get the Flash Player to see this player.
Published May 10th, 2010 11:11 AM