1 View
Electric Dune Buggy Conversion
May 13th, 2010 3:59 PM
Share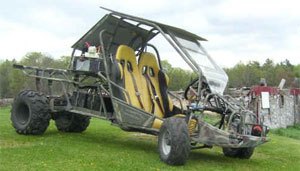 We've been following a very cool project on TheWorkshop.ca about converting a dune buggy from gas to electric.
The project has spawned five very detailed articles and videos so far. It's highly technical, but watching the progression from broken down dune buggy to functional electric vehicle is pretty amazing.
We've embedded the first video below the jump, but you can find all five videos on TheWorkshop.ca YouTube channel. Here are the links to all five articles: Part I, Part II, Part III, Part IV, Part V.
Get the Flash Player to see this player.
Published May 13th, 2010 3:59 PM