1 View
Outlander 800R Playing in the Deep Water [video]
September 8th, 2010 1:23 PM
Share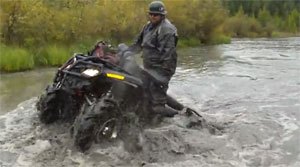 Seeing as we just published our Outlander 800R XT-P Review, we figured we'd dig through the YouTube universe and see what we could find on BRP's flagship ATV.
It took no time at all to find this little gem that shows a little of what the Outlander is capable of. In this case, the Outlander is basically being used as a boat as it navigates some seriously deep water. We're not sure we'd do this with our big-dollar ATV, but if anybody wants to lend us one…
Get the Flash Player to see this player.
Published September 8th, 2010 1:23 PM