1 View
MX Vs. ATV: Alive Trailer [video]
May 9th, 2011 2:57 PM
Share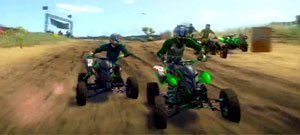 MX vs. ATV: Alive, the latest iteration in THQ's hit series, goes on sale on May 10. ATV.com will be receiving copy soon and you can expect a full review in the coming weeks.
We had a lot of fun with MX vs. ATV Untamed when we reviewed it a few years back and our hopes are high for Alive. What should make things interesting this time around is that users will get to choose branded machines. Manufacturers like Suzuki and Yamaha have signed on so you won't have to use the mystery machines any more.
Game play also looks to be improved with "bar-to-bar racing." According to THQ, this allows for increased physical contact between racers and should cut down a little on the crashing. It's designed to more closely simulate actual racing, which can only be a good thing.
We'll let you know what we think of everything after we get our hands on the game.
Get the Flash Player to see this player.
Published May 9th, 2011 2:55 PM