1 View
Yokley Racing ATV and UTV Report: Ironman GNCC
October 24th, 2011 2:57 PM
Share
National Guard Polaris Coastal DragonFire Yokley Racing Team driver William Yokley finished second overall and second in the Side-by-Side Open Modified Class at the Ironman GNCC in Crawfordsville, Ind. National Guard Polaris Coastal Yokley Racing Team driver Scott Kiger finished third overall and third in the same class. There were 54 total entries with 25 Open Modified teams in the race today. Yokley's guest passenger was his wife Tina, and Kiger's passenger was Joe Waligora. Yokley is the 2011 GNCC Open Modified National Champion and Kiger finished third in GNCC season points.
As well, National Guard Coastal Yokley Racing Pro ATV Team rider Jarrod McClure finished fifth overall and fifth in the XC1 Pro ATV class. There were 193 total entries with 14 XC1 Pro riders.
Summary – Side-by-Side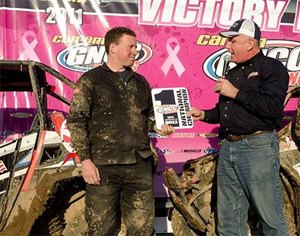 The National Guard Polaris team arrived at this season finale GNCC Side by Side race hoping to wrap up the National Championship. The weather and conditions were perfect, and the Ironman always has the largest turnout of competitors and fans of any of the GNCC events. The fans are positioned all along the course, especially at the long hillclimb and creek crossing sections. There are also high speed open-field sections to showcase the horsepower and handling of the Ranger RZR XP900.
At the start, Yokley was fifth in the first turn, with teammate Kiger right next to him. They went into the woods in third and fourth. They moved up to second and third at the completion of lap 1. Yokley knew he could wrap up the title by finishing second, so he raced conservatively, making sure he took care of his equipment and not taking big chances with lappers. The team finished out the race in second and third, with both machines on the podium.
This was Yokley's second GNCC National Championship with Polaris in the Side-by-Side division. With Scott Kiger finishing the season in third place, the team enjoyed a very successful season. The team has one race left for the 2011 season, the season finale of the WORCS on Nov. 12 at Speed World MX in Surprise, Ariz. Yokley is leading the points and with a good finish, can wrap up the WORCS National Championship. Kiger is in the top seven in points, and has a chance to move up in the final standings.
Summary – XC1 Pro ATV
National Guard Coastal Yokley Racing Team rider Jarrod McClure looks forward to the Ironman every year. "The spectators are wild; they line the hills and jump in to help if you get stuck, and are always cheering and yelling – it's great!", says McClure.
McClure was first off the line at the start, and won the $250 holeshot award. He was second going into the woods, and battled with McGill and Borich through lap 1. The big hillclimb section was a challenge on every lap; there were several different lines and riders were always getting stuck, so you would either make up or lose positions each lap. The creek sections were long and pretty deep, so you had to be careful not to drown your machine out.
On lap 2, McGill jumped in the creek right next to Jarrod, and proceeded to soak him and his machine. Everything was wet, and it became difficult to hold on to the controls, not to mention it was freezing! McClure finished out the race in fifth place. The ATV worked great and he had no other major issues. He is now sixth in season points, with one makeup GNCC race left in two weeks at Loretta Lynn's in Tennessee.
Jarrod will race at Loretta Lynn's and then immediately travel to the last WORCS race in Surprise, Ariz. one week later. He plans to finish the season strong!
Yokley Racing Team Sponsors: The Army National Guard, Polaris Industries, Coastal Racing, DragonFire Racing, Kenda Tires, Monavie, EXIT Suspension, Roll Design, XC Bobs.com, Douglas Wheel Technology, HMF Exhaust Systems, Moto Pro Training, SHIFT Riding Gear, Tsubaki Chains, IMS/Roll, CV4 Hoses, ATVRiders.com, Tireballs, Precision Racing Products, G-4 Graphics, SCOTT USA Goggles, IMS, Hygh Octane Designs, Bowers Motorsports, TanTerra Wines, Tusk Off-Road, Baldwin Motorsports, K&N Filters, RPM Axles, KG Clutches, PowerMadd and Fluidyn Powersports.
Published October 24th, 2011 2:57 PM
Top Brands
Popular Articles