1 View
Yokley Racing ATV and UTV Report: Indy 100 GNCC
May 17th, 2011 3:18 PM
Share
Kiger finished second in UTV class
National Guard Polaris Coastal Yokley Racing Team driver Scott Kiger finished second overall and National Guard Polaris Coastal DragonFire Yokley Racing Team driver William Yokley finished 27th Overall and 19th in the Side by Side Open Modified Class. Meanwhile, National Guard Coastal Yokley Racing Team rider Jarrod McClure finished 12th Overall and 11th in the XC1 Pro class today.

Summary

Gosport, Ind. is a new event on the GNCC schedule this year, and the team was looking for another strong showing. The course featured tight woods sections, steep hills and high speed open fields. The weather forecast called for some showers in the afternoon, but throughout the morning and early afternoon, it was sunny and warm. Around 2:30 PM, the skies turned dark, the temperature dropped and the rain let loose. It rained so hard that the Racer Production team had to shorten the afternoon Pro ATV race. It continued to rain and there was discussion as to whether they would even run the 4:30 pm Side by Side race. The problem was high water in the creeks and low areas, and the open field sections were a muddy quagmire. It was awful conditions!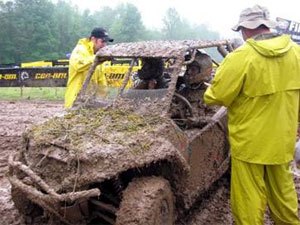 It was decided to run the race for 45 minutes. The teams lined up with both National Guard Polaris XT-900s on the front row. The flag dropped and by the third turn all the machines were totally covered with mud. Scott Kiger was second and William Yokley was right behind in third. They ran that way for the first couple of laps. The deep ruts were treacherous, and on lap 3, Yokley buried his machine in a mud hole. It was lying on its side, and it took several people and quite a bit of time to get it out. He dropped out of the top 20 teams and tried to work his way back toward the front.
It finally ended for William when his machine came to a sudden stop on the last lap. A dozer had to finally drag him out of the woods back to the hauler. On the other hand, Scott Kiger was having a great race running in the top 2, and actually taking the lead toward the end. The conditions became so bad that the track was totally impassable in a ravine section, and no one could get through. About 20 teams were stacked up, unable to go forward or backward. The promoter stopped the race and reverted back to the previous lap to set the final finishing positions. Congratulations to Scott for his second place finish!
Jarrod McClure has had a very busy race schedule so far this year, and has been improving his finishes. He has been getting great starts and has consistently been competing for podium finishes. He was ready to continue the trend at this new GNCC venue in Gosport, about 30 miles south of Indianapolis.
The afternoon Pro ATV race started under warm, sunny conditions. When the flag dropped, Jarrod got another great start, rounding the second turn in second place. He quickly got the lead and set a fast pace. He completed lap 1 in first position, and looked like he was capable of not only finishing on the podium, but maybe even a win.
Jarrod had changed his set up slightly for this race, deciding to go with a full skid plate set up instead of a smaller, less protective cover. The ruts were severe in the creek and mud sections, and the full skid plate caused his machine to get hung up more easily. This happened a few times on the next couple of laps.
Then all heck broke loose when a heavy rainstorm erupted! It rained so much, so quickly, that the creeks rose and the mud got so deep that is made the course almost impossible to get around. Jarrod got stuck several more times, and when they finally stopped the race at 90 minutes, he was back in 12th overall.
What started out as a very promising day ended with just trying to finish and salvage as many points as possible.
The team heads home to clean the machines and prepare for the next GNCC race in Patton, Pa. in two weeks.
Yokley Racing Team Sponsors: The Army National Guard, Polaris Industries, Coastal Racing, DragonFire Racing, Kenda Tires, Monavie, EXIT Suspension, Roll Design, XC Bobs.com, Douglas Wheel Technology, HMF Exhaust Systems, Moto Pro Training, SHIFT Riding Gear, Tsubaki Chains, IMS/Roll, CV4 Hoses, ATVRiders.com, Tireballs, Precision Racing Products, G-4 Graphics, SCOTT USA Goggles, IMS, Hygh Octane Designs, Bowers Motorsports, TanTerra Wines, Tusk Off-Road, Baldwin Motorsports, K&N Filters, RPM Axles, KG Clutches and PowerMadd.
Published May 17th, 2011 3:18 PM
Top Brands
Popular Articles