1 View
Arctic Cat Reports Strong Sales Figures
January 26th, 2012 12:24 PM
Share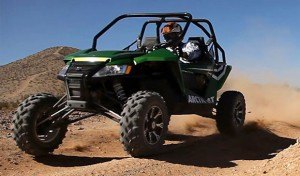 Something must be in the water in Minnesota. Just a day after Polaris announced its record sales numbers for 2011, Arctic Cat is reporting significant sales growth in its fiscal third quarter.
"We are very pleased with the company's strong third-quarter and year-to-date performance. Arctic Cat continued to execute well during the quarter, producing double-digit sales and earnings gains," says Claude Jordan, Arctic Cat's president and chief executive officer. "Our focus on introducing innovative products and technologies, such as our extensive new snowmobile line-up and the Wildcat sport side-by-side, contributed to the strong third-quarter results and helped generate increased sales across all product lines."
Jordan has a right to be pleased. Arctic Cat's net snowmobile, ATV and UTV sales grew 36 percent in the third quarter to $179.6 million, compared to $126.4 million a year ago. Year-to-date sales (nine months ended Dec. 31, 2011) have jumped to $408.4 million, compared to $319.5 million the previous year. Add in Parts, Garments & Accessories and the sales number jumps to $486.8 million, compared to $391.2 million in 2010.
Snowmobile sales rose 61 percent to $125.2 million in the fiscal 2012 third quarter, up from $77.8 million in the prior-year quarter. Sales continued to be fueled by Arctic Cat's extensive new 2012 model line-up, announced in March 2011, with 23 all-new snowmobiles representing 75 percent of the current offerings.
ATV sales increased 12 percent to $54.4 million in the fiscal 2012 third quarter versus $48.6 million in the same period last year, with strong contributions from Arctic Cat's Prowler line of side-by-sides. During the third quarter, Arctic Cat began shipping limited quantities of its all-new Wildcat V-Twin 1000i H.O. sport recreational off-road vehicle (ROV) to dealers. The Wildcat ROV was introduced to the public through demonstrations and rides held throughout North America. Arctic Cat is ramping up production of the Wildcat in the fiscal fourth quarter in order to meet demand for this off-road sport vehicle.
Sales of parts, garments and accessories (PG&A) in the fiscal 2012 third quarter grew 7 percent to $27.4 million versus $25.6 million in the prior-year quarter. The growth was primarily due to snowmobile-related parts, garments and accessories sales. With the launch of its e-commerce site in Canada, Arctic Cat now offers online PG&A sales throughout North America. The company also launched a wide range of accessories for Wildcat vehicle customization.
"With product innovation driving increased sales and our continued progress on operational excellence and execution, we are raising our fiscal 2012 sales and earnings guidance for the third consecutive quarter," says Jordan. "We remain well-positioned for future sales growth across all product lines."
For the fiscal year ending March 31, 2012, Arctic Cat now anticipates sales in the range of $568 million to $575 million, an increase of 22 percent to 24 percent versus fiscal 2011.
Published January 26th, 2012 12:19 PM
Top Brands
Popular Articles