1 View
ITP Unveils Turf Tamer Classic ATV Tires
February 15th, 2012 3:27 PM
Share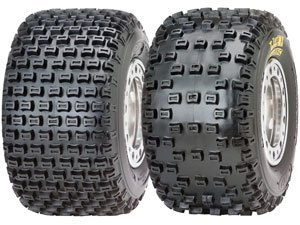 The folks at ITP are bringing back an ATV icon – Turf Tamer ATV tires!
"In the beginning there was ATV racing, and it was good. But the tires on those early three-wheelers? Not so much," ITP says in a release. "Then came a tire that changed everything. The Turf Tamer provided stability, handling and traction that was unheard of in those early days of the sport. If a rider wanted to be competitive, he or she used Turf Tamers—there was no choice. And the Turf Tamer not only set the standard back then, it served as the blueprint for generations of performance ATV tires to come. Look at any sport quad tire today and you can easily see the resemblance to the original Turf Tamer."
ITP is bringing back the Turf Tamer name with its new Turf Tamer Classic, available in two models. ITP says both models utilize a strong, lightweight, 2-ply carcass that's been re-engineered to accommodate the characteristics of today's four-stroke sport quad models.
"It provides unmatched durability as well as excellent handling and ride," says ITP. "Their proven dimpled knob design and an advanced tread compound delivers exceptional traction and long life."
Joining the Turf Tamer Classic is the Classic MX model, which features pre-grooved tread—an industry first. According to ITP, this pre-grooving adds an extra degree of performance on loose, loamy track surfaces.
The ITP Turf Tamer Classic and Classic MX are reborn in 18×10-8 rear sizing Check out ITPTires.com for more information.
Published February 13th, 2012 4:13 PM