1 View
DragonFire Racing Introduces UTV LED Dome Light Kit
January 21st, 2013 11:16 AM
Share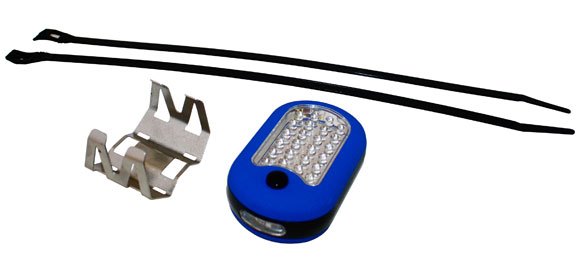 UTV owners who like to keep riding after the sun goes down would appreciate the latest product from DragonFire Racing – a UTV LED dome light kit. The kit features high intensity LED bulbs and a stainless spring steel mounting bracket.
"Our LED Dome Light was designed to be as useful as possible while staying simple," says DragonFire's Chris Moore. "We developed a 304 stainless steel mounting basket that attaches to almost any 1½" -2″ diameter cage tube. Low profile zip ties secure the mount to the cage tube with no need for welding or wrenches… again part of our design brief to keep things clean and simple."
The light itself is battery powered, so there is no need to worry about trying to tie into the electrical system or run wiring throughout the cockpit. The multi-function LED light features a flood light top portion, side spot flashlight, magnetic backing, and a pop out hanging hook. According to DragonFire, the the light slides in and out of the mount with ease, making it not only a dome light but also a portable handheld work light as well.
UTV LED Dome Light Features:
• Mount made of 304 stainless steel
• Simple zip-tie mounting system
• Multi-function LED light
• No wiring or welding required
• Removable light doubles as a flashlight/work light
• Low draw LEDs last a long time
For more information, visit http://www.dragonfireracing.com/battery-powered-led-dome-light-kit.aspx.
Published January 21st, 2013 11:15 AM