1 View
Can-Am Maverick Racers Earn Podiums in WORCS, BITD
April 2nd, 2013 1:48 PM
Share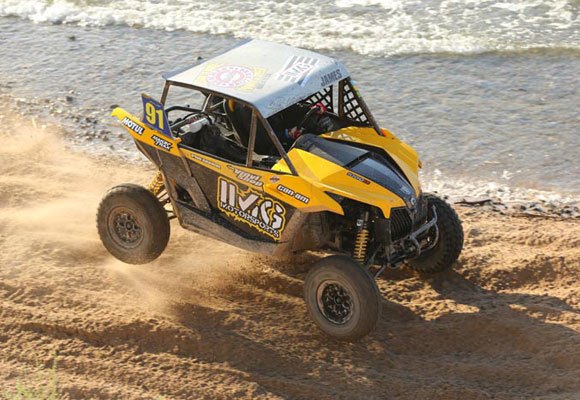 The Can-Am Maverick 1000R X rs continues to find success in its first racing, earning two more podiums in recent weeks. James Hill finished second in the SxS Pro Production class at round three of the World Off-Road Championship Series (WORCS) in Arizona, while bothers Derek and Jason Murray also earned a podium finish with their Maverick 1000R X rs, racing to a third-place finish in the Best In The Desert (BITD) Mint 400 outside of Las Vegas.
Not to be outdone, BCS Performance / Can-Am pro Josh Creamer let everybody Can-Am DS 450 ATVs are still a force to be reckoned with, finishing second in the Pro class at the 2013 Mtn. Dew AMA ATV Motocross Nationals opening round in Georgia.
"I was thrilled that Can-Am racers earned hard-fought podium finishes in three different series, and in very difficult conditions," says Jimmie O'Dell, race manager, Can-Am. "James Hill overcame a challenging WORCS course to earn his second podium behind the wheel of the Maverick. The Murray Motorsports team had a spectacular podium finish at the Mint 400 and narrowly missing second-place by only two seconds. Josh Creamer — despite a first-turn crash in the first moto and very wet, muddy conditions — won a Pro class moto and notched an impressive second-place finish overall at round one of the AMA ATV MX series."
Side-By-Side
Numerous Can-Am Maverick 1000R side-by-side vehicles participated at round three of WORCS held at Crazy Horse Resort in Lake Havasu City, Ariz. James Hill (No. 91 IMG Motorsports / GBC / Can-Am) was the top-finishing pro Maverick 1000R racer, earning a spot on the SxS Pro Production class podium with a strong second-place finish. Californian John Pacheco took sixth place in the same class with his Maverick.
Hill started on the first line in his class and was in the top five after one lap. Hill moved into the top three one lap later and kept pushing toward the front. He then took over the physical lead on the sixth-and-final lap, but had to settle for second overall due to adjusted time.
"The track was gnarly. My goal was to get out front quick and save the car the best I could due to the rough course," says Hill.
At the grueling Mint 400 BITD desert race near Las Vegas, Nev., Murray Racing drove its Maverick 1000R X rs to one of the closest SSV race finishes in history. Derek and Jason Murray finished in third place, but were amazingly only two seconds from earning second-place overall in the SxS Pro class after adjusted time.
Can-Am X-Team member and Maverick side-by-side pilot Cory Sappington (Desert Toyz) finished in fifth place in the SxS Pro class.
ATV
At the opening round of the Mtn. Dew AMA ATV MX Nationals held at Aonia Pass Motocross Track in Washington, Ga., Creamer piloted his BCS Performance-backed Can-Am DS 450 to second overall. Creamer, making a full return to the ATV MX Nationals stage, was involved in a first turn pile-up that put him in last place at the start of moto one. The former ATV MX national champion regained his composure and started to pass his way through the field. Despite muddy conditions, Creamer carved his way to sixth place by the end of moto one.
Creamer won the moto-two holeshot in the muck and then expanded the gap over second place after posting the fastest lap of the moto on lap four. He ended up winning by almost nine seconds. The moto win combined with his sixth-place run in the first moto earned Creamer second overall in the Pro class.
"It was a relief to get the holeshot in the second moto. I did a quick look back after the first lap and saw I was already pulling on the guys. I just put my head down and charged," says Creamer. "I have to thank Jay [Brazee] and everyone from BCS / Can-Am. They made the DS 450 run flawlessly. I could hear all the fans out there rooting for me and I have to thank them the most."
Published April 2nd, 2013 1:48 PM