1 View
2016 Yamaha Grizzly and Kodiak 700 in Production in Georgia
July 27th, 2015 11:35 AM
Share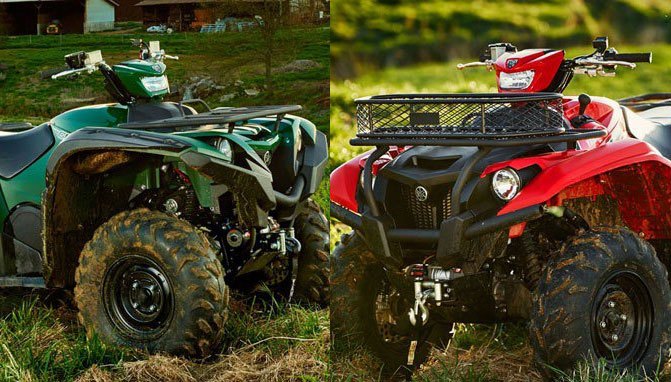 New ATVs set to appear in Yamaha dealerships this summer
Yamaha's new 2016 Grizzly and Kodiak 700 ATVs are rolling off the production line at its U.S. factory in Newnan, Ga.
"Yamaha's four-by-four ATVs are the toughest, most durable and off-road capable in the world, and it's exciting to see the 2016 models coming off the production line in Georgia this summer," says Steve Nessl, Yamaha's ATV/SxS group marketing manager.
The all-new Grizzly and Kodiak 700 models are differentiated by their body size, styling and the all-new DOHC 708cc, four-valve, fuel-injected engine. According to Yamaha, the engine has been given optimized torque, power delivery and engine character for each model's particular riding style.
2016 Yamaha Grizzly SE Carbon Metallic
Yamaha boasts that the 2016 Grizzly's all-new chassis was designed for exploring, hunting and recreational riding. Updated styling and a new chassis feature redesigned front and rear fenders, an all-new handlebar mounted work light, new 26-inch tires, twin-piston four-wheel disc brakes, and all-new suspension. The new Grizzlies come in non-EPS, EPS, Special Edition and Limited Edition variations with multiple color and styling options. Non-EPS models start at $8,899 MSRP and EPS models start at $9,699 MSRP.
According to Yamaha, the new Kodiak 700 ATVs are built for work with a more compact new chassis with increased torque.
"Easily the most powerful in their pricing categories, the new Kodiaks are packed with features for the working man while maintaining Yamaha's legendary durability and off-road performance," Yamaha says in a release.
2016 Yamaha Kodiak 700
The all-new Kodiak 700 line of 4×4 utility ATVs includes the Kodiak 700 (MSRP $6,999), Kodiak 700 EPS (MSRP $8,199) and Special Edition (SE) Kodiak 700 EPS (MSRP $8,899).
Both the Grizzly and Kodiak feature Yamaha's Ultramatic fully automatic transmission and Electric Power Steering. Every Yamaha Grizzly and Kodiak 700 is assembled at Yamaha's factory in Newnan, Ga., for worldwide distribution.
Published July 27th, 2015 11:35 AM