1 View
Hetrick Bests Wienen at RedBud ATVMX National
August 12th, 2016 4:44 PM
Share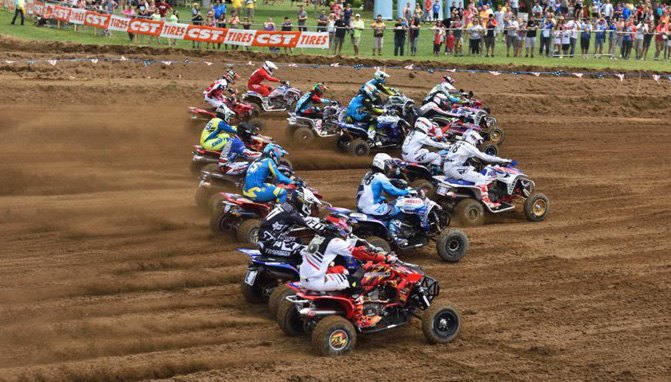 Pair split moto wins as championship duel continues
The 2016 ProX ATV Motocross National Championship (ATVMX) presented by CST Tires, an AMA National Championship, continued this weekend, July 30, at the popular RedBud MX in Buchanan, Michigan. In a head-to-head battle with the current points leader and defending champion Wienen Motorsports/Yamaha/Maxxis/SSi Decals/Walsh Racecraft/FLY Racing's Chad Wienen, Maxxis/Elka Suspension/Liquid Wrench's Joel Hetrick rose to the occasion going 2-1 to take home his sixth win of the season. Despite adding another victory to his resume, Hetrick was unable to gain any ground in the points battle.
With rain falling in the early morning, the track conditions were less than desirable when the world's fastest ATV racers took to the coveted RedBud MX for their timed qualifying sessions. However, Wienen didn't seem fazed when he produced the fastest qualifying time and earned the ATVriders.com Top Qualifier Award.
With 2-1 moto finishes on the day at RedBud, Joel Hetrick took the overall win. (Photo by Ken Hill)
As the gate dropped for Moto 1, Hetrick quickly upped his game and claimed the SSi Decals Holeshot Award. Behind him, JB Racing/Root River Racing/Gold Speed Tires' Jeffrey Rastrelli and Wienen were banging bars as they each fought for track position.
The battle would prove to be to their advantage at the halfway point of the race when Hetrick came off his quad in a corner. Hetrick was able to quickly recover, but allowed both Rastrelli and Wienen around him. Rastrelli would hold the lead for one lap before Wienen took over and secured it.
With an open track Wienen looked to gain as much possible time as he could, but Hetrick immediately began his aggressive charge back to the front. By the time the checkered flag flew Hetrick trailed Wienen by only eight hundredths of a second with Rastrelli following in third.
Chad Wienen holds the points lead coming into round 10 at Loretta Lynn Ranch. (Photo by Ken Hill)
By the start of the second moto the track conditions began to dry out, while various race lines were being formed. Hetrick capitalized on his ability to quickly adjust to changing conditions and jumped out to the early lead claiming the SSi Decals Holeshot Award.
Hetrick found company with both Wienen and Hetrick, but steered clear of any major issues. While riding in the runner-up position Wienen continued to gradually lose ground to his championship rival throughout the remainder of the moto. Hetrick completed the grueling second moto with a ten second lead over Wienen in second and Rastrelli in third.
By virtue of their identical moto scores, Hetrick (2-1) and Wienen (1-2) ended the afternoon tied for the overall win. However, Hetrick's triumphant effort in Moto 2 awarded him the tiebreaker and a hard-fought victory. Rastrelli's consistency landed him third (3-3), with Root River Racing/Hoosier Tires/Rage ATV's Josh Upperman (4-4) and Maxxis/Liquid Wrench/Elka Suspension/Honda's David Haagsma (6-5) rounding out the top five overall.
Overall Podium: (2) Chad Wienen, (1) Joel Hetrick, (3) Jeffrey Rastrelli. (Photo by Ken Hill)
"After pulling the holeshot in Moto 1 it was going great until I came off the bike in a corner," said Hetrick. "I was able to work my way back up to be on Chad's bumper at the finish line. The second moto went perfect from the start. I just put my head down and lead every lap until the finish. I ended up with a big lead and felt great all day. I'm really looking forward to Loretta's now!"
With identical point totals for the afternoon, Hetrick was unable to gain ground of Wienen in the AMA Pro ATV standings, a welcome consolation for Wienen after missing out on the overall win. A total of 22 points separate the duo and they will enter the final stages of the championship, while a 143 gap splits them from the rest of the field. Rastrelli, Upperman and Haagsma continue their battle for third with only 24 points between them.
"I had a good weekend going 3-3, but I definitely could have ridden better," said Rastrelli. "We are progressing each race, but still a hair off the leaders. Overall I'm happy with how the end of the year has worked out for me with being able to get my health back on-track."
The ProX ATVMX series travels south for the popular ATV Dirt Days at the Loretta Lynn Ranch in Hurricane Mills, Tennessee on August 13.
For more information on the 2016 ProX ATV Motocross National Championship, visit the official series website at www.atvmotocross.com. Join the conversation on the series Facebook page, follow on Twitter and Instagram, and be sure to always hashtag
Overall ATVMX National Championship Standings
Chad Wienen (446)
Joel Hetrick (424)
Jeffrey Rastrelli (303)
Josh Upperman (291)
David Haagsma (279)
John Natalie (275)
Nick Gennusa (273)
Ronnie Higgerson (219)
Thomas Brown (215)
Brett Musick (212)
Published August 1st, 2016 9:13 AM
Top Brands
Popular Articles