1 View
0% Financing Available for Bad Boy Vehicles
October 12th, 2016 12:41 PM
Share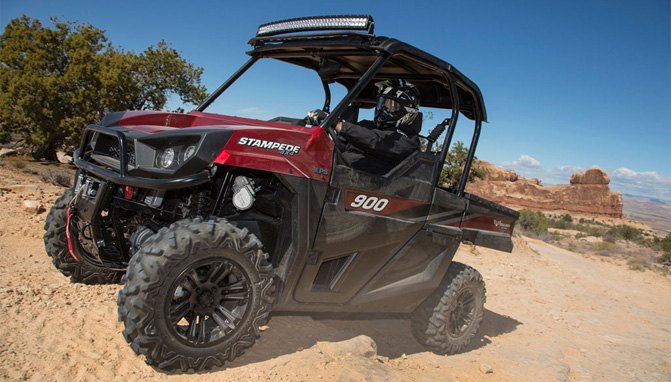 Interest free financing for 48 months
Textron Specialized Vehicles Inc., a Textron Inc. (NYSE:TXT) company, announces special financing for its Bad Boy Off Road brand vehicles, the 80 HP Stampede, Recoil, Recoil iS, Recoil iS Crew and Ambush iS side-by-sides, as well as the Onslaught™ 550 ATV. For a limited time only, qualifying consumers can purchase any of these vehicles and receive zero-percent interest financing for 48 months.
This special, limited-time financing offer is made possible through a partnership with Sheffield Financial. Offer is subject to credit approval and some restrictions apply. Interested consumers should contact their local Bad Boy Off Road dealer. For more information, visit www.badboyoffroad.com/shopping-tools/promotions-special-offers/choose-any-bad-boy-and-save.
"There is no better time than now to get a Bad Boy Off Road side-by-side or ATV, whether you're attacking a trail, hunting game or working around the farm," said John Collins, Vice President, Consumer for Textron Specialized Vehicles. "And we think customers will be especially excited to take advantage of this offer on the new Stampede, which leads the industry on the features that drivers told us matter most."
Introduced earlier this year, the gas-powered Stampede 4×4 offers unmatched power, nimble suspension and handling, unrivaled hauling and storage capacity, an extraordinary driver experience and exceptional reliability. Featuring a German-engineered, precision-tuned 846cc liquid-cooled, 80HP engine with electronic fuel injection, Stampede is a powerhouse with 59 lb-ft of torque to accelerate, climb and tow.
Stampede has 11.25 inches of ground clearance and delivers a smooth ride thanks to high-quality springs, performance shocks and a four-wheel double A-Arm suspension with 9.5 inches of travel in the front and 10.5 inches in the rear. Front and rear sway bars help to keep all four wheels on the ground when cornering for increased traction and handling. An industry-first, customizable extended cab keeps tools, gear, guns and bows secure, dry and easy to reach. Between the bed, dash pockets and extended cab, Stampede boasts 24 cubic-feet of storage space, the most in its class. The vehicle is backed with a robust two-year warranty.
The vehicle is offered in three configurations: Stampede 4×4, Stampede 4×4 EPS with electronic power steering and selectable locking rear differential, and Stampede 4×4 EPS+ with alloy wheels, 27-inch Maxxis Bighorn 2.0 tires and color-accented seats.
Recoil, Recoil iS and Recoil iS Crew side-by-sides feature all-electric 72V AC power for a quiet, emission-free ride. The Recoil and Recoil iS come in two- and four-passenger configurations, while the Recoil iS Crew features four forward-facing seats along with a bed.
The hybrid Ambush iS offers the extended range of gas plus quiet, emission-free electric power when needed. It is available in two- and four-passenger configurations.
Bad Boy's Onslaught 550 ATV is a mid-size four wheeler designed to dominate a challenging trail or attack a long day of hard work. Three models are offered: Onslaught 550 4×4 EFI, Onslaught 550 4×4 EFI EPS and Onslaught 550 4×4 EFI EPS in Realtree Xtra camouflage. Each model can be easily switched between two-wheel drive and four-wheel drive.
To learn more about Bad Boy Off Road vehicles, or to find your local dealer, visit www.badboyoffroad.com. Join the conversation on Facebook at Facebook.com/BadBoyOffRoad, on Twitter at @BadBoyOffRoad, and on Instagram at @BadBoyOffRoad.
Published October 12th, 2016 12:41 PM
Top Brands
Popular Articles