1 View
Joel Hetrick Wins Ironman ATVMX National
May 19th, 2017 9:52 AM
Share
We're committed to finding, researching, and recommending the best products. We earn commissions from purchases you make using links in our articles. Learn more here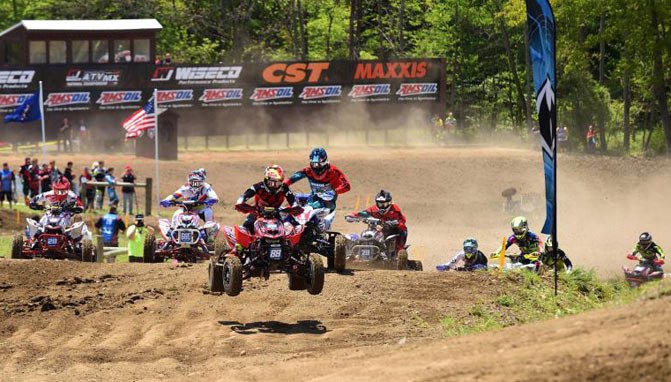 Wienen, Rastrelli complete pro podium
The 2017 Wiseco ATV Motocross National Championship (ATVMX) presented by CST Tires, an AMA National Championship, continued Saturday, May 13, at the iconic Ironman Raceway in Crawfordsville, Indiana. After nearly a month since the last race, the weather provided top-notch racing conditions where Maxxis/Elka/Liquid Wrench/Honda's Joel Hetrick was able to land his first overall win of the season against a stacked field of riders.
The day kicked off with five-time champion and current points leader, Chad Wienen earning the ATVriders.com Top Qualifier Award. Wienen looked to carry his momentum to the moto one holeshot, but his Wienen Motorsports/SSi Decals/Walsh Racecraft/Yamaha/Maxxis/7240-backed machine was edged out by Hetrick for the SSi Decals Holeshot Award.
Wienen hung on the rear wheels of Hetrick and the duo began to produce some of the fastest lap times of the day as they put a gap on the rest of the field. Not much changed until the mid-way point of the moto where Wienen was able to move into the lead. Hetrick continued to charge and looked to regain the lead quickly, but Wienen showed no sign of slowing down. With only one lap to go, Hetrick gave it everything he had, but had to settle for second behind Wienen.
Chad Wienen and Joel Hetrick battled the entire moto, but Wienen came out with the Moto 1 victory. (Photo by Ken Hill)
With much of the focus on the two front-runners, JB Racing/Root River Racing's Jeffrey Rastrelli and Root River Racing/CST Tires/Pro Motorsports-backed Thomas Brown slide under the radar, but also found themselves in a heated battle throughout the entire moto. Rastrelli held off Brown and finished third, with Brown and GennUSA Racing's Nick Gennusa rounding out the top five for the first moto.
"It was a tough pace to keep up with, we gapped those guys pretty good the first few laps, and I knew it was going to be a hard race," said Hetrick. "Wienen and I kept rubbing, but I'm pleased with the first moto. I found some pretty good laps once Wienen got around me, so I'm looking to put those to use next moto."
The second moto holeshot was almost identical to the first, with Hetrick taking the holeshot followed by Wienen. Rastrelli pinched out Wienen for second and then moved into the lead, but it didn't take long for Hetrick to move back into first. Wienen began to ride with a little bit of a gap between him and Rastrelli.
Jeffrey Rastrelli lead for a few short seconds, but ultimately raced his way to third in Moto 2. (Photo by Ken Hill)Jeffrey Rastrelli lead for a few short seconds, but ultimately raced his way to third in Moto 2. (Photo by Ken Hill)
"The track was a little slick the second moto so I didn't want to be sitting back there taking all the roost from those guys up front," said Wienen. "I needed to come out a little more aggressive and make some moves to get up there quickly. The holeshot was awful, and I need to come out harder."
While Wienen was off to a not-so-favorable start, Gennusa greatly improved from the first moto and sat inside the top-five. Wienen continued to ride in third for the first few laps, but started riding more assertive as the race progressed. Wienen made a pass for the runner-up position on lap four as they raced by the mechanic's area. Wienen set his eyes on the top spot, but Hetrick used the clear track to his advantage and already had a large lead over the rest of the pack.
Joel Hetrick's speed in the second moto was un-matched. (Photo by Ken Hill)
Wienen settled into a fast pace, but Hetrick's speed was un-matched in the second moto where he was able to take his first overall win of the season with a 2-1 moto tally. Wienen followed with second overall, and a pair of third place finishes placed Rastrelli in the overall standings with third.
"I felt like we had a good 1-1 going for us, but it just wasn't in the cards today," reported Wienen. "I'm happy with how our team did today."
Overall Podium: (2) Chad Wienen, (1) Joel Hetrick, (3) Jeffrey Rastrelli. (Photo by Ken Hill)
Brown continued to keep them honest, but succumbed to the pressure from Gennusa with only three laps to go. Gennusa finished just off the overall podium in fourth, followed by Brown and Root River Racing's Josh Upperman in fifth and sixth overall.
Baldwin Motorsports/Ford Brother's Racing/Root River Racing's Ronnie Higgerson earned seventh overall. After crashing on the first moto holeshot, Walsh Racecraft/Honda's Parker Wewerka proved he has the skill and drive to land a spot on the overall podium in the near future, but had to take eighth overall at the Ironman ATVMX National.
Media All-Stars' Zach Kaczmarzyk had his best-ever finish with ninth overall, and Root River Racing's Dylan Tremellen rounded out the top ten overall in Indiana.
AMA Pro rookie Zach Kaczmarzyk had his best-ever finish with ninth overall. (Photo by Ken Hill)
Saturday's racing action was broadcast LIVE in its entirety on RacerTV.com and can be viewed as an archived video now online by visiting the ATVMX LIVE page online. A highlight show featuring the event will air on MAVTV later this summer.
The ATVMX circuit continues with round five in three weeks, June 3 and 4, at the popular Muddy Creek Raceway in Blountville, Tennessee.
For more information on the 2017 Wiseco ATV Motocross National Championship, visit the official series website at www.atvmotocross.com. Join the conversation on the series Facebook page, follow on Twitter and Instagram, and be sure to always hashtag
2017 ATVMX National Championship Standings
Chad Wienen (166)
Joel Hetrick (151)
Thomas Brown (131)
Nick Gennusa (122)
Jeffrey Rastrelli (122)
Ronnie Higgerson (106)
Josh Upperman (100)
Parker Wewerka (94)
Westley Wolfe (68)
Brett Musick (65) Published May 15th, 2017 1:30 PM
Top Brands
Popular Articles