1 View
Yamaha Celebrates 10 Years of Outdoor Access Initiative
January 31st, 2018 12:05 PM
Share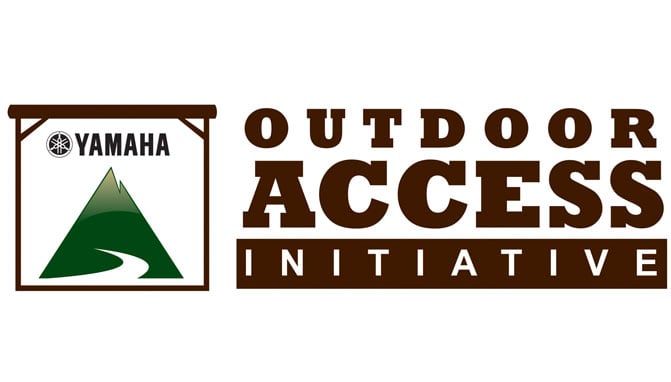 The Yamaha Outdoor Access Initiative is celebrating its 10-year anniversary in 2018. So far the program has contributed more than $3.5 million in funding and support.
We've been reporting on the success of the Yamaha Outdoor Access Initiative pretty much since ATV.com opened up shop 10 years ago. The program provides funding and equipment to help do things like keep off-road trails open for ATVs and UTVs. In an age where we hear far too often about trails closing down due to underfunding or complaints, the Yamaha Outdoor Access Initiative has been an industry leader making sure we all have places to ride for generations to come.
You can read all about the Yamaha Outdoor Access Initiative in the official press release and video below:
Yamaha Motor Corp., USA, is proud to announce the Yamaha Outdoor Access Initiative (OAI), the powersports industry's premiere program dedicated to allowing generations the means to realize their outdoor adventure, celebrates its 10-year anniversary in 2018. Having contributed more than $3.5 million in funding and equipment over the last decade, OAI's mission is to assist and support outdoor enthusiasts working to protect and improve access to public land, as well as educate the public on its safe, sustainable recreational use. In celebration of this milestone, Yamaha produced a video in tribute to the hundreds of projects supported by OAI over the past decade: www.YamahaOAI.com/10YearsofOAI.
"Responsible use is critical for creating recreational access opportunities, in addition to protecting against the regular perils of land closures and restrictions," said Mike Martinez, Yamaha's RV operations vice president. "For those who rely on access to public land for work and play, the Yamaha Outdoor Access Initiative has proven to be the industry's most reliable partner, and significant resource. The sheer number of grants and dollars provided by OAI over the last ten years to projects on the ground exemplifies Yamaha's leadership in ensuring future generations the ability to realize their adventure."
The 10-year OAI tribute video debuted at the 2018 SHOT Show in Las Vegas, kicking off a year of programming to showcase the accomplishments of the Yamaha Outdoor Access Initiative and its grant recipients. By sharing these great projects, Yamaha aims to further the program's mission: to provide practical support for efforts promoting safe, responsible use of OHVs, educate the public on proper recreational land use and wildlife conservation practices, and protect appropriate and sustainable access to public lands.
"The outdoor community is remarkably diverse, yet unified by the necessity of admittance to land. Yamaha is proud to be leading the way for access, and we look forward to many more years as a productive partner with those working to safeguard land available for enjoyment," said Steve Nessl Yamaha's RV marketing manager. "We encourage everyone who enjoys outdoor recreation to get educated and get involved. If we can help, send a grant application; your awareness and action allows Yamaha to continue our industry-leading support of important projects nationwide, along with growing the program's reach for generations to come."
The Yamaha OAI accepts qualified applications for consideration of support and funding. For more information on the Outdoor Access Initiative, to submit a grant application, or learn more about its 10th anniversary, visit www.YamahaOAI.com.
About the Yamaha Outdoor Access Initiative
The Yamaha Outdoor Access Initiative is the industry-leader in guaranteeing responsible access to our nation's land for outdoor enthusiasts. Through this program, Yamaha has directly and indirectly supported thousands of miles of motorized recreation trails, maintained and rehabilitated riding and hunting areas, improved staging areas, supplied agricultural organizations with essential OHV safety education, built bridges over fish-bearing streams and partnered with local outdoor enthusiast communities across the country to improve access to public lands. Each quarter, Yamaha accepts applications from nonprofit or tax-exempt organizations including OHV riding clubs and associations, national, state and local public land use agencies, outdoor enthusiast associations and land conservation groups with an interest in protecting, improving, expanding and/or maintaining access for safe, responsible and sustainable public use. A committee then reviews each application and awards grants to deserving projects. Examples of appropriate projects for grants include, but are not limited to:
ATV, Side-by-Side, Motorcycle, and Snowmobile riding and outdoor recreation areas
Trail development, restoration and maintenance
Trail signage and map production
Staging area construction, renovation and maintenance
Land stewardship, access, safety and education
Updated guidelines, an application form and information on the Outdoor Access Initiative are available at www.YamahaOAI.com. For specific questions about the Outdoor Access Initiative, call Yamaha's dedicated hotline at 1-877-OHV-TRAIL (877-648-8724), email OHVAccess@yamaha-motor.com or write to:
Yamaha Outdoor Access Initiative
Yamaha Motor Corp., USA
1270 Chastain Road
Kennesaw, GA 30144
Published January 31st, 2018 12:05 PM
Top Brands
Popular Articles