1 View
Yamaha Outdoor Access Initiative Reaches $6M Milestone
August 29th, 2023 12:28 PM
Share

Yamaha Motor Corp., USA, recently reported that its Outdoor Access Initiative (OAI) has reached over $6 million in total funding since its start in 2008. The program aims to promote and protect access to lands for motorized and outdoor recreation. Over the last 15 years, the initiative has funded more than 470 projects across the United States.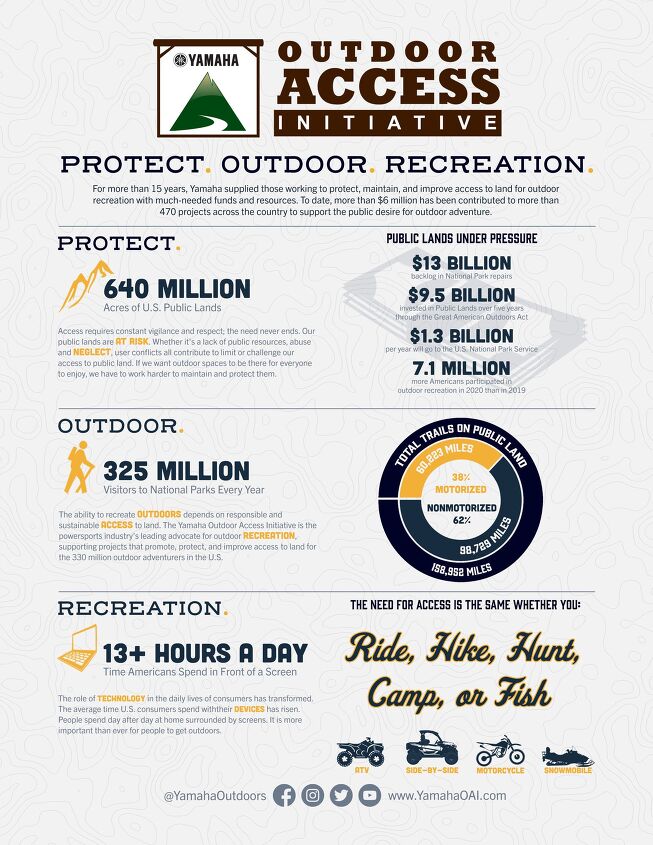 Steve Nessl, the motorsports marketing manager at Yamaha, stated that the company takes pride in its contribution of more than $6 million. According to Nessl, this figure reflects Yamaha's dedication to promoting safe and sustainable outdoor recreation on public lands.
In the second quarter of 2023, the OAI endorsed three significant projects in Oregon. These included improvements in the Oregon Sand Dunes National Recreation Area, the Tillamook State Forest, and the Prospect OHV riding area located in the Rogue-Siskiyou National Forest. The projects ranged from putting up wayfinding signs to building essential bridges and staging areas. In the same quarter, 18 grants were awarded, with a total sum of $311,355. Organizations receiving these grants covered a broad spectrum, including the American Sand Association, the National Forest Foundation, and various state and local groups.
The program has also expanded to include Yamaha's Power Assist Bicycle group, aimed at preserving access to public areas for multiple forms of outdoor and motorized recreation.
Yamaha is inviting applications for OAI grants from interested parties. The application deadline for the third quarter of 2023 is set for September 30. Participation is open to OHV and bicycling clubs, land stewardship groups, and other nonprofit organizations related to outdoor recreation. For those interested in applying for a grant, the guidelines and forms are available on the Yamaha OAI website.
In summary, Yamaha's Outdoor Access Initiative has continued its long-standing commitment to outdoor and motorized recreation, marking a significant milestone with over $6 million in total contributions to more than 470 projects. The program recently allocated $311,355 in the second quarter of 2023, furthering its reach and impact in safeguarding and enhancing recreational spaces.
Published August 29th, 2023 12:28 PM
Top Brands
Popular Articles