1 View
Protecting the Future of ATV and UTV Riding With the Yamaha Outdoor Access Initiative
April 12th, 2018 3:26 PM
Share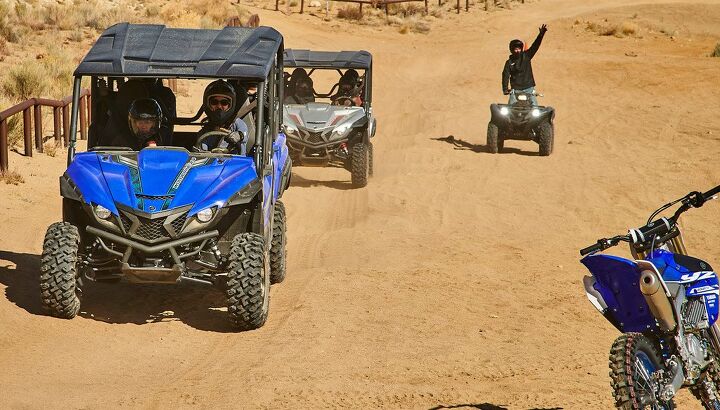 The Yamaha Outdoor Access Initiative has been going strong for more than 10 years and we had a chance to lend a hand to see firsthand how off-road riders benefit.
Yamaha Celebrates 10 Years of Outdoor Access Initiative
There are many reasons we all love to get out on the trail and ride. There are days when we sit at our desk at work and dream of the time we will have over the weekend to ride our off-road vehicles in the wild landscapes around our home. There are also those times when we want to ride but have no place to do so, without risking a ticket for trespass. Dreaming about getting out on the trail has been a part of my life for many years and if I am serious about protecting that dream then I have to act! As should you!
For over 10 years now one company in particular has acted on that preservation of my dreams along with the goals and adventures of many in the off-road community. This company is Yamaha. Yamaha started what it calls the Outdoor Access Initiative (OAI) over 10 years ago and it for one puts its money where its mouth is. Yamaha has given out over $3.5 million in actual cash grants and equipment to 300 plus projects. Yamaha is also working in 44 states with 220 unique clubs and organizations funded already. If there ever was a specific need a trail system had, the Outdoor Access Initiative gives clubs the ability to apply for a grant and Yamaha takes care of the rest. It is simple really; you just need to act.
During our recent visit with Yamaha we experienced first-hand how the company as a whole gets involved. Pulling into the parking area of the Cactus Flats OHV area in California's San Bernardino National Forest, it was clear that everyone at Yamaha, all divisions and segments of outdoor, were ready to fight and work for their right to use public land. I am not sure of the exact count of helpers that arrived for the day, but I would say at least 100 or more people including entire families came to preserve their right to ride – the majority of these being actual Yamaha employees. Speaking of a united front, there were employees from departments like Yamaha Marine, Yamaha financial, Yamaha Outdoors and Yamaha E-bike. Every aspect of Yamaha had come to help with the projects. That is a true showing of dedication in my eyes and its proof that a program like OAI that truly works.
Some of the many jobs listed for the day included signage, picnic table restoration as well as watering and seeding of plants. There were also other jobs that included building rock barriers and trimming the trail of branches that might find their way into an unsuspecting rider's face. Adding new signs or maybe just updated signage is important to keep the flow of the riding area as well as the riders aware of where they are. Getting lost in the woods on any trail doesn't seem like a big deal, but in the heat and distances that you can travel on these larger OHV areas it is very important for everyone to know where they are. It also helps separate trails for specific use.
As for me and my buddy Matt, we opted to help our new friend Mike (Southern California Mountain Foundation) along with several others, construct the natural rock barriers to help disperse water flow into the parking area. There was also a junction of two roads that needed some rock laid into the drainage ditch to not only slow water as it came out of the drain pipe, but to also prevent riders from trying to "jump" the ditch or simply ride through it. Driving into a drainage system or road junction like this is frowned upon as it destroys the integrity of the road's shoulder. It also wears away at the covering for the drain piping. In short, it is not a good thing. It is hard to understand why some would rather jump into and out of a ditch, less than 500 feet from the parking lot instead of riding the hundreds of miles of trail.
Using the natural resources that we had been given, the "Rock Garden Team" that consisted of over 10 volunteers managed to get a great foundation secured in those areas. All of the tasks laid out for our day were recommended repairs that the Forestry had deemed as much needed for our goals during the day.
This marks the 10th year that Yamaha and its Outdoor Access Initiative has been in place. Yamaha was very eager to make everyone comfortable and provided not only water, coffee and sunscreen, but also an incredible lunch for the day. Yamaha also had ride experiences for those who may have never ridden in a Side-by-Side or on an ATV. There were even several youth ATVs brought out for the smaller kids to try out. Yours truly also tried the next Yamaha Electric assist bike! It was great to get some seat time on this great machine. As if all of this was not enough, Yamaha as well as its partners like Camp Chef, Yamaha Bikes, Johnson Blades and others gave away prizes to those who registered when they arrived to help. It was really an incredible event and one that I hope to attend for at least the next 10 years.
Published April 12th, 2018 3:26 PM
Top Brands
Popular Articles