1 View
Save Big This March at Rocky Mountain ATV/MC
March 5th, 2019 4:08 PM
Share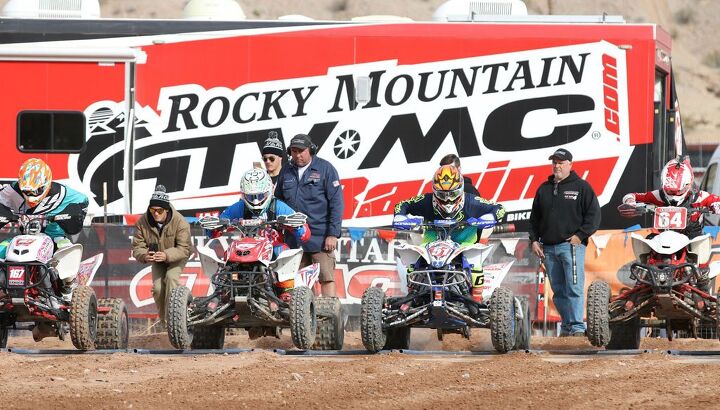 March can be a crazy month. It is the traditional end of winter/intro to spring time of year which gets anyone with a motorcycle, ATV or UTV really itching to get out and ride without wearing enough clothing to be on an arctic expedition. It is a great time to score some great deals from Rocky Mountain ATV/MC, too.
Tusk 4-stroke Oil Change Kit
Shop for the Tusk Oil Change Kit
Changing your oil is a vital part of vehicle maintenance and is something we all have to do. RMATV/MC makes it easier with their Tusk Oil Change Kits for your four-stroke motorcycle, ATV or UTV. In the kit, you get a Tusk oil filter and a new replacement crush washer for your drain plug. You also get the correct amount of engine oil specific to your machine, so if you have a Kawasaki KX450, you get the specified Kawasaki-brand engine oil for your bike. If called upon by the manufacturer, you also get the correct amount of transmission oil as well. Here's the kicker that makes this a sweet deal – For the month of March, you can save up to 78% off when you buy the Tusk kit! Depending on your machine, that can save you up to $264.70!
Tusk Multi-Function Tach/Hour Meter
Shop for the Tusk Tach/Hour Meter
Tracking your engine hours on your machine is a great tool for you to see when you need to do maintenance. It can also help you troubleshoot repairs should things go south. The Tusk Multi-Function Tach/Hour Meter is easy to use and easy to install or your motorcycle, ATV or UTV. It accurately records running hours and allows you to set service reminders, too. It also accurately records your engine RPMs by recording your sparks per revolution according to your machine. This gives you some very valuable information for your ride. Right now, you can score one of these meters for just $17.50! That is a 56% savings.
Batteries and Battery Maintenance
Shop for Batteries, Tenders, and Jumper Packs
After the brutal winter we have all been "enjoying," your bike or ATV might be in need of a new battery. RMATV/MC has all of their batteries and battery maintenance products on sale. This includes battery chargers and tenders, portable power supplies, replacement battery parts, and batteries. This includes basic lead-core, acid batteries up to the smaller and more powerful Lithium-Ion batteries. You can learn a little more about the different battery types here. Savings are specific to the brand and products, but you can save up to 38% during the March Doorbusters Sale.
No Toil Pre-Oiled Air Filter
Shop for the No Toil Pre Oiled Air Filter
Ever have your bike or ATV stored for the winter months, only to get it out in the spring to find that a critter made a home in your airbox? That's just one of the many reasons why it's a good time to replace your air filter on your bike or ATV. No Toil makes a great foam air filter that is a direct replacement for your stock filter. It comes pre-oiled so it is literally a put-it-on-and-go piece. You can save 30% on a No Toil Pre-Oiled Air Filter from RMATV/MC this March. Looking for a different brand? No worries. They have all of the air filters on sale right now, as well as all of the air-filter maintenance products. You can save up to 47%!
MSR NXT Pants
Riding off-road means you need the right gear. Whether you're on an dirt bike, ATV or in your UTV, having a good pair of riding pants can make the ride much more enjoyable and comfortable. The problem is, they aren't always cheap to get a good pair. Luckily, RMATV/MC has your back, Jack. The NXT line from MSR Racing is the brand's top of the line and right now you can score a sweet deal. The pants are made from 600D Nylon with a ratchet-style belt closure and vented panels. Burn-resistant Leather knee panels help you grip the bike tight, while resisting chaffing and heat coming off the bike's engine and exhaust. These pants would normally set you back $169.95, but you're lucky. They are on sale now for a whopping 66% off at just $57.50! You can also score a matching jersey for just $16.50 and matching gloves for $13.25.
Published March 5th, 2019 4:06 PM
Top Brands
Popular Articles