1 View
Hetrick Sweeps Motos at Unadilla ATVMX National
July 2nd, 2019 11:31 AM
Share
We're committed to finding, researching, and recommending the best products. We earn commissions from purchases you make using links in our articles. Learn more here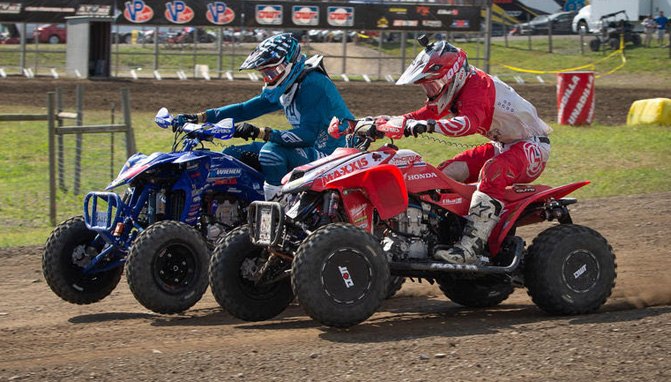 Wienen and Hoag join Hetrick on podium
At this weekend's seventh round of the 2019 ATV Motocross National Championship (ATVMX) Series, an AMA National Championship, Phoenix Racing Honda/Maxxis/Elka Suspension's Joel Hetrick claimed the overall win with a two moto sweep that featured incredible racing here at Unadilla MX. The win featured high drama and some of the closest racing that kept those in attendance glued to the battle for the lead in a classic Yamaha vs. Honda battle.
After the previous rounds' weather everyone was looking to the skies, which at times looked threatening, but rain never fell offering the pro class a very fast track. The AMA Pro ATV competitors had the perfect opportunity to run two motos without rain playing into the action. With super-fast track conditions, Hetrick came out swinging claiming the DirtNation.com Fastest Qualifier Award. As practice and qualifying came to an end, Hetrick would soon get his chance to prove what he could do as the first moto approached.
The gate dropped on moto one with Hetrick firing off the line and quickly taking the lead as Tbrown84 Training/CST Tires' Thomas Brown and the rest of the field started showing they had what it took to tame the home of horsepower. For Wienen Motorsports/Yamaha/Maxxis' Chad Wienen, the start wasn't ideal as he now faced having to run down several of the best racers in the world on a track that was seemingly fitting to high speed making passing difficult.
Jeff Rastrelli Land Grading/Baldwin's Jeffrey Rastrelli and Corrosion Specialties/ Londerville Steel/Maxxis' Brandon Hoag were providing the fans with a glimpse of what was to come as they battled it out for position. Wienen came through trying to find a way to make a pass and keep Hetrick and Brown in check. The laps were adding up and time running out as Wienen worked how way into second place as Hetrick seemed to have built a sizable lead and was looking at what appeared to be a moto win unchallenged.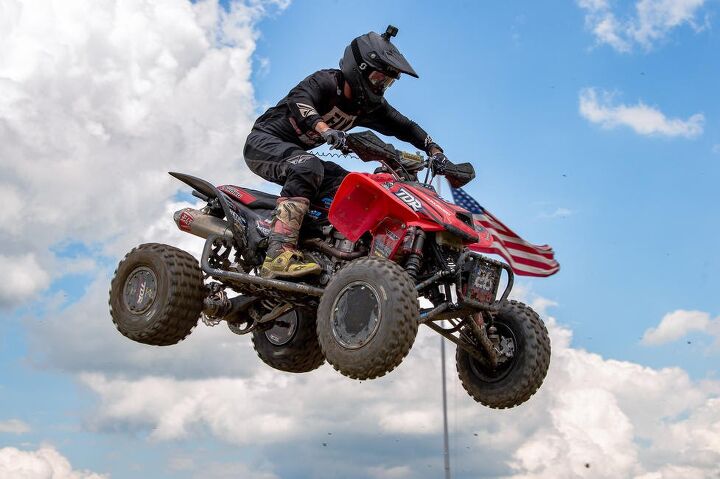 AMA Pro ATV rookie, Brandon Hoag, landed his first-career overall podium finish this past weekend. (Photo by Ken Hill)
The checkered flag began waving as Hetrick cleared horsepower hill, but in a flash he was off his machine, pushing it towards the finish line. Mechanical issues have plagued Hetrick this season and they struck again, however the gap he had created and his close proximity to the finish line allowed him to push far enough to register as the winner of moto one. Wienen would not find a break in the eyes of Hetrick's misfortune and would hold onto second place with Brown clocking in right behind him for third.
The commotion at the finish minimized a huge story that had just been written as Hoag had run up front for the entire moto claiming fifth in a moto where the weather was not a factor and it was an honest race on a level playing field. Hoag had tied his best pro finish ever however, this finish proved to be different as he was taking the fight to the series front runners. With a confidence building first moto, Hoag and many fans were excited to see if he could have such a strong race in the second moto.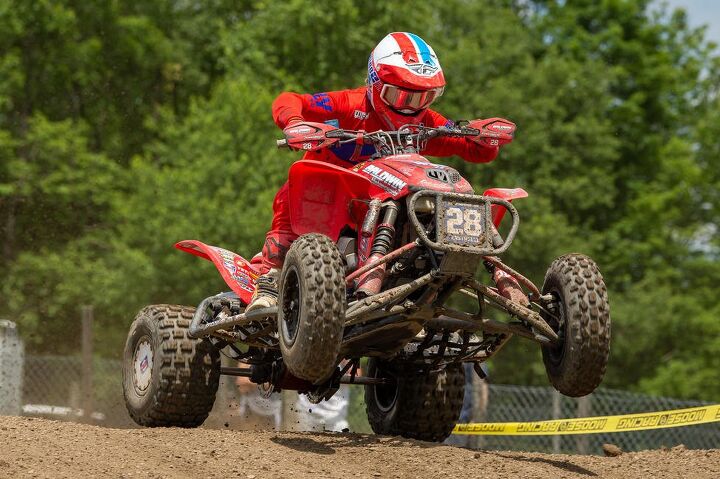 Jeffrey Rastrelli earned fourth overall at the Unadilla ATVMX National. (Photo by Ken Hill)
Hetrick's team had done all they could do to give him a ride free from issues for the second moto as the classes gated up. For Wienen, finishing second might be all he needs to do but the fierce competitor in him wanted a win. However, one thing that seemed to be missing was the typical roughness that Unadilla has been known for. On the line drama once again intensified as Hetrick had issues firing his machine and at first appeared he may not get going in time. Finally running the gate was about to drop when Brown suddenly had an issue, as the class rocketed off the gate Brown was forced into being the last rider to take to the track.
This time it was Wienen rocking to the first turn and leading as he secured the SSi Decals Holeshot Award and set the pace of the moto. Rastrelli had a good start and was joined by Nine6Nine/Barker's Exhaust/Walsh Race Craft's Alan Myers at the front of the pack. Hetrick was now the rider faced with making things happen, and he would make a quick pass around Myers ultimately falling in behind Rastrelli as the first lap was scored. Brown's day wasn't getting any better and soon found himself sidelined with a mechanical issue taking him out of the race and out of any chance of a podium finish after a strong first moto. Up front it was now the battle everyone had come to see as Hetrick pulled up on Wienen's grab bar and the fight was on. For several laps the blue and red had everyone's attention as cheers of support came in almost every turn and over every jump. The racing was intense with several attempted passes ending in some contact as both riders refused to lift. The pass came for the lead as Hetrick drilled Gravity Cavity overtaking the hard-charging Wienen and now was looking for clean air and another win.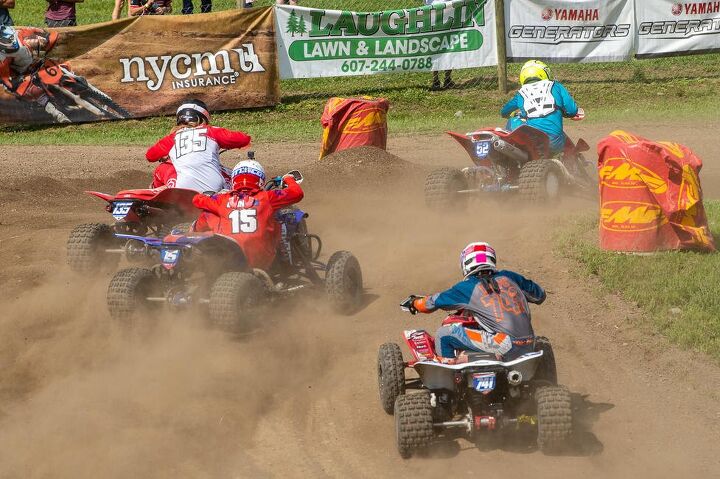 Nick Gennusa ( came through fifth overall followed by Westley Wolfe ( in sixth overall. (Photo by Ken Hill)
The action settled down as the final laps were run and Hetrick would leave Unadilla with a 1-1 taking another overall victory in a season already marked with frustration. Wienen did exactly what he needed to do and did not force things into areas that could have taken him out of that second place spot he needs to maintain as the cunning and calculating took over as he looks towards his 7th National Championship. With the action so intense up front, history was being made as once again Hoag was having his best race of his rookie year as he locked up an incredible race taking third giving him a well-earned spot on the overall podium. This marks two races in a row we have seen a rookie on the box proving the talent in the class is just getting better. Rastrelli would have a solid weekend going 4-4, but he knows he has more work to do if he plans on getting back on the box and fighting for a win.
Several riders had a good day but it is not where they wanted to be. GennUSA Racing/CST Tires/Corrosion Specialties' Nick Gennusa would claim fifth overall at Unadilla after a great effort that just did not materialize into the finish he was looking for.
The series heads to the infamous Redbud for round 8 over the July 20-21st weekend after a three week break.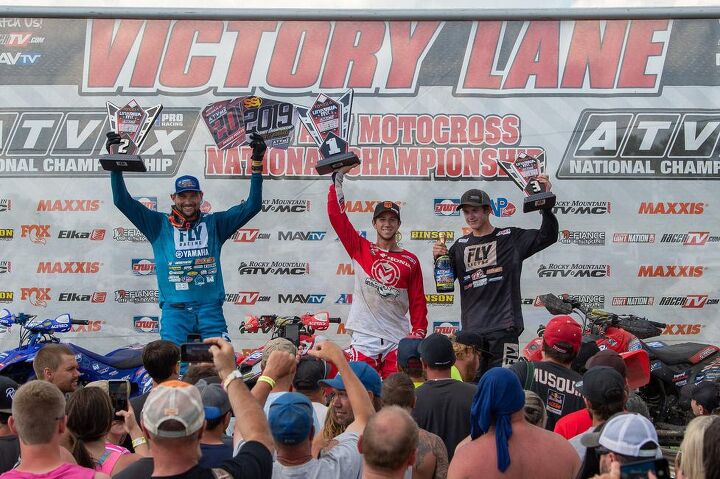 Joel Hetrick (center), Chad Wienen (left) and Brandon Hoag (right) rounded out the overall AMA Pro ATV podium in New York. (Photo by Ken Hill)
For more information on the 2019 ATV Motocross National Championship, visit the series official website at www.atvmotocross.com.
Unadilla ATVMX National Results
Joel Hetrick (1-1)
Chad Wienen (2-2)
Brandon Hoag (5-3)
Jeffrey Rastrelli (4-4)
Nicholas Gennusa (6-5)
Westley Wolfe (7-6)
Samuel Rowe (8-9)
Thomas Brown (3-16)
Haedyn Mickelson (9-10)
Cody Ford (12-8)
Overall National Championship Standings
Chad Wienen (291)
Joel Hetrick (269)
Thomas Brown (237)
Jeffrey Rastrelli (233)
Nicholas Gennusa (201)
Westley Wolfe (184)
Brandon Hoag (181)
Alan Myers (165)
Cody Ford (155)
Samuel Rowe (154) Published July 2nd, 2019 11:31 AM
Top Brands
Popular Articles