1 View
Hetrick Sweeps Motos at Monster Mountain ATVMX
June 9th, 2016 10:32 AM
Share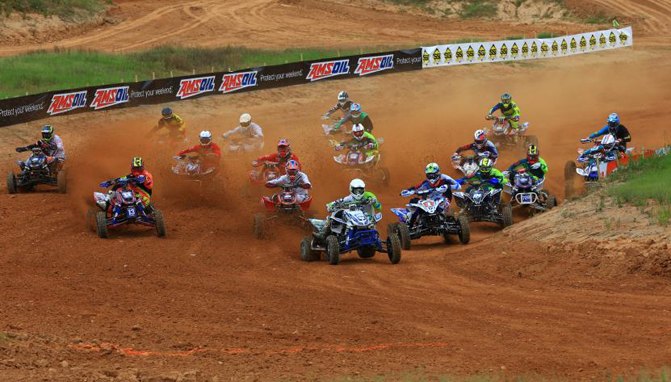 Wienen maintains points lead with 2-2 finish
(Press Release) Hot and humid weather conditions returned for the sixth round of the ProX ATV Motocross National Championship (ATVMX) presented by CST Tires, an AMA National Championship. Maxxis/Elka Suspension/Liquid Wrench's Joel Hetrick would walk away with the overall win after claiming both moto wins at the famed Monster Mountain MX Park in Tallassee, Alabama.
Hetrick kicked off the day by earning the ATVriders.com Top Qualifier Award where he turned the fastest lap time during both timed qualifying sessions. Hetrick continued to carry his speed into the first moto.
Once the first gate dropped on the inaugural event it would be Koster Racing/Blommel Motorsports/Walsh Racecraft's Brett Musick who would find himself in a favorable position and earn his first SSi Decals Holeshot Award of the season.
Hetrick would quickly take over the lead over a jump where he continued to stay out front until the checkered flag waved. Wienen Motorsports/Yamaha/Maxxis/SSi Decals/Walsh Racecraft/FLY Racing's Chad Wienen would charge hard in second in an attempt to earn back the lead, but would have to settle for second at the conclusion of the race.
JB Racing/Root River Racing/Gold Speed Tires' Jeffrey Rastrelli was busy working his way up from a sixth place start where he was able to pass Musick and Maxxis/FLY Racing/Baldwin Motorsports' John Natalie to take third in the first moto.
Maxxis/FLY Racing/Baldwin Motorsports's John Natalie would jump out to the early lead and claim the SSi Decals Holeshot Award for the second moto. Natalie used the open track to his advantage where he would continue leading for the first few laps, while Wienen and Hetrick were engaging in their own battle in second and third.
John Natalie earned the holeshot in moto two earned 4-3 moto finishes for third overall. (Photo by David Smith | Raceday Pix)
"The track turned out great this weekend," said Natalie. "I didn't do so well in qualifying, but was able to make some adjustments to pull the holeshot in the second moto and come away with a third overall for the weekend."
Wienen and Hetrick were able to pass Natalie on the fourth lap where they would eventually come together. Wienen would make a small bobble and tip over allowing for Hetrick to move into the lead position and check out on the rest of the pro field. While Natalie would slide into second, Wienen would quickly recover to run in third and then make the pass back for second.
Joel Hetrick earned six points toward the NationalChampoinship with a pair of 1-1 moto finishes. (Photo by David Smith | Raceday Pix)
With a pair of 1-1 moto finishes Hetrick took home the Monster Mountain National win, followed by Wienen (2-2) and Natalie (4-3).
"I started out the day with first in both qualifiers," said Hetrick. "I was able to follow it up with two moto wins for first overall. Both motos were great with Chad and John, and I felt really fast all day and was able to bring it all together."
"I'm really happy with my performance and our team," said Wienen. "I felt like we had a win in us, but we are right where we need to be and will be going home with some extra fuel in the tank to come into the next few rounds strong."
Chad Wienen maintains the points lead after finishingafter finishing second overall at Monster Mountain. (Photo by David Smith | Raceday Pix)
Rastrelli finished within the top five in the second moto which placed him just off the overall podium in fourth, with Maxxis/Liquid Wrench/Elka Suspension/Honda's David Haagsma finishing behind him with an impressive fifth overall (5-4).
Savage Motorsports/Maxxis/Walsh Racecraft/Elka Suspension/BCS Performance's Ronnie Higgerson continued his success going 7-6 for sixth overall. Root River Racing/Hoosier Tires/Rage ATV's Josh Upperman followed in seventh overall (6-7) with AGX Designs/Walsh Racecraft/Maxxis-backed Nick Gennusa behind him in eighth (8-8). SSR ATV Racing's Wes Lewis (10-9) and Root River Racing/Motowoz Shocks/JB Racing/Amped Apparel/Hoosier Tires' Sam Rowe (9-10) rounded out the top ten overall.
The ATVMX circuit continues in two weeks, June 18, for the Sunset Ridge National to be held at the popular Sunset Ridge MX in Walnut, Illinois.
For more information on the 2016 ProX ATV Motocross National Championship, visit the official series website at www.atvmotocross.com.
Overall National Championship Standings
Chad Wienen (258)
Joel Hetrick (236)
John Natalie (187)
Jeffrey Rastrelli (176)
Josh Upperman (168)
Nick Gennusa (153)
Thomas Brown (153)
David Haagsma (138)
Brett Musick (117)
Ronnie Higgerson (113)
Published June 6th, 2016 9:45 AM
Top Brands
Popular Articles