17 Views
2017 John Deere Gator RSX860i vs. Kawasaki Teryx: By the Numbers
July 22nd, 2017 11:33 AM
Share
We're committed to finding, researching, and recommending the best products. We earn commissions from purchases you make using links in our articles. Learn more here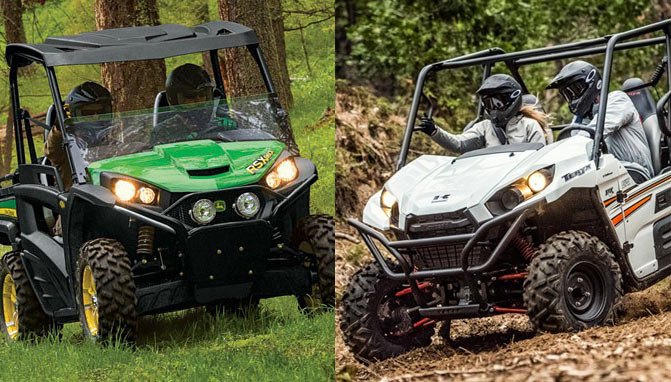 Mean, Green Throw down!
John Deere practically invented the idea of the UTV with the very first Gators. Granted, those machines were a far cry from anything resembling the UTVs we know today. Still, Deere started something that grew to be one of the biggest segments in off-road. As the Gator lineup grew, Deere saw the value in increasing the recreational side, and not that long ago released the RSX line. The latest, the RSX860i, is as sporty a Deere has ever been.
The question is often asked – How does the RSX860i compare to other machines in the category? A check of many forums reveals that the machine it is most often compared to is the Kawasaki Teryx. They look similar, are aimed at a similar market share and are pretty close in the specifications area. How close? I'm glad you asked. Let's take a look at how the John Deere Gator RSX860i and Kawasaki Teryx compare, by the numbers.
| | | |
| --- | --- | --- |
| | 2017 John Deere Gator RSX860i | 2018 Kawasaki Teryx |
| Price | $13,464 | $14,999 |
| Engine | 839cc Liquid-cooled V-Twin | 783cc 4-stroke, 2-cylinder, OHV, 90-degree V liquid-cooled |
| Horsepower | 62 | 58 |
| Driveline/Differential | True locking 4WD with electronic locking front differential | Selectable 4-wheel drive with locking front differential, shaft |
| Transmission | CVT | Continuously Variable belt-drive Transmission (CVT) with centrifugal clutch and H, L, N, and reverse |
| Wheelbase | 76.8 in | 85.6 in |
| Overall Dimensions (LxWxH) | 115 x 56.5 x 73.5 in | 125.4 x 61.6 x 79.7 in |
| Weight | 1,430 lbs (dry) | 1,589 lbs (wet) |
| Front Tires | 26×8-14 Maxxis Bighorn 2.0 | 27×9-14 Maxxis Bighorn 2.0 |
| Rear Tires | 26×10-14 Maxxis Bighorn 2.0 | 27×11-14 Maxxis Bighorn 2.0 |
| Ground Clearance | 10.5 in | 11.2 in |
| Fuel Capacity | 7.4 gal | 7.9 gal |
| Front Suspension | Dual A-arm, Fox coil-over; 9 in. | Dual A-arm with a piggyback reservoir coil-over Fox Podium shocks, with adjustable spring preload and 24-way compression damping; 8.0 in |
| Rear Suspension | Independent multi-link semi-trailing arm, Fox Coil over; 9in. | Independent Rear Suspension (IRS) with a piggyback reservoir coil-over Fox Podium shocks, with adjustable spring preload and 24-way compression damping; 8.3 in |
| Front /Rear Brakes | 196mm | Dual hydraulic discs with two-piston calipers / Sealed, oil-bathed, multi-disc |
| Bed/Rack Capacity | 400 lbs | 600 lbs |
Powering Up
It's hard to not compare these two machines just on looks alone. There is a definite resemblance. But how does that translate into the engine compartments? The Gator has an 839cc V-Twin that pumps out a claimed 62 horsepower. Governed, the Gator maxes out at 60 mph on the speedy side of life. The engine is mounted centrally in the frame, which helps the center of gravity, but makes for heat, noise and vibration being transferred to the driver and passenger.
The Teryx is powered by Kawasaki's783cc V-Twin engine that is good for 58. The Kawie will hit its speed limit of 50 mph in pretty short order. Like the Gator, Kawasaki mounted the engine centrally in the frame for a great center of gravity. While this helps the handling of the machine, it does increase the noise level.
Shocking Similarities
If you opt for the higher packages of the RSX, (and frankly, why wouldn't you?) you'll get FOX shocks at all four corners. These are good for 9.0 inches of travel and are a vast improvement over the standard shocks that come on the base model. The Teryx comes standard with FOX shocks and has 8.0 inches of travel up front and 8.3 out back.
When you step up to the better suspension package on the RSX, you also get Maxxis Bighorn 2.0 tires. Guess which other machine runs these? You guessed it – the Kawasaki Teryx. It's also something to consider that the base RSX doesn't have power steering, but when you step up the package, as listed in the spec sheet, you get the added benefit.
Both machines offer a sturdy, well-built frame and capabilities that cover utility functionality as well as loads of recreational fun. These aren't the only machines from these two companies that have some things in common. The Gator 825i runs on the same engine as Kawasaki's awesome Mule PRO FX and FXT machines. And while the Gator was the first UTV, technically, the original Mule is the first UTV as we know them today.
John Deere Gator RSX860i Specs Derrek Sigler
Derrek's love for all things ATV started when he was a mere 11 years old, growing up on his family farm. His mom gave him and his sister a choice - get a horse, or a three-wheeler. The sister wanted the horse, and Derrek wanted the ATV. Luckily he won out, and was soon burning up the trails on a Yamaha Tri-Moto 200. By the time he was 14, he had saved enough of his own money by working on the farm and in his folks restaurant to buy a new 4-wheeler. That happened the day he and his mom were driving past the dealership and saw 1987 Banshee. His mom had no idea what he was buying, and he never looked back. He's been riding ever since, and been writing professionally for many years. He has ridden all over North America and been behind the controls of just about every machine out there. And yes, he still has his 1987 Yamaha Banshee.
More by Derrek Sigler
Published July 22nd, 2017 11:33 AM
Top Brands
Popular Articles