90 Views
2019 Polaris Ranger XP 1000 Northstar Edition vs. John Deere Gator XUV835M HVAC
October 26th, 2018 4:11 PM
Share
We're committed to finding, researching, and recommending the best products. We earn commissions from purchases you make using links in our articles. Learn more here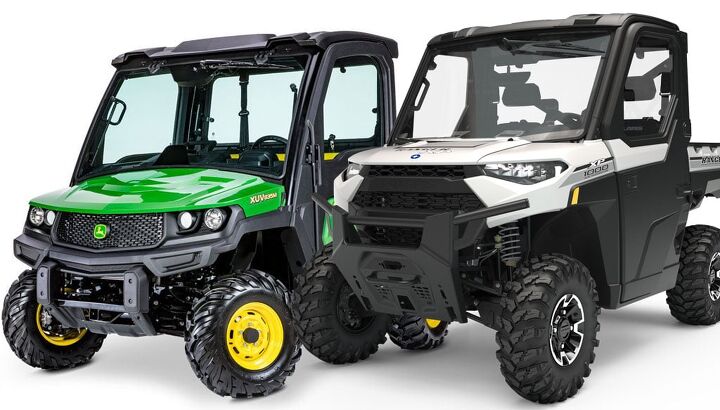 Both the 2019 Polaris Ranger XP 1000 Northstar Edition and the John Deere Gator XUV835M HVAC are ready to work this winter. Let's see how they compare.
With winter creeping up on North America, we're approaching the only time of year when I really like UTVs with full cab enclosures. They help keep the elements out and cut down on the wind. When I'm crawling out of the woods after a four-hour sit in a treestand, waiting on Mr. Big Buck to show up (which he rarely does), the last thing I want to do is freeze my butt off even more driving back to the cabin. When you can add in a heater, that makes it even better. There are a few manufacturers that offer a heater as standard equipment, but with most, it's an option to be installed by the dealership. The problem with cab enclosures comes up when the weather is warm. Hop into a UTV with a full cab in July and you'll find it to be hotter than a tub of guts, as my father-in-law would say. Think about that for a minute. Yeah. Ideally, having a UTV with heating and air conditioning with a full cab would be the ticket for year-round comfort. Two machines that fit the bill are the 2019 Polaris Ranger XP 1000 Northstar Edition and the John Deere Gator XUV835M HVAC. Which one is best for your comfort factor? Let's take a look at the numbers and see.
Not Apples
Before feathers get ruffled, don't think that I'm comparing these machines as apples to apples. I do realize that there are some significant differences between the two. They are marketed to completely different segments. John Deere has a crazy-strong following in the ag world, and rightly so. Gators are solid on the recreational side too, though. Don't forget that Deere invented the UTV with the original Gator. The John Deere Gator XUV835 is powered by a 54-horsepower 812cc three-cylinder engine manufactured by Chery Automotive. Wait, is that the same engine you'll find in the Textron Prowler Pro and Kawasaki Mule Pro-FX? Pretty much, yes. You'll also find it in other John Deere machines. It's a capable, reliable motor with decent horsepower and torque.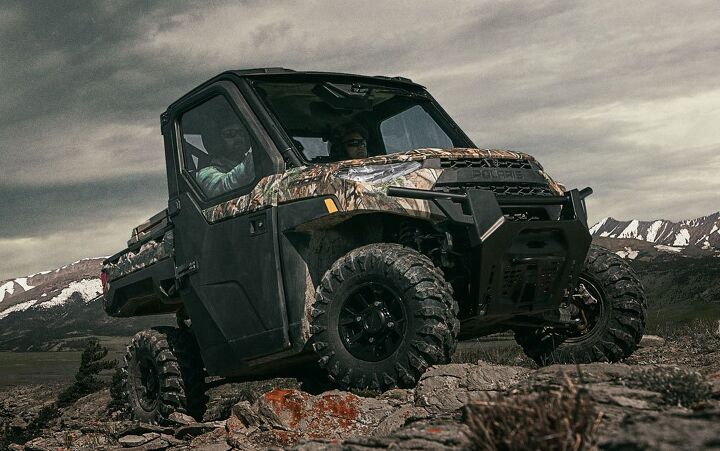 The 2019 Polaris Ranger XP 1000 Northstar Edition, simply put, has more. It is a 999cc ProStar Twin that produces 82 horsepower. It's a bigger motor from a company that knows horsepower. Having spent time with both machines, the Polaris is just so smooth, that comparing these two machines just on power output is unfair. Here's the catch, and it's a point I make often in these comparisons – how much of that power are you actually going to use? A while ago, I participated in a test where we head-to-head compared several machines, including the Gator and the previous generation Ranger. In some actual utility-type work, the machines were a lot closer than you would imaging in terms of performance. If you do a lot of heavy hauling, the Gator holds its own. Of course, the new generation Ranger has the new frame, which we'll get to next.
Classy Chassis
When Polaris overhauled the Ranger, it boosted the capacities of the machine. The new 2019 Polaris Ranger XP 1000 Northstar Edition can tow a whopping 2,500 pounds and the bed can handle 1,000 pounds of cargo. You also get 13 inches of ground clearance and 11 inches of suspension travel. The Northstar Edition comes with Polaris' premium glass windshield and rear panel. The roof is carpeted and the doors are the new Pro Shield doors with crank-able glass windows. You also get Polaris' motorized windshield wiper kit. The real star is the integrated heater and A/C unit that has a defrost setting to clear the windshield. I had the chance to use one of these machines in Louisiana in the heat and humidity and can attest to the comfort level of the A/C unit.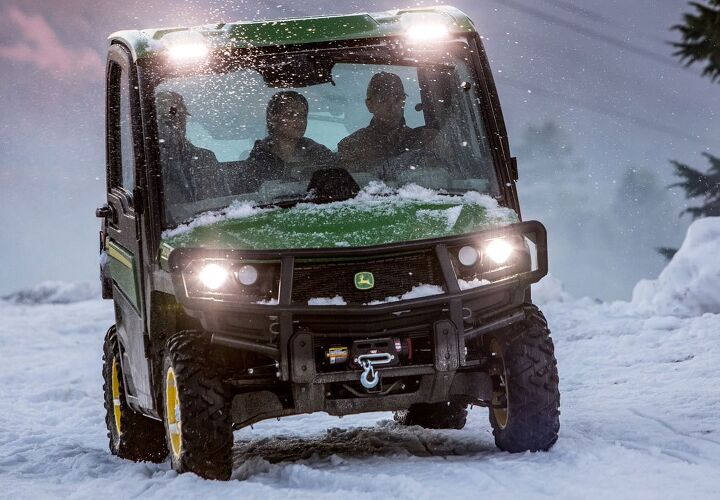 The Gator XUV835M HVAC also uses an automotive-quality glass windshield and rear panel. Like the Polaris, there is a windshield wiper and the full doors also have crank-down windows, too. The windshield also tilts out for ventilation when you don't want to run the A/C. The Gator has 7.9 inches of travel in the front and 9.1 out back, with fully-independent suspension. There is a respectable 11.2 inches of ground clearance, too. The Gator can tow 2,000 pounds with ease and haul 1,000 pounds in the dumping cargo box. There is also a mechanical dump assist, which is really nice when you're hauling a heavy load.
Conclusion
The 2019 Polaris Ranger XP 1000 Northstar Edition will set you back $24,499 to start. That goes up from there if you want to add Polaris' amazing Ride Command system if you're going to use the Ranger for more recreational purposes. If the Northstar sounds like the machine for you, head down to your local Polaris dealer and check one out.
The John Deere Gator XUV835M HVAC starts out at $21,499 and if you're a dyed-in-the-wool John Deere guy, it's the machine for you. Ok, you don't have the be a Deere fanatic, but there are lots of you out there. The Gator also has some snazzy, high-tech accessories if you want them, including their AMS integration kit, which lets you use Deere's Starfire and GreenStar receivers and display for GPS mapping and plotting. If you're a farmer, you already know what I'm talking about. It's a system for using GPS to plat and plant a field to optimal yield. Very cool stuff, too. Head to your local Deere dealership and see one today.
We are committed to finding, researching, and recommending the best products. We earn commissions from purchases you make using the retail links in our product reviews. Learn more about how this works. Derrek Sigler
Derrek's love for all things ATV started when he was a mere 11 years old, growing up on his family farm. His mom gave him and his sister a choice - get a horse, or a three-wheeler. The sister wanted the horse, and Derrek wanted the ATV. Luckily he won out, and was soon burning up the trails on a Yamaha Tri-Moto 200. By the time he was 14, he had saved enough of his own money by working on the farm and in his folks restaurant to buy a new 4-wheeler. That happened the day he and his mom were driving past the dealership and saw 1987 Banshee. His mom had no idea what he was buying, and he never looked back. He's been riding ever since, and been writing professionally for many years. He has ridden all over North America and been behind the controls of just about every machine out there. And yes, he still has his 1987 Yamaha Banshee.
More by Derrek Sigler
Published October 26th, 2018 3:19 PM
Top Brands
Popular Articles