1 View
2018 Polaris Outlaw 110 vs. Honda TRX90X: By the Numbers
August 23rd, 2019 4:21 PM
Share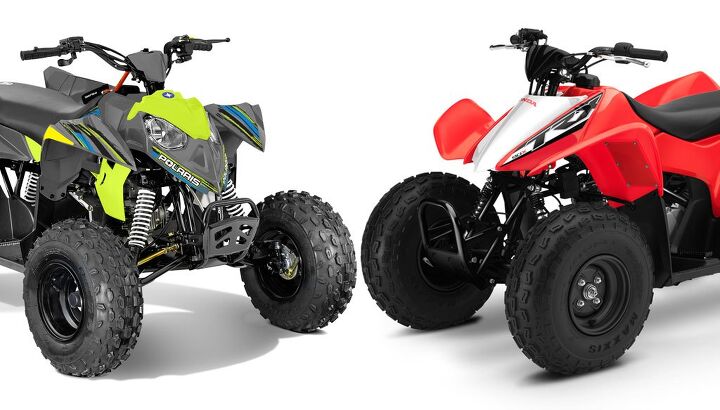 While the full sized ATVs and UTVs get most of the attention, we thought we'd look at how a couple of Youth ATVs compare – the 2018 Polaris Outlaw 110 and Honda TRX90X.
We always seem to be excited about the newest ATVs each season. There is a rush to learn about which brand will have the highest horsepower, or the latest whiz-bang feature. What gets lost in the shuffle are the Youth ATVs. The Youth models, while lacking in the latest features or higher horsepower numbers, do hold one thing over the majority of full-sized ATVs on the market – they sell. In fact, they often sell out all of the production run every year. Granted that production run is smaller for sure. Still, the manufacturers have to love a machine that requires little development, yet promises to continue to have solid sales numbers. Let's see how two popular models, the Honda TRX90X and the Polaris Outlaw 110, compare by the numbers.
| | | |
| --- | --- | --- |
| | 2018 Honda TRX90X | 2018 Polaris Outlaw 110 |
| Price | $3,049 | $3,099 |
| Engine | 86cc air-cooled SOHC single-cylinder four-stroke | 112cc four-stroke EFI |
| Horsepower | 4.3 | 6.7 |
| Driveline/Differential | Automatic clutch | 2WD |
| Transmission | Four-speed | Automatic PVT F/N/R |
| Wheelbase | 38.7 in | 41.5 in |
| Overall Dimensions (LxWxH) | 58.6 x 35.2 x 36.5 in | 61.25 x 36.75 x 38.5 in |
| Weight | 262 lbs (curb weight) | 278 lbs (dry weight) |
| Front Tires | 20×7-8 | 19×7-8 |
| Rear Tires | 19×8-8 | 19×9.5-8 |
| Ground Clearance | 3.9 in | 4.0 in |
| Fuel Capacity | 1.7 gal | 1.6 gal |
| Front Suspension | 2.6 in. independent | Single A-arm 5 in. |
| Rear Suspension | 2.6 in. swingarm | Swingarm 6 in. |
| Front /Rear Brakes | Drum | Drum |
Mighty Motors
The Honda powerplant is not what you would call new. Not even close. In fact, the 86cc single-cylinder, air-cooled, four-stroke has been around for a long time. That's actually a good thing though. Can you say bulletproof? These little motors can push your kids around with some zip, and can handle the abuse a kid is going to dish out and keep on smiling. Not being fuel-injected, the Honda is, shall we say, cold blooded. If the engine is cold, be prepared to sit there for a bit to get it to warm up before you try to ride. Once it's running, however, it doesn't stop.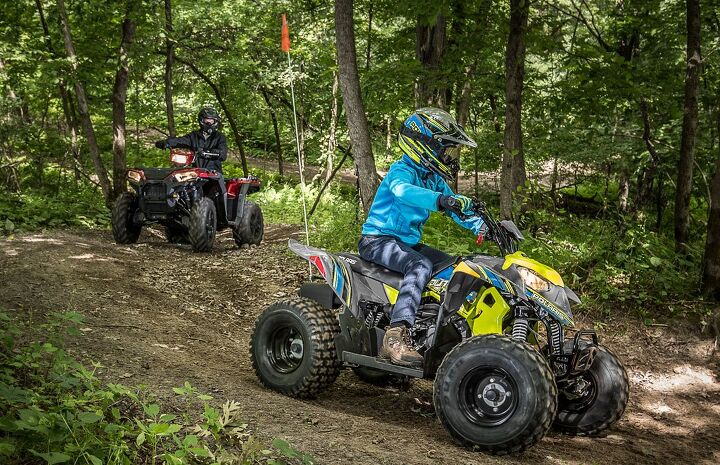 Polaris runs a slightly bigger engine in the Outlaw, with a 112cc engine powering your child around the yard. The Polaris runs on electronic fuel injection, so starting is a breeze. This is a reliable engine as well and is loads of fun for your younger riders. With there being a bit more pep, the Polaris Outlaw 110 may have a little more motor than you're beginning rider right at the lower age limit may need. No worries, though, as there are speed governors in place.
Transmissions
This is a major difference between these two machines. The Honda has a four-speed, manual shift transmission with an automatic clutch. Your child will have to manually shift using the left-sided foot shifter. This really helps control things with beginning riders, as they can simply stay in lower gears until confidence builds. However, there is no reverse gear.
The Outlaw has Polaris' CVT belt system and has forward and reverse gearing. The trade off with having an automatic transmission is that your child can get into a hairy situation with the throttle, but there is also the benefit of reverse gear.
Both machines are driven by sealed O-ring chain drives. They also both run sealed drum brakes front and rear.
On the Bright Side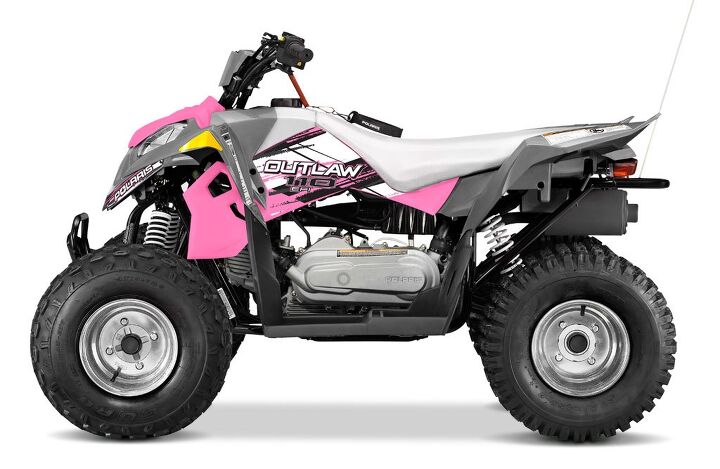 Both of these pint-size machines are great ways to get your kids out on the trail and away from things like video game systems and smartphones. It will help build a sense of character and responsibility as your kid learns independence from riding on his/her own machine. And another plus for parents, these machines will hold their value, so when your kids outgrow them, the resale value will certainly make things easier. That is, unless you have to turn around and buy them an adult-sized machine. But, that's what paper routes and babysitting gigs are for, right?
Retail price for the Honda TRX90X is $3,049, while the Polaris Outlaw 110 comes in just $50 more expensive at $3,099.
Published September 21st, 2017 10:28 PM