3 Views
2020 Polaris General XP 1000 Deluxe Vs. Arctic Cat Havoc: By the Numbers
September 25th, 2019 11:43 AM
Share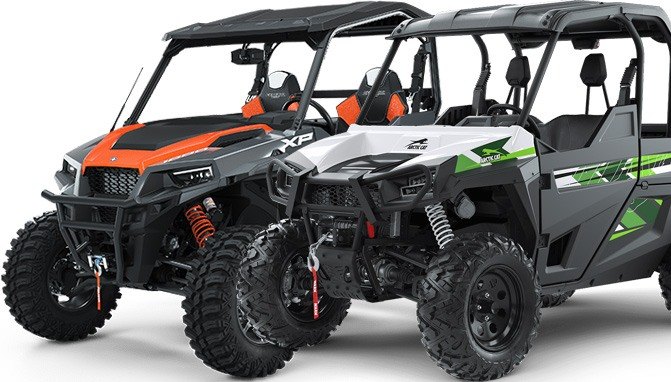 These two Minnesota-bred machines shine in the Sport-Utility UTV market
Who says that the Sport UTV buyer gets to have all the fun? Just because a person needs to get stuff done at the ranch doesn't mean they should be denied the grin-inducing power of a large displacement or high horsepower side-by-side. This is where the 2020 Polaris General XP 1000 Deluxe and Arctic Cat Havoc come in.
These Sport-Utility UTVs allow you to have your cake and eat it, too – assuming your cake is made up of high-capacity tilt beds and pants-on-fire performance.
For 2020, Arctic Cat (yes, the name is back – mercifully) is offering the 2-passenger Havoc, boasting big power numbers and heavy-duty towing capacity. The 2020 Polaris General XP 1000 Delxe is a new addition to the General family and is kitted out to carry two people and a pile of gear. Which one is right for you? Let's check them out.
Powertrain
The 999cc Twin in the General 1000 XP Deluxe produces a claimed 100 horsepower.
Polaris installs the familiar 4-stroke DOHC 999cc Twin in the General XP 1000 Deluxe, tuned to produce an even 100 horsepower in this application. Transmission duties are handled by an automatic PVT with Lo and Hi gates. Those 30-inch oversize tires look good and provide a measure of better tracking.
Also rated at 100 ponies, the 2020 Arctic Cat Havoc makes do with a 957cc SOHC Twin 4-stroke. Arctic Cat is one of the few manufacturers to advertise torque numbers for its engines, pegging this one at a healthy 67 lb-ft of twist. Its drivetrain is of the CVT variety and riders will find a dash-mounted cable-operated shifter here as well.
Suspension
Arctic Cat outfitted the Havoc with 13 inches of rock-clearing ground clearance.
A full 13.5 inches of ground clearance greets owners of the 2020 Polaris General XP 1000 Deluxe. Suspension travel is the same front and rear, measuring 14 inches. Up front you will find high clearance dual A-arms with stabilizer bar and Walker Evans Velocity Series piggyback shocks along for the ride. Shocks are the same outback, playing well with a long travel, high clearance dual arm IRS.
The Havoc's double A-arm front and rear suspenders provide near-as makes-no-difference equal travel front and rear – 12.8 and 12.9 inches respectively. Shock absorbers are simply listed as "performance shocks". Tires are 27 inches in diameter on a 14-inch wheel, spanning 9 inches on the front and 11 on the rear. Ground clearance is 13 inches.
Dimensions
Getting the sizing of these workhorses just right is a tightrope balance between sacrificing maneuverability or usefulness. Too narrow, and it won't carry enough. Too wide, and the thing won't fit anywhere. The 2020 Polaris General XP 1000 Deluxe measures 62.5 inches wide and 118.2 inches long in 2-passenger configuration. A height of 75 inches is nothing to sneeze at, so take care with those low rafters in the old part of the barn. Wheelbase is 83 inches.
Overall length for the 2020 Arctic Cat Havoc is slightly more than the General, totaling an even 126 inches. Overall width is 64 inches and height with a roof (you opted for one, right?) is 78.5 inches. Wheelbase on the Havoc is also slightly longer at 85.2 inches. Measure your property carefully before pulling the trigger on either of these machines.
Cargo
The Havoc is boasts a larger bed than the General, as well a some extra storage behind the seats.
Payload capacity is a big selling point of these types of machines, so knowing box dimensions and capacities are as important here as knowing precise power numbers on a RZR. The Polaris in this comparo has a bed box dimension of 27.5 inches by 43.1 inches. It is about a foot deep as well. The rear dumping box can bear 600 lbs of weight, with total payload checking in at 1100 lbs. Its hitch towing rating is 1500lbs on a standard 2-inch receiver.
Payload for the Havoc is listed at 100 lbs more than the General, meaning you can go ahead and have that fourth helping at Golden Corral. Capacity in the bed is identical to the Polaris, but towing capacity outstrips it by a margin of 500 lbs. Bed size is bigger than its General competition, measuring 32 inches by 49 inches. This means while you cannot carry more than the Polaris in the back of this Arctic Cat, there is more volume. The Havoc also offers a unique extended cab protected by roll cages and accessed by two dedicated hard doors. Located behind the seats, riders will find space for 24 cubic feet (or 170lbs) of gear.
Styling
The Polaris General XP 1000 Deluxe offers an aggressive look.
Always subjective, your author will nevertheless firmly state that Polaris takes the W in this column. Its RZR-like narrowed headlights look just the right amount of angry without being stupidly aggro, while the raked and flared hood give the thing a purposeful look. Badging is not overly annoying, even if the General could benefit from a couple more options in the wheel department. Matte Navy Blue or Stealth Grey look equally great.
The Havoc looks a lot better than it did, ditching the odd Textron headlamps that never looked quite right. In their place are twin tiers of LED lights, angled downward slightly for a slightly angry look. Its hood has an impression as deep and square as the Marianas Trench. Color-matched components such as a brush guard are standard on Havoc.
Pricing
Measured up against the feature-rich General XP 1000 Deluxe, the Arctic Cat Havoc's price tag starts to look pretty reasonable.
For 2020, the 2020 Polaris General XP 1000 Deluxe starts at $22,999 before one ladles on options and accessories. The nifty Ride Command, now packaging a Rockford Fosgate sound system, is a $2000 option. Tossing in the likes of a windshield, plow, headache rack, and a few other tools can easily push the sticker past thirty grand. Visit General.Polaris.com for more information.
Devoid of the old X and Backcountry editions, the Havoc starts at a reasonable $16,299 (2019 pricing). With that vast yawning chasm of a price difference, one could certainly pay for a whole lot of tools and equipment for the farm. Visit ArcticCat.com for more information.
Published September 25th, 2019 11:43 AM
Top Brands
Popular Articles