1 View
Bithell Wins Yadkin Valley Stomp GNCC
May 10th, 2010 9:05 AM
Share
We're committed to finding, researching, and recommending the best products. We earn commissions from purchases you make using links in our articles. Learn more here
First win of the year for Can-Am
Chris Bithell claimed his first win in almost two years, and the first of the year for Can-Am, with an impressive and exciting come-from-behind performance at the Yadkin Valley Stomp GNCC in Yadkinville, NC – round six of the Can-Am Grand National Cross Country Series.
Despite the fact that most of the GNCC-regulars consider the Yadkinville course to be one of the toughest to pass on, Bithell was dead last at the start of the two-hour race, and still managed to pass the rest of the XC1 field, and most of the XC2 riders, en route to the victory.
Ballance Racing/ Yamaha's Taylor Kiser appeared to be heading to his second win of the year nearing the end of the race, until Bithell came calling on the final lap, as the two riders diced back and forth for the lead.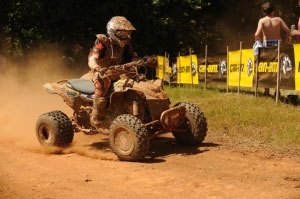 "I was coming up on Kiser and I just started pushing him and finally I tried a line on him and it worked," says Bithell. "We drag raced side-by-side to the next corner – we both were pinned and we stuffed each other in the corner and I came out on top. We just battled from there and I was able to hold him off."
Bithell admitted that he made up most of his time in the tight woods sections.
"My bike didn't fire up at the start and I went into the woods in dead last," says Bithell. "I was thinking at first that I was just going to try to stay strong and hope to finish top 10, but then I started passing people. It was tough passing out there but I really started working hard in the tight sections. When it comes to the woods, if you can just scoot through there a hair-bit faster you can make up time on these guys, and that's what I did."
In the end, Kiser settled for the runner-up position, his fourth such finish of the year. He was pleased that he gained some ground on points leader Chris Borich, but he was disappointed at letting a win slip away.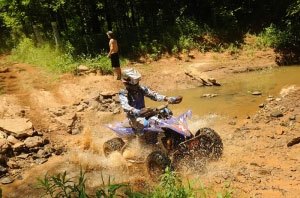 "I was kind of pacing myself, trying to stay out front and be as smooth as I could and Bithell just came up on me and made a good, clean pass," says Kiser. "The consistency is a good thing, but not getting the win hurts. However, overall I had a good day and gained some valuable points, but we're looking to get another before the end of the year."
Borich rounded out the podium, also coming from well back after stopping to remove some debris from the front of his Yoshimura Suzuki.
"I got a big stick jammed in the A-arm and I don't know if I bent something – it was pretty hard to turn all day," says Borich. "It just wasn't my day. I clipped a couple of things and went over the bars a couple of times, but we were able to work up into third, and I'm pretty happy I was able to salvage those points."
Yamaha rider Don Ockerman grabbed the holeshot to start the race, and ran in the top three during the early going before dropping behind fourth-place finisher FRE KTM's Bryan Cook, and fifth-place finisher Can-Am's Adam McGill at the end of the race.
"Things went good for me off the start," says Ockerman. "But then some of the XC2 guys cut the course and got in front of us and it stirred up a lot of dust, which kind of messed things up for me."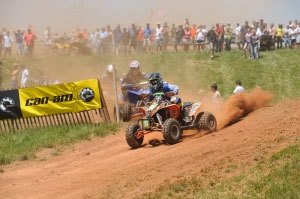 Polaris rider Jarrod McClure ended up a solid seventh ahead of Yamaha's Johnny Gallagher, while Honda riders Sloan Jackson and Harold Goodman rounded out the top 10.
In the XC2 race, FRE KTM's Josh Kirkland grabbed holeshot to start the race, but then somewhere in the first two or three miles of the opening lap, Kirkland and six more of the XC2 division riders missed a marker and took one of the morning trails which cut off nearly a half mile of course, putting them in front of the XC1 class. Kirkland ended up physically in the lead at the end of the race [for the XC2 class], but he and the other six were docked two minutes for the incident. When the final results were adjusted for the time penalties, Kirkland still ended up with the win, followed by HMF Honda's Brian Wolf in second and Yamaha's Walker Fowler in third.
"I got off to a good start, and I don't really know what happened or where I did it, but I knew I was running alone, I didn't hear any bikes, and then on the second lap my pit crew told me I cut a corner," explained Kirkland. "I wasn't sure what I was supposed to do, so I just kept pushing and it ended up I had enough time to still take the win."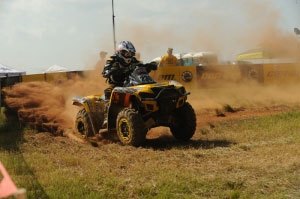 Yamaha rider Kevin Yoho finished fourth, ahead of Loretta Lynn winner Gabe Phillips (Yam). Meanwhile, Dustin Canipe (Kaw), Corbin Knox (Hon), Blake Kramer (Suz), Josh Beavers (KTM) and Erin Hoyland (Yam) rounded out the top 10.
In the morning race, Kristen Atwell won the GT Thunder ATV Amateur $100 Overall Award, beating out Yamaha's Traci Cecco and FRE KTM's Angel Atwell.
"This is by far my favorite track," says Kristen Atwell. "I got my first podium here, my first overall last year and this overall. This track just seems to roll for me and I like the tight stuff."
In the 4×4 Open class, Bryan Buckhannon beat out fellow Can-Am rider Richard Cecco and Polaris rider Daryl Rath to take the win.
XC1 Standings
XC2 Standings
Pos.
Rider
ATV
Points
Pos.
Rider
ATV
Points
1.
Chris Borich
Suzuki
166 (4 wins)
1.
Brian Wolf
Honda
135 (2 wins)
2.
Taylor Kiser
Yamaha
148 (1 win)
2.
Josh Kirkland
KTM
122 (1 win)
3.
Adam McGill
Can-Am
111
3.
Kevin Yoho
Yamaha
119
4.
Chris Bithell
Can-Am
96 (1 win)
4.
Walker Fowler
Yamaha
116 (2 wins)
5.
Don Ockerman
Yamaha
88
5.
Gabe Phillips
Yamaha
104 (1 win)
6.
Bryan Cook
KTM
85
6.
Eric Hoyland
Yamaha
77
7.
Johnny Gallagher
Yamaha
80
7.
Blake Kramer
Suzuki
76
8.
Jeffrey Pickens
Yamaha
72
8.
Dustin Canipe
Kawasaki
74
9.
Jarrod McClure
Polaris
67
9.
Parker Jones
Honda
68
10.
Brandon Sommers
Yamaha
64
10.
Mark Notman
Yamaha
62 Published May 10th, 2010 9:05 AM
Top Brands
Popular Articles